Rappers have a long history sporting magnificent beards, so it's no surprise that one of the trendiest styles comes to us directly from the music industry. When it comes to bearded inspiration, one man stands taller (and wider) than the rest. You might know him as rapper and hip-hop producer Rick "Teflon Don" Ross (Hughhh!), but chances are it's his signature facial hair that turns heads. His beard is thick, shapely and is surprisingly flattering for most guys.
The Rozay Beard Anatomy of Rick Ross
With many guys begging to know how to grow a Rick Ross beard, Male Standard set to find out the secrets behind this growth. There is an art to growing an impressive beard, and while not every many can manage a heady style like this, most guys will be pleased to know that there are some easy shortcuts that can get you there. This fuller take on a classic Caesar is trending faster than his Bugatti, and we're here to show you how to style it!
1. How to Grow a Rick Ross Beard
One of the most crucial aspects of this Rick Ross beard is coverage; you must be able to grow out a consistent tuft of hair to pull this look off. If you struggle to produce thicker, fuller beards than consider taking a natural Biotin supplement that can help you grow thicker hair. Next, you want to leave the hair to grow in for a few weeks by trimming it regularly, to maximize the fuzz factor.
See also: How to shave
Another fantastic product you can use to enhance your natural thickness is to use Living Proof Full Thickening Cream to style your beard. This is also a great conditioning treatment and will keep your beard shiny and in good health. As this is a thickening cream, you can expect massive results so use a small pea size amount and build the product up as you style. The last thing you want to do is end up looking like Santa Claus stepping out the tumble dryer.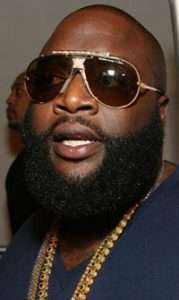 2. Getting the Right Cut
Once you have the hair growth and thickness down, the next stage is the cut. Sometimes called the Prison Guard, this well-groomed beard is easy enough to style at home. First, you want to keep the overall length short. This is a fantastic beard for summer as the thickness is mostly visual deception as the beard is not heavy or long. The next step is to outline the beard, including the neckline and upper facial area. These are what give this style that sharp appeal.
See also: Manscaping 101
Rick Ross blends the upper beard area from his sideburns, to create a clean swooping motion down to the mouth. You should extend this line with a slight upward direction when moving to the mouth. Keep a photograph to hand, as you work through the different sections. Depending on how much skin you have under the neckline, this can be a flattering style so long as you keep the edging smooth and trim.
Invest in a quality set of beard trimmers such as these Whal Professional 8081:
3. How to Maintain a Rick Ross Beard
While the visual aspect of this style is all in the cut, there are some critical steps you will need to take to make sure this a comfortable experience. Beards can dry out facial skin faster than stepping into the desert, and keeping a small comb can help relieve the case of the itches that come with the growing territory. Use a deep conditioning product specifically formulate for softening thick hair and facial skin, such as Beardsley Ulta Conditioner.
Honest Amish Beard Balm is another notable leave-in conditioner that also styles.