If sporting a dapper beard is your desired look, make sure that you keep it well-groomed by using a quality beard trimmer. There is a world of difference between an untidy mass of hair hanging at your chin and a neat, trimmed one that indicates care and attention. Most men's salons should be able to keep your beard in tip-top shape. However, most men find caring for their beard at home to be a simple step in their grooming routine with the correct equipment and understanding. In order to get the same professional results at home, one must first consider the right tools for the job.
Even if your skills are not on the professional level, a quality beard trimmer will help tame wild facial hair. The important thing to remember here is that you should never use these for cutting your head of hair or for manscaping. Facial hair tends to be coarser and thicker and deserves a nice sharp blade to slice through for clean edges. Most electric trimmers come with an extra attachment (referred to as guards) that can be used to trim beard hair to produce uniform and neat stubble, perfect for styling and shaping your beard.
As a rule of thumb, beard stubble can be trimmed to hair lengths between 0.09 inches to 0.010 inches for very short stubble. The spacing between the teeth of the blades determines how long or short you can make your beard. Beard trimmers are designed with higher precision as the blades need to reach and turn around smaller areas such as the portion above lips, chin or the sides of the neck. While you may be tempted to grow a bushy beard, it's worth noting that unless you keep it neat with regular trims, you'll likely be unhappy with the results.
The Best Beard Trimmer
When it comes to choosing the right tools for the job, you have one of two options. You can either go the manual route, with scissors a la your local barbershop, or you can choose an electric set that will bring your beard into the modern times. Rechargeable trimmers may cost a little more than barber scissors, but they are worth it in the long run – especially for at home users. They're easier and faster to use. They are portable and can still be used if there is no plug-point during trips as most has a cordless shelf life.
Remington MB-200 Precision Trimmer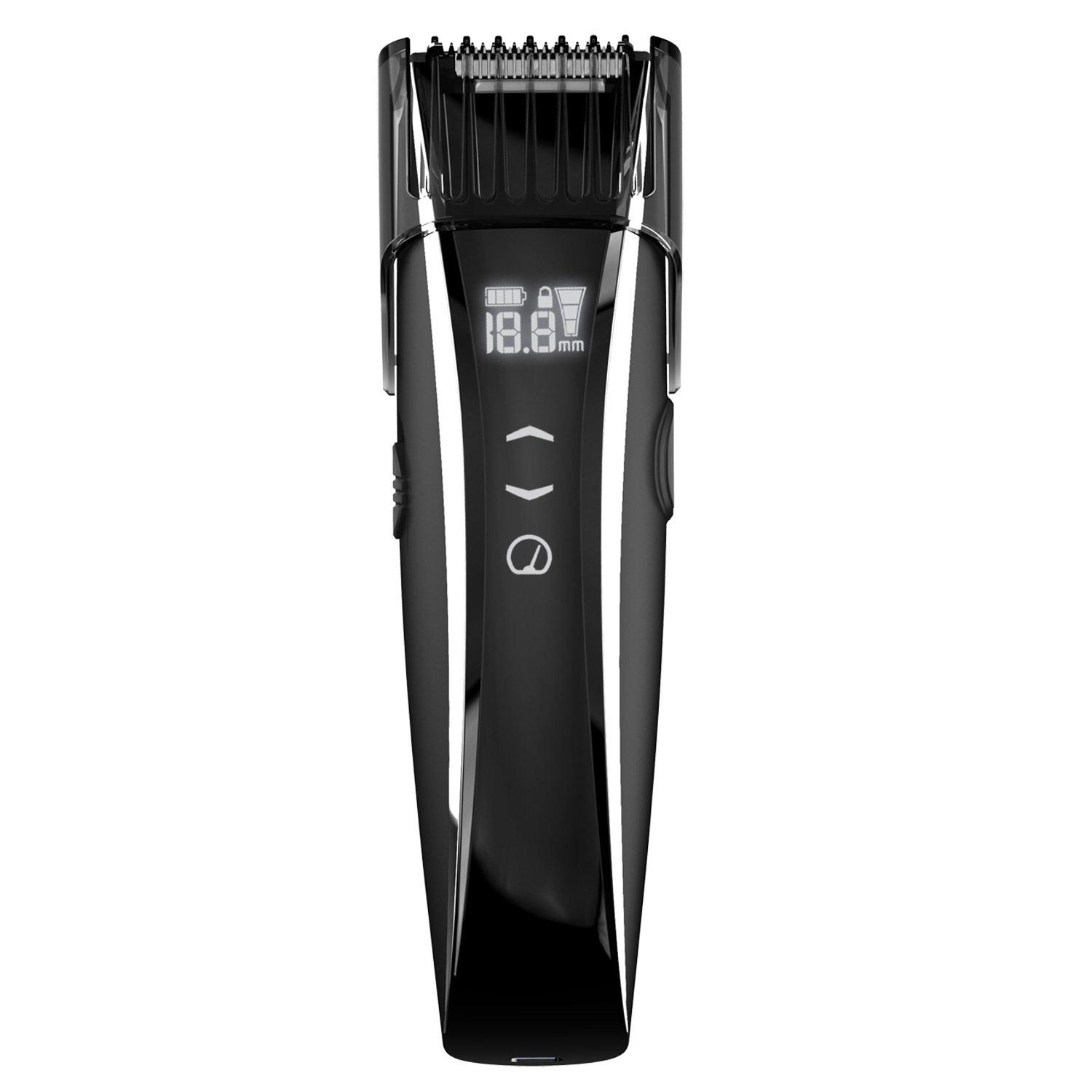 The Remington MB4550 Touch lets you control length setting and motor speed. This sleek, adaptable grooming tool features sharp, long-lasting blades that are titanium coated for extra durability. Easily switch between 175 different lock-in length settings (from 2/5 to 18 millimeters) and three different speeds to create your own style. The cord/cordless MB4550 trimmer offers a variety of options to make it more convenient, such as a rechargeable ion battery, ergonomic shape, and washable design.
The titanium coated blades and superior technology makes this a highly recommended beard trimmer. Users love it for its ability to shave off beard hair close to the skin without any uncomfortable tugging or pulling. The blades have been designed for excellent self-lubrication and the product, on the whole, requires very little maintenance., the product comes with an impressive 9 different hair length trimmers.
Features:
The Model Number has been upgraded from MB4550 to MB4550T

Touch interface -control length settings and motor speed with a touch of the finger

Precise length settings – achieve a variety of lengths between 0 4-18 0mm, with 0 1mm increments

Led screen -displays battery fuel, charging status, motor speed, cutting length and touch lock

Tri-speed cutting system -3 speed settings for ultimate control and tailoring to your style

Titanium coated blades -strong, durable and long-lasting
Panasonic ER224S 
Panasonic Milano Series Hair & Body Trimmer
The Panasonic ER224S offers both wet, and dry beard trimming which means that you may choose to trim your beard with or without product and or water and still get a comfortable shave. It has 14 in-built options which currently is the maximum choice that is offered by a single electric trimmer and the blades are fitted onto a spring that makes it easier to use them. The cordless trimmer is washable and rechargeable so you have the convenience of styling wherever, whenever you feel. The charger stand illuminates red while charging and acts as a stand to store the trimmer while not in use.
Features:
All-in-One Hair, Beard & Body Trimmer for Wet / Dry Shaving and fully immersible in water and unique Water Drain for quick and easy maintenance

Cordless operation of 50 minutes on a 15-Hour charge

Quick adjust dial with 19 length settings (1 to 10mm),

Precision-cut stainless steel, fast action blades are Hypo-Allergenic, Rubber Grip handle for easy to hold

Includes AC Recharger stand with indicator, Cleaning brush and 3-Comb Attachments
Other Beard Trimmers We Love: 
Did we pick your favorite beard trimmer? Leave a comment below & let us know!