While you might think that shaving gels and creams only come in aerosol cans, you would be wrong. Shaving soaps, or shaving pucks, are the classic way to lather up a barbershop shave in the comfort of your own home. These timeless products offer a luxurious shave, with simple yet premium ingredients that helps to aid in a close, comfortable shave. If you have sensitive skin, you'll find these no nonsense bars to be highly useful in combatting irritation. All you have to do is take a dandy shaving brush, add a dash of warm water, and whip the soap into a rich, creamy lather. The very act will bring a smile to your face. For added opulence, you can mix shaving soap in a shaving mug or bowl, before shaving with a classic straight razor. This is exactly how your handsome Grandpa does it!
The Best Shaving Soap For Men
To find the best shaving soap for men, we put our heads together to determine the quality of the ingredients and overall experience, the ease of application, and of course, the resulting shave. When choosing a shaving soap, it's important that all your skin care needs are met. We were looking to remove soaps that caused any irritation or dry zones, or that didn't adequately coat the skin with a protective layer to prevent shaving irritation. Bonus points were awarded for fragrances or no fragrances, whichever we felt was the best call for that particular product.
To get you started on your journey, below is our round up of the best shaving soap for men!
Acca Kappa Almond Shave Soap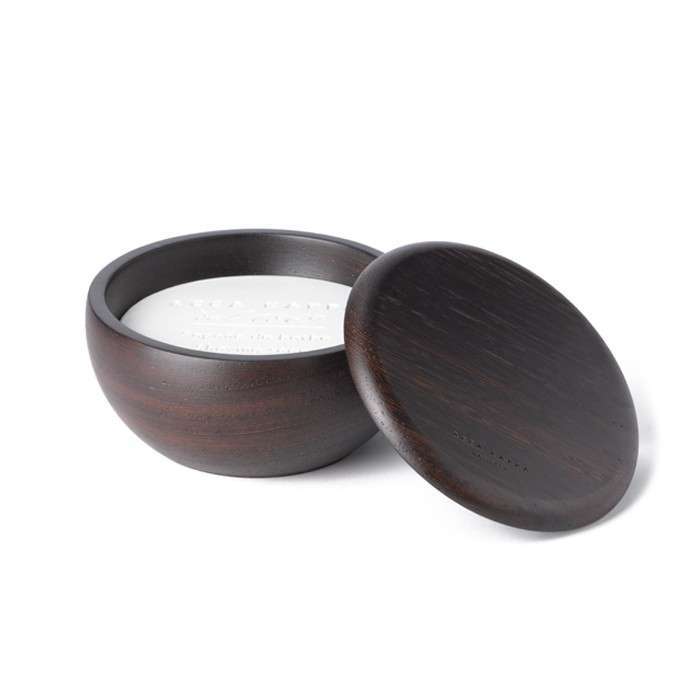 We found the Acca Kappa Almond Shave Soap to be a super nourishing, moisture rich puck that contains cleansing witch hazel extract, skin boosting vitamin E, and Aloe Vera; all top notch and natural ingredients. Rich in natural soothing substances and extremely gentle on the skin, it protects, nourishes and tones skin that has been stressed by shaving. Applied with a shaving brush, it creates a creamy lather for a smooth shave, and comes in a convenient shaving bowl. Simply add the shaving soap refills to your subscription list, or use them in your own shaving bowl, and you'll be in good company.
D.R. Harris Arlington Shaving Soap
D.R. Harris Arlington Shaving Soap
D.R. Harris Arlington Shaving Soap provides a close shave by adding a layer of lubrication to your skin, but it goes beyond that. This product penetrates your follicles, puffing them up and making them much easier for the razor to cut through. It also lasts, so you don't have to reapply it to one side of your face after you've just finished the other. With a good brush, this product can produce a lather that's downright dense, sticking to your follicles and skin and providing you with the protection you need from your razor. Remember to keep your razor fresh and clean and, with products like this, cutting your follicles will leave you feel cleansed, not sore and dry.
Klar Shaving Soap
Klar Shaving Soap
Klar Shaving Soap is a top shelf shaving soap hails from Germany, where Klar has been making soap for over 170 years. Their shaving soap is plant oil based and rivals any of the best shaving soaps with a luxurious lather and smooth shave. Hard to find, but well worth the search – Klar shaving soap is sought after by wet shaving enthusiasts from around the world. It's a fresh, clean, masculine scent that we'd describe as a bright take on a traditional barbershop scent. Second, and perhaps more importantly, it's one of the best soaps you'll ever use. The insanely easy lather is thick, rich, and stable with a very wide sweet spot when it comes to hydration. Cushion and glide are the best we've ever seen, and the post-shave feel is phenomenal. This isn't just a soap that protects, it's a soap that enhances.
I Coloniali Mango Oil Shaving Cream Soap
I Coloniali Mango Oil Shaving Cream Soap
The Shaving Cream Soap & Terracotta Pot gives you everything you need to start a better morning routine. This means working up a lather in a beautiful terracotta pot and then applying the product to your grateful face. Massage it in with a brush or use your fingertips. So long as the surface is moist, you'll be rewarded with a better finish. All the lather will allow you to get a razor up close and personal without doing any damage. Plus, the emollient properties of the aforementioned product will give your skin a result that is supple and soft. Along with the suds, that oil will also helps provide a sufficient layer of protection between it and the hot blade you need to clear whiskers.
Taylor of Old Bond Street Traditional Shaving Soap
Taylor of Old Bond Street Traditional Shaving Soap
Taylor of Old Bond Street Traditional Shaving Soap comes in a blue bowl that is meant to be taken on the road with you. Of course, it works just fine at your house as well, but having the option is always nice. It is 2 ounces of high-quality, dense-lather-producing-shaving product that will not let you down by dissipating before you are done taking care of those whiskers. Frustratingly enough, being out on the road is often times when you need to look your best. No matter where you are, you can take care of yourself properly, look your best, and make certain that you're not damaging your face and skin with substandard supplies. Taylor of Bond Street prove that shaving soaps can be just as convenient as anything that comes in a can!
Think you have the best shaving soap? Leave a comment below & let us know!