What is Business Casual Wear?
Business casual is a dress code that we as men are confronted with everywhere, however no one has explained to us what it actually means, what clothes does it refer to?
Well we Male Standard have decided to create an ultimate guide for men on what to wear and not what to wear when it comes to business casual.
The History of Business Casual Wear
Business Casual attire is something that as a dress code is relatively new and didn't exist per say. Men usual had two outfits, one for the day and one for the night. The clear distinction between day and night made it relatively simple for men, not anymore. This is wear Business Casual comes in. Suits in the day have become the standard for men (and women) for the past 30 years.
Impact of Casual Wear in Hawaii
In the 1960's, casual wear was limited to weekends at home and never in the office.  Then along came a company that created  Hawaiian shirts and began to market to the audience to wear during the week, the story is that the company came up with something called "Aloha Fridays". People then started to wear these shirts on Friday due to how viral the campaign was. Being known for their relaxed attitude, this was something the locals in Hawaii embraced. After some time this started to impact the mainland US states.
Campaign for Khakis To The Office
Whilst it was great for employees to be wearing shorts and shirts, several high end companies including Levis started to plan for a different attire. As the sales of jeans was decreasing, Levis started to market their brand Dockers which specialized in Khakis.
The khaki pants became a great hit as people saw them as in between shorts and trousers, making them popular. Employers embraced the Khakis as they are smarter than shorts and also look professional.
Other major fashion brands such as Brooks Brothers, Ralph Lauren and J.Crew followed suit, pardon the pun and started to invest in marketing polos, jackets and chinos. This is wear the Business Casual started, simply when people wanted to feel and look professional but not wear a suit.
If you are unsure whether business casual is appropriate for wearing then the chances are it is not.
How is Business Casual Today?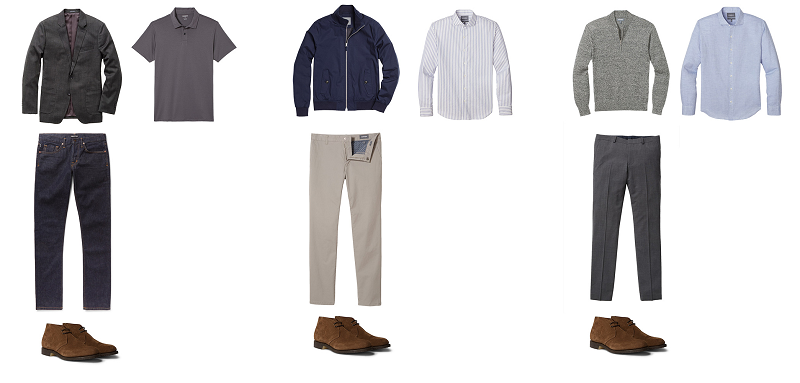 The general guidelines for business casual is that no jeans but also no suit. The perfect mix for many.
Blazer
Even now, the blazer is probably the most essential part of any business casual wardrobe. To be safe, purchase a dark color blazer with standard colored buttons etc.  Be sure to avoid loud colors or patterns, these can have the opposite effect.
Long Sleeved Dress Shirt
The next simple and effect part of a business casual wardrobe is the cotton shirt. Go for blue or other neutral colors. By not fastening the top button, these shirts look great without a tie. Light Blue or White are the preferred colors as these can be worn for almost all events. Choose Oxford Shirts.
Trousers / Pants / Khakis
Business casual style includes many different type of trousers for choice. Ensure your shirt is tucked in and you wear a belt.  Choose neutral colors and don't choose material other than cotton.
Remember that jeans or denim shouldn't be worn when dressing for business casual.
Shoes
Avoid trainers and sneakers and go for classic shoes with rounded or curved endings. See our guide on the best leather shoes for men for all occasions.
Bags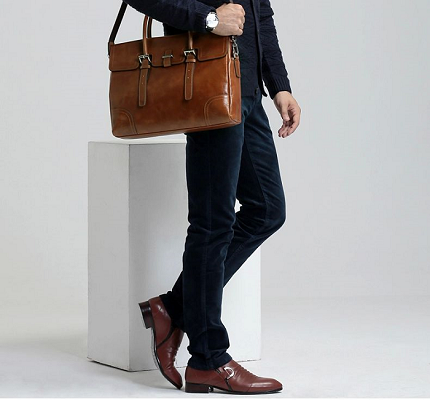 Whilst we love rucksacks and backpacks, for business casual laptop and canvas bags go well. Over the shoulder leather bags are also a great choice, especially in black or tan.
Sweaters and Jumpers
We understand that not everyone wants to wear a blazer or jacket, with this we recommend going for a knit jumper and cardigan. Not only are these great and easy to look good in, they are perfect for the business casual look.
Business Casual at a New Startup
We at MaleStandard.com love startup companies, the atmosphere and everything about them are more casual than standard offices. Whilst everyone wants to wear casual clothing, it is also important to look well. Here are some of the startup business casual items we recommend.
Blazer & Jackets
Whilst a blazers and jackets are not mandatory, it is important to choose a decent jacket if you are going to wear one.
Shirts and Sweaters
We do love wearing shirts, especially plain black t-shirts that fit well we do recommend well-fitted polo shirts, Premium ones from BR are great.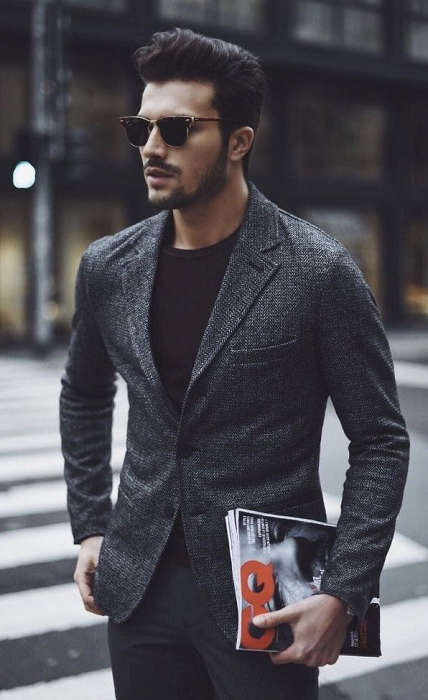 Jeans and Shorts
A decent pair of denim jeans work well for most settings in a startup. What we do advise though is that you go for a darker color, including navy blue and black. Standard denim can be too informal, even for a startup.
Footwear
We at MaleStandard.com like smart casual shoes as opposed to sneakers but remember that if you do choose trainers then go for a decent pair and something not too bright. Loafers and shoes from Cole Haan are always a good choice.
Bags
As with standard business casual, we recommend investing in a good quality leather bag big enough for your laptop and book. Go with neutral colors unless you want to go for something outside the box.
Business Casual – What Not To Wear
There are times with most offices in which wearing business casual attire is not appropriate. On some occasions it is best just to stick with the standard suit, some of those here:
Important meetings with hierarchy or outside clients or investors.
When you are selling a product face-to-face.
When either giving an interview to a new employee or going for an interview.
When it is clear that you must wear business attire every day. Remember some places don't allow it.
If you are unsure whether business casual is appropriate for wearing then the chances are it is not. Remember that it is best to be overdressed rather than under-dressed as your attire speaks volumes.
What do you think of our Ultimate Guide to Business Casual Wear? Have we missed something from our list that must be included. Remember we read all our comments so your feedback is appreciated.