Choosing the best hair gel for men got a whole lot easier. Thanks to some expert reviews and product experience, Male Standard is here to help you make an informed decision that can help shape your hair with added curb appeal. Looking for the best hair gel means that your hair needs are met, and that you can gain the added confidence of knowing that your style will stay in shape all day.
If you find that your hair gel is sticky, doesn't hold or last, or that it brushes off into white flakes that can deter dates; then it's time to find a new product that better suits your needs. Often, we turn to gel that we have used before without considering the different options on the table. We understand that the aisles of gels can make it hard to figure out which one is best, so we've done the hard work for you!
The Male Standard Review: The Best Hair Gel for Men!
When looking for a new men's hair gel, consider one that is designed for your specific hair type. Many gels are designed with a specific style, texture, hair type, and customer in mind. You might be surprised that it's not uncommon to use more than one hair gel (though not at the same time!). By having more than one product, you have different tools for different occasions.
Do not limit your choice of hair gel to something you have always used just because, while this might make life easier, easier is not always best for your hair. If you want to have thick and fuller hair for many years to come, what to put on it can determine a lot. Many basic hair gels contain added chemicals to hold hair in place, and when used over the long-term can cause irreversible damage.
Know your hair and look to gel as an added bonus of styling and protection your hair from these elements!
Take a look at these five top picks and pinpoint which has the most to offer you:
1. American Crew Styling Gel for Men, Light Hold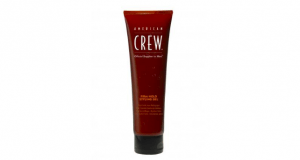 This lightweight, non-sticky formula is ideal for those seeking light to moderate hold and protection from their gel without flakiness, or drying the hair out. American Crew Styling Gel does not contain alcohol, as many gels do, and can be applied to both wet and dry styles for a natural groomed look. If you need hold for your daily style, this is a great lightweight, easy to use alternative that might fit the bill.
Perfect for curly hair that needs taming, and straighter locks that need directions to stay in place – this is a great daily men's hair gel!
2. REDKEN Men's Stand Tough Extreme Hold Gel
While REDKEN might have tried out every adjective for extreme hold, and settled on them all, the Men's Stand Tough Extreme Hold Gel really stands up to the efforts they have gone to produce a long-lasting and extreme hold gel. This is not for the faint of heart, but it will give you room to create exceptional styles. That said, using too much or too strong of this hair gel is asking for white flakes over the long-term.
Use this on hard to tame hair, or on the weekend as a style go-to for temporary use or where you want to add a dramatic new style to your hair.
3. TiGi Firm Power Play
TiGi are an awesome company who really understand men's hair. This is one of their budget friendly options and a great choice of hair gel; TiGi Firm Power Play is a long-lasting strong hold that is ideal for warm weather and those who are active. Unlike REDKEN, this is a matte finish, so your hair will look natural and even a little beached depending on how you add it. If you want a classic gel that will stand up to your demands, this is it.
Use as a great daily wear that will take you from the office to the club – it's also ideal for those with dry, damaged hair in need of resuscitation!
4. MenScience Hair Styling Gel
MenScience are our go-to choice for upscale grooming products, and are clinically tested to ensure your hair stays where it ought to be, without that nasty crunchy feeling some gels offer. While the MenScience Hair Styling Gel will set you back around 20 bucks, it does have everything you would want removed taken out of the equation: No alcohol or sulfates (that damage hair), no fragrance, no sticky residue, no crunch, just gel that lasts.
If you have sensitive skin or hair, this is a great compromise that won't leave you without a good strong hold all day. If you are prone to adult acne around the hairline, consider this as a great option!
5. Burt's Bee's Hair Gel for Men
If you take a no fuss, not picky approach to hair, then this budget friendly, all-natural choice may be a surprisingly cool contender. Burt's Bee's Hair Gel for Men is a durable, masculine smelling, natural ingredient hair gel that is ideal for everyone including those with frizzy and African American hair types. This will leave your hair soft, in place, without feeling tacky or drying as there are no added chemicals or nasty residuals.
We recommend that you use this product for its fortifying benefits, and take the added style as a bonus – perfect for anyone with hair!
Now you know the winning selection for best hair gel for men, which will you choose? Leave a comment below to let us know your favorite pick!