Spring is upon us and therefore, we can now dust off our colourful clothes out the wardrobe. The rise of menswear styles has increased over the year, with more boundaries being blurred and what better season than spring to try be adventurous and try new clothes and colours. During the spring season, it is important to make sure that you wear lighter fabrics, especially during the day. Fabrics such as cotton, linen and silk are perfect for your spring wardrobe as they are breathable which is essential for the sunny days. This article will give you a guide on what colour you should focus on and what clothes and shoes to wear during the spring season.
1. Neutral tonal colours and layering
Tonal colours are hugely popular at the moment with celebrities and fashion designers. With the likes of Kanye West being an advocate of neutral tonal colours such as beige and greys. Neutral tonal colours are perfect for people who are unsure with wearing bold colours. For those who are not overly comfortable with bright colours then neutral tonal colours are perfect for your spring wardrobe and ideal for any occasion. For example, you might opt for dark grey trousers with a light grey top or jumper creating a sophisticated look, ideal for work. Or if you're an edgy and trendy but loves comfort, then the jogging bottoms, oversized tops and utility vest in different shades of beige or sand is perfect for you. Remember, although we have moved away from winter and the sun may be out, the weather is unpredictable and can be deceiving.
What may look warm outside, turns out to be freezing. Therefore, remember to layer your outfits, especially for the night time. Why not add a grey jumper over your grey shirt and trousers, it gives an effortless but yet stylish and smart appearance and can be perfect for an after work drink.
2. Spring Shirts
When spring is upon us, it is more acceptable for a colourful shirt at work. Now I'm not saying to wear a bright yellow shirt but pastel colours are perfect for spring wardrobes. Push yourself out your comfort zone and choose colours that you would not normally wear. Spring shirts are not expensive so you can pick different colours to mix and match with your trouers. Pink is a classic colour and goes with anything. A light pink button-down shirt matched with navy trousers can be perfect for work. If you don't feel confident with a blocked colour, then start of with a pattern coloured, such as pink and white stripes or checked shirts, this can enhance your spring look whilst also making your feel comfortable. Pastels are your best shout, they complement all skin colours and they make great work shirt.
3. Spring Trousers
Fitted trousers can give you an elegant yet cool look but it is important to get the length right. The bottom of your trousers should just be above your shoe but not showing your ankles. Most of your colours and prints will all be in the top, however, don't be shy and try opt for a patterned trouser especially during spring, as this is your time to be bold. If patterned or bold colour pants are not your scene, then the classic navy, black, grey or brown trousers are still perfect for your spring wardrobe as they can be matched with a colourful upper-wear whilst still giving you a sophisticated look.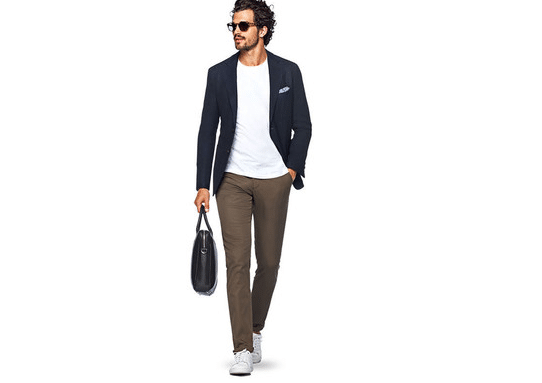 Chinos are a great spring trouser look. A pair of beige chinos are perfect if you are aiming for a preppy look. They will go a white or pastel pink shirt and they are ideal for smart-casual look. Light coloured chinos are perfect for spring season, as they can be worn with a shirt, top or even jumper, depending on the occasion and the weather.
4. Shoes
It is important not to forget to change your shoes for your spring wardrobe. Men's Boots are not only autumn and winter shoes but also ideal for spring. The classic leather Chelsea boot which is favourable among celebrities such as David Beckham, is perfect for casual events, paired with jeans and a shirt. But for spring, try move away from the dark coloured boots and opt for a lighter colour Chelsea boot, like a light brown. Even yet, when the weather is dry, why not try a suede beige boot, they are smart elegant classic look and can be tucked in or out of your trousers. Just remember to check the weather forecast on the day you want to wear suede as it does not mix well with rain. The shoe is perfect for all styles, if you are the edgy rock person in your jeans and top or if you want a smarter appearance in your chinos and shirt.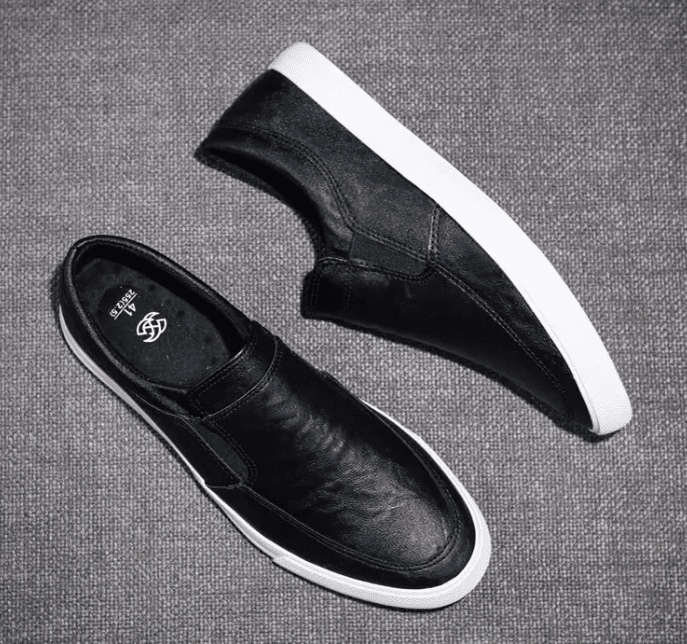 Another shoe which is perfect for spring weekends is trainers. Clean white trainers are flawless for a spring crisp look, they will go with almost anything, from jeans, shorts, chinos, joggers to even a tailored suit, creating the perfect smart-casual look. If you did not want to wear white trainers for whatever reason but still want the comfort of trainers, then simply choose another colour you to wear. Trainers are so versatile that we are no longer just wear them for sports activities but for day to day lives. If you opt for a colourful trainer than make sure it blends nicely with your clothes colour scheme.
Loafers are the perfect suit and work shoe and are ideal for your spring wardrobe as they are a breathable shoe. They can be worn all year round but perfect for the sunny days where you don't want to wear socks. For work, I would recommend a black leather loafer as they go with all suits, but if you are wanting them for weekends or holiday then why not opt for a brown loafer. During spring, it means there is less chance of rain therefore, try different materials and try a suede loafer, they are the perfect shoe for a night out/bank holiday event. Try to stick to neutral colours like brown, black, grey or navy as you can wear them throughout seasons and you can always dress them with brighter and lighter clothes.
Wardrobe Example
It is important the have few clothes but of quality that will last you all the way from Spring into Summer. Here are some of our top choices