Finding the best shaving cream doesn't have to rely on trial and error. By determining your skin type, how often you shave, and what results you would like to gain, you can easily find the right product for you. Below are the top 5 shaving creams for men in 2015, as determined by Male Standard. This list is by no means exhaustive, but we hope that every man will be able to find a strong match based on the uniqueness and quality of the product range below. Prices range from $5 to $50 and each comes with our personal seal of approval.
Neutrogena Men® Skin Clearing Shave Cream
Neutrogena Men® Skin Clearing Shave Cream
If your shaving routine is taking a toll, we highly recommend seeking out the Neutrogena Men Skin Clearing Shave Cream. This unique formula is hypoallergenic, oil free, and contains glycerin to leave your skin clean and clear. This no foam formula won't dry out your skin and was the first medicated shaving cream to minimize ingrown hair and help prevent breakouts. You get all of these benefits, plus the addition of glycerin to minimize irritation and provide a great shave. Unlike shave foams and gels, a thin layer is all you need.
Dove Men+Care Total Comfort Shave Cream
Dove Men+Care Total Comfort Shave Cream
Launched late last year, the Dove Men+Care Comfort Shave Cream boasts an expert skin care system for use at home. The focus behind this new shaving cream is on creating the most comfortable and luxurious one-step shave possible. This protective formula is perfect for dry skin but can be used by all skin types. It's clinically proven to better moisturize skin to protect it while shaving. Dermatologist tested for sensitive skin and moisture enriched, we love that Dove Men+Care softens facial hair for a smooth and comfortable shave.
Kiehl's Lite Flite Shaving Cream
Kiehl's Lite Flite Shaving Cream
Perfect for traditional shavers, this close comfort formula is easily applied with a shaving brush to build up a good lather. This is because Kiehl's has specifically formulated the Lite Flite Shaving Cream to be use with shaving brushes for professional results. The combination of the rich lather and shaving brush ensures that any facial hair, especially thick beards, are evenly coated before removal. This aids in reducing razor burn caused by friction and leaves skin feeling silky and refreshed. This is also a paraben free formula.
Jack Black Supreme Shaving Cream
Jack Black Supreme Shaving Cream
Jack Black Supreme Cream Triple Cushion Shave Lather provides a rich luxurious lather that lifts whiskers up, away from the skin, for a smooth, ultra-close shave. With Triple Cushion technology, three protective, hydrating layers of Macadamia Nut Oil, Glycerin and Soybean Oil, means super close razor glide and a superior cushion of protection against razor burn, irritation, nicks and cuts. Jack Black Supreme Cream Triple Cushion Shave Lather leaves the skin velvety soft, hydrated and refreshed.
Art of Shaving Unscented Shave Cream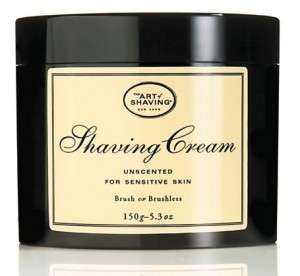 Unlike many shaving creams, Art of Shaving has devised a no fragrance, no fuss alternative for traditional shavers. If your skin is irritated after shaving, cutting out the fragrance could make a significant difference. The Unscented Shaving Cream generates a rich and foamy lather that helps protect the skin from irritation by improving razor glide. It softens the beard for a close and comfortable shave. The Shaving Cream hydrates your hair for shaving and leaves your skin feeling smooth. It can be used with or without a shaving brush.
If we missed your best shaving cream from the list, be sure to leave a comment below for us to check out!