Fall & Winter go hand in hand like football and Thanksgiving, but as the seasons change, so should your grooming routine. Chapped lips, dry skin, and brittle hair are familiar signs of under moisturizing and lack of preparedness for the cooler months. Intertrigo, a fancy name for a reddish rash that shows up between the folds of skin, is a common skin rash that crops up when skin loses moisture. Areas most affected include the armpits, feet, inner thighs, and anywhere an overlap of skin on skin causes friction. To prevent these or other nasty symptoms, Male Standard has devised a list containing the best grooming products for fall and winter. These are our personal go-to's and have all be Male Standard approved. They are also essential items for combatting cooler climates and cover all the grooming bases so you can go into the New Year feeling and looking like a boss.
Beardbrand's Tree Ranger Beard Oil
Beardbrand's Tree Ranger Beard Oil
Now that the weathers cooling down and Movember is on the way, it's time to pucker up. Your beard that is. If you've been thinking about growing out a billy badass beard, now's a perfect time. However, if you want the journey to be smooth sailing ahead, then you'd better be prepared. Beardbrand Tree Ranger beard oil smooths stray hairs and has a delicious fall fragrance. The oil nourishes and protects the skin with a nutrient rich oil that isn't sticky or fussy. Simply add a few dabs of oil to your hands, and work in sparingly to your facial plum. As your beard grows, the oil will soften the area to prevent any itching, and will add necessary moisture into your skin. Plus, you'll look and smell amazing.
Baxter of California Deodorant
Baxter of California Deodorant
This long-lasting deodorant has a warm woodsy scent, which is perfect for fall. Plus: It's aluminum-free. If you suffer from rashes under your arms, chances are you have an aluminum allergy. This semi-toxic ingredient is a common additive in many deodorants, and can dry out skin. Instead, Baxter of California offers a strong, but natural alternative that will help keep you feeling fresh and dry, without any unnecessary irritation. This sensitive skin formula provides total odor protection with the added comfort of an aluminum and alcohol free formulation.The clear gel formula means that you won't run the risk of white smears. So it gets two thumbs up from us!
Jack Black Intense Therapy Lip Balm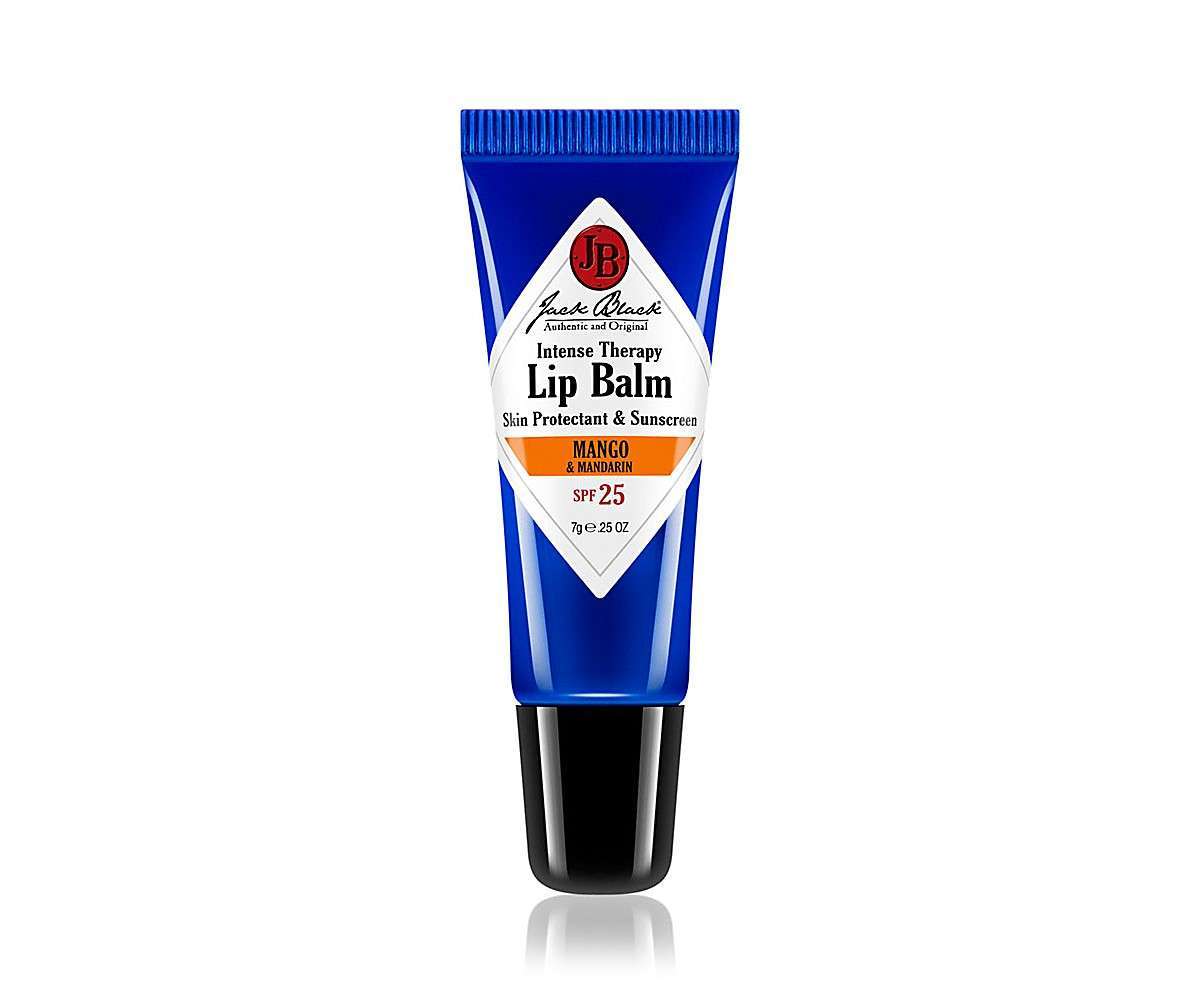 An essential product to keep in your arsenal, this rich lip balm will help protect your lips from harsh cold weather. It does, however, leave your lips with a slight shine (which is really a small price to pay to keep your lips from becoming a chapped mess). Jack Black Intense Therapy Lip Balm has an SPF 25, which means you can hit the slopes knowing your lips are protected. Field tested in extreme conditions, this balm contains antioxidants and superior moisturizers to provide lasting treatment. Provides broad-spectrum UVA/UVB protection.With dozens of flavors to choose from, such as grapefruit and peppermint, we're confident you'll find your perfect fall fragrance.
Kiehl's Facial Fuel Moisturizer
One downside of fall & winter is that the harsh cold and wind take a real toll on your face. Enter Kiehl's Facial Fuel Moisturizer — unlike other moisturizers, it won't leave your face feeling greasy. Plus it has an invigorating scent. This non-oily men's moisturizer is enriched with vitamins and contains vitamins C & E along with Chestnut Extract & Soy to help revitalize dull & fatigued skin. Strengthens skin to combat environmental aggressors such as cold and wind. Protects skin from harmful UV rays. Improves skin texture & appears energized. If that doesn't float your boat, we don't know what will! Incorporate into your usual cleansing routine as a powerful second-step moisturizer.
Damn Handsome's Pumpkin Spice Beer Soap
Pumpkin Spice Beer Soap
For the guy who wants to multitask, this vegan shampoo and soap combo is perfect. Plus, it's made with hops, barley, and malt which are, y'know, what beer is made from. Not that you can drink it, but still. Inspired by the anticipation and short-lived season of our favorite Pumpkin Ales, Damn Handsome decided to bring the same warmth into their soap this season. Available as a limited release, Pumpkin Spice Beer Soap is crafted with spent grains from a local Pumpkin Ale. Featuring top notes of cinnamon, nutmeg, allspice, clove and a damn good amount of organic ground pumpkin seeds – rich Vitamin E, selenium and zinc (and way better for your skin than a latte), we love these products! 
Grey Vetiver by Tom Ford
TOM FORD Grey Vetiver
Grey Vetiver is an awesome match for the greyer months (pun intended) since it has notes of cigar smoke and all in all is has a very masculine scent. This is Tom Ford's masterful rendition of the cool and intriguing possibilities of vetiver—the hallmark of a classic, sophisticated, unabashedly masculine man. The fragrance moves vetiver from the background to a signature placement that develops from top note to dry down. The scent revolves around the ultra-pure essence of vetiver, obtained by a revolutionary extraction technique. Warm woods wrap and balance the top layer as middle notes composed of orris, nutmeg, and pimiento impart a clean, grounded energy. A wash of golden amber woods leads into a fascinating, rich drydown. Hungry for fall yet?
Leave a comment below and let Male Standard know your best grooming products for fall & winter!