Some people think they should give up looking fashionable while traveling since they can't bring many things to wear. However, traveling while looking stylish doesn't have to be complicated. Sometimes, you only need to bring items that suit your travel style.
In addition, you can bring pieces you can mix and match effortlessly to look good while exploring your destination. It's helpful to think of your safety when dressing up in a foreign location to prevent mishaps like getting pickpocketed.
So, here are some style and safety tips you can remember when traveling. Keep on reading to learn more.
1.Upgrade Your Accessories
Some staple pieces you commonly use and wear every day are your accessories. For instance, wearing your watch is a must, especially if you need to check the time often. It's also a subtle piece that can significantly elevate any look. Your wallet is also a fashion you can't forget whenever you leave home since it may contain your cards and I.Ds. So, it's not surprising if you need to bring your most important accessories when traveling.
If you wish to enjoy your trips without worries, upgrading your accessories with more travel-friendly designs may be a great idea. For instance, it may be better to wear a traditional watch instead of a digital one as you may struggle to find places where you can charge it.
Also, if you prefer to travel light whenever you explore your destination, you can invest in a men's carbon fiber wallet. It's a compact and simple design that won't bulge in your pocket or occupy too much space in your bag. Furthermore, it has a modest design, which may prevent you from attracting attention from other people whenever you take it out.
2. Bring A Small Bag
If you prefer to go sightseeing while carrying some essential items, it may be more convenient to bring a small bag whenever you travel. Besides your luggage, you can carry a sling or messenger bag for your devices, wallet, and other must-haves. This way, you can quickly access whatever you need while traveling.
You can choose a chic bag that matches your outfits so you can look fashionable while carrying it. For instance, a small leather crossbody bag goes well with various colors so that you can wear with confidently during your trip.
If you prefer a more convenient travel item, you can pick a bag with various pockets or sections to keep your valuables organized. Additionally, it's best to use ones with durable zippers or locks to prevent losing your things. This way, you can safely store things like your passport or RFID protected wallet in your bag.
3. Pack Comfortable Shoes
Your shoes can either complete or ruin your outfit. If you wear ones that look awkward or mismatched with your garment, you may fail to achieve the look you want. So, if you wish to travel with style, you should pack the right shoes for your destination and travel plan.
For instance, you must pack comfortable shoes if you expect to walk around a lot during your trip. A pair of sneakers or boat shoes are good options as they match casual outfits well and feel soft on your feet.
If you plan to go to a formal event like a party or dinner during your trip, you can pack a pair of stylish shoes. When choosing your footwear, you must consider the weather at your destination. For example, if you're going somewhere cold, you should prepare winter boots.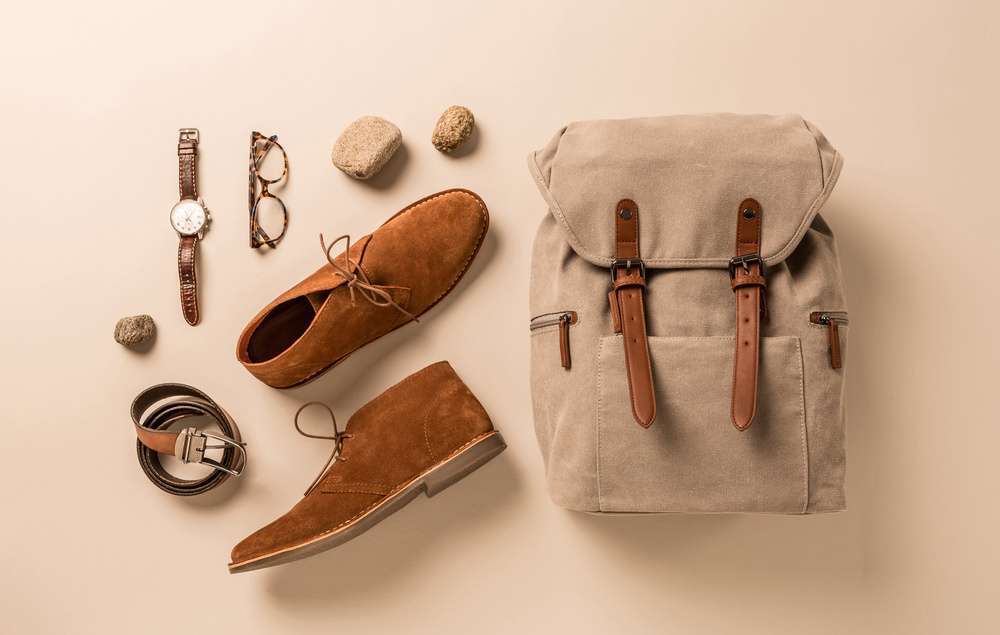 4. Wear Wrinkle Free Clothes
Wrinkles on your clothes can ruin your style, no matter how fashionable they are. And, if you're on the road, finding something to iron your clothes may be challenging. So, if you wish to look stylish, it may be best to pack wrinkle-free garments.
For example, you can find shirts that don't develop creases easily. Clothes made of polyester and nylon are excellent choices since these fabrics are less prone to wrinkles. If you have room in your travel bags, you can bring layering pieces like a denim or a leather jacket. These pieces don't wrinkle easily, so you don't have to worry about folding them.
Alternatively, you can bring a travel-sized wrinkle remover to refresh your clothes. You may ask your accommodation if they have an iron you can use as well. This way, you can straighten your clothes and wear your travel outfits confidently.
Final Thoughts
You don't have to sacrifice style when you're traveling. In addition, you can make simple fashion choices to ensure you stay safe during your trips. For instance, using a small bag or wearing simple accessories can make you look dapper and keep your travels free from inconveniences like wrinkled clothing.