In case anyone is taking note, I've been good this year. Extremely good. Okay, so I'm totally lying. I'm never quite as good as I set myself out to be, but I do try, and isn't it the effort that matters?  If it's the thought that counts when it comes buying someone a gift, why can't it be the thought that counts when it comes to our actions? Just saying. Now while I contemplate how to land on Santa's nice list (being mostly Jewish, he might just fly right over my roof), you men are probably chewing your fingernails frantically and anxiously pondering what to buy your ladyfriend, wife, or fiancée this holiday season.
Well, let's be honest: you'll probably run into a store the day before Christmas or Hanukkah and pick whatever doesn't look hideous. Instead of bringing home another horrific present that makes your broad want to sideswipe you with her car, consider my pearly words of wisdom and come out looking like a champ this holiday. You may even be forgiven for the time you said her butt looked "pretty big" in those jeans. Tisk, tisk, some thoughts are for internal monologue only gentlemen!
Repeat Offender (n.): a man who continually gives crappy gifts no matter for who or what the holiday.
If you've given your lady or any lady from the past a gift and watched as your woman turned white or green while receiving said present, you're at risk for being a repeat offender. Tread safely, as you could end up sleeping on the couch for yet another Christmas watching late-night movies. Worse? You could end up homeless. Buy a gift card. According to creditdonkey.com, 87% of women they surveyed want gift cards. That's probably because men buy the wrong stuff. When we tell men we want clothes, they end up buying us stuff in either the wrong size, (thanks for the nightgown in size XXL, pal—I meant XS) the wrong item (thanks for the fur muffler dude, I'm not eighty years old though) or the wrong color. Have you ever seen a pale woman like me wear mint green? No, that's because we'd look like corpses. Stay safe my menfolk, and purchase a gift card from her favorite store.
Possible Booby-Trap: Don't buy her a gift card to a store that you want her to frequent, like Home Depot, unless of course she happens to be a DIY-gal.
Tips from the Depth of my Soul: while the survey by creditdonkey said 65.8% of us would love clothing, heed my above warning, and go for a gift card.  Guys, if your lady hints that she wants clothing, scoot her tush over to the world-wide internet, and tell her to set up an online wish list with the exact sizes and items she's looking for. If she refuses to cooperate, give her coal in her stocking and a severe time-out.
Jewelry (n.): luscious stones guaranteed to get you off of her "crap" list, and into her good graces.
There's no problem too big that a pair of diamond earrings or a beautiful necklace can't solve, perhaps besides you having an affair. In that case, unless you poop diamonds, you're out of luck. Creditdonkey said that 54% of women surveyed want jewelry. That's a good majority of us pal, yet sadly, only 30% of XY's surveyed want to give jewelry back. This means about 20% of you are going to be going on a date with the bag lady down the street for New Year's. I hope you've got hand sanitizer. Jewelry sends us a bunch of awesome messages: first, that you love us enough to spend your hard-earned bread; second, that you want us to look pretty; third, that you took the time to find us something special.
Possibly Booby-Trap: If it's Cubic Zirconia, don't bother. Also, if you're the most clueless man on the face of the earth and believe that a Hawaiian print t-shirt and dirty cargo shorts are cute, (unless you're Jimmy Buffet) get the sales rep to pick the item for you, and please get a gift receipt. Nothing says, "I hate you" more than buying a crappy gift without a gift receipt attached.
Gadgets Galore (n.): electronic toys like tablets, cell phones, and more that rock our world.
I know you think that electronics are just for boys, but girls just wanna have gadgets too. Why not hook us up with a sweet iPad Air or iPad Mini to cuddle up to when you're busy at night? We probably don't want a Xbox One as badly as you do, but we certainly would love the Samsung Galaxy S4, the iPhone 5S, or maybe even the new Google Nexus 5.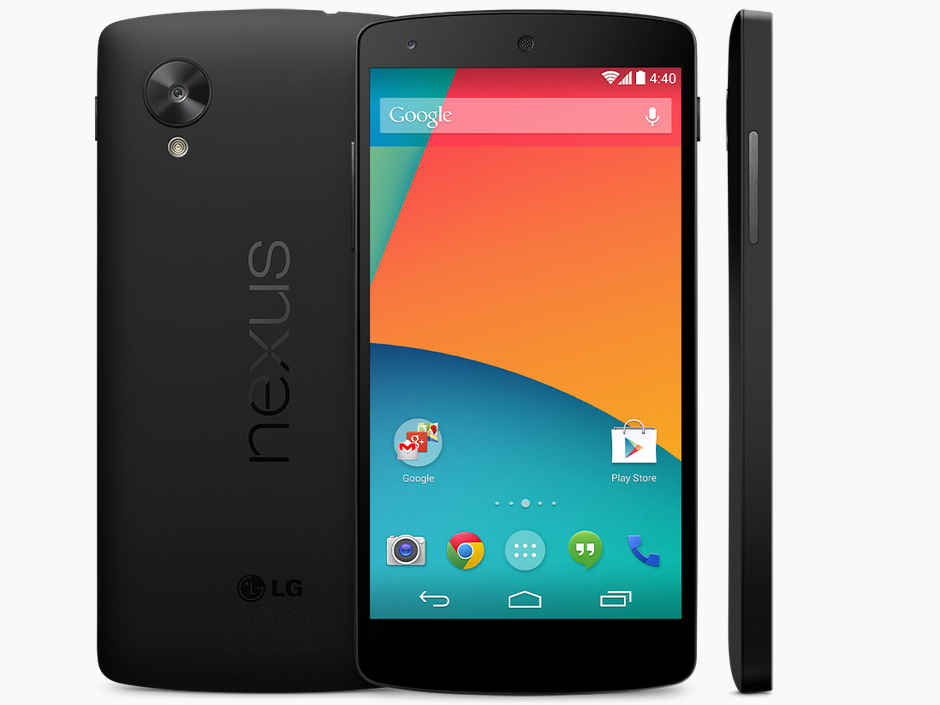 If you're going to splurge on a new cell phone for us, don't forget a few things:
Buy a case.
We like Speck cases especially—they're durable, pretty, and come with a one-year warranty! I'm sure you wish we did too. We often wish we could exchange you, but sadly no stores like that exist. Yet.
Sell your old cell phone back.
We've seen your ratty t-shirts that you've had from high school. We've seen you walk around like a zombie with a five o'clock shadow for days (it's Movember, isn't it?). We know you have a few old cell phones at home that you could get cash for, which help fund our gifts. Sweet of us to suggest, right? While if you're brave you can go on to Craigslist, you'll probably get scammed by some weirdos, in which case we'd have to laugh at you. Why not choose uSell.com? 94% of people prefer uSell over eBay and Craigslist when it comes to selling back their old electronics. Just go on to uSell.com, and choose your cash offer from over 50 professional buyers. All it takes is sixty seconds, and you'll be on your way to getting cash fast. uSell has even made customers over $11 million by selling back their cell phones. What are you waiting for? This is a perfect way for men to make money: simple, easy, and fast. No short-term memory required.
Bonus Point: if you're buying her the Samsung Galaxy S 4, why not buy it at usellwireless.com? When you buy a phone through usell wireless, you'll get her a phone from a top-rated carrier (Sprint, T-Mobile, Verizon) for up to $150 less than in-store prices. You can snatch the Galaxy S4 too at a great price!
Sentimental Feelings (n.): the emotions you get when your man makes you a special gift, and I'm not talking about the gifts you sometimes leave behind in the toilet bowl.
36.8% of men want a homemade gift. No joke, huh? You'd rather have a Fitbit force or Xbox One than a personal painting of the two of us? I can't believe it. I hope you can interpret sarcasm. But for women, gifts matter to us because to us, a gift shows us how much you like or love us. It's not necessarily about the money, but really about the effort and thought. Running out and buying us a six-pack of beer or some tome written by Dr. Phil shows us how much you don't like us. That's why 62.1% of us want a homemade gift. Make a photo book of the two of you or of the family. If you're an artist, paint something she's always wanted for your bedroom. Create a blog of written past memories or photos of you both if you happen to be so inclined. I recognize that this is the one category in which most men will fail utterly at, which is why I have the default category of gift card.
Penny for my Thoughts (n.): advice you better take or prepare to suffer the consequences.
Unless she loves chocolate, (and don't buy the cheap kind) candy is basically a lame gift. Avoid any gifts that might suggest that we need to lose weight or look better. If we want an exercise DVD or Botox, we'll gladly purchase it ourselves, although contributing to the Botox fund is nice as long as you're not the first person to suggest us getting it. Lingerie and "toys" are always warmly welcome, especially if they're backed up by a night away. Be sure— and I mean cross all your T's and dot your I's—to get the right size lingerie. It's the first time you should do it: raid her panty draw, write down sizes, and go to the store armed for battle. Whatever you do, always get a gift receipt.
In Short (n.): the ending to this amazing article— not a call for short guys, or guys with short-chick fetishes.
Follow my advice, and don't look like a tool this holiday. Getting the wrong gift can really get a lady's panties in a bunch; the last thing you want is to be swigging back beers and watching "Jerry Springer" reruns by yourself on the couch this holiday. When in doubt, ask her friends or her mom. Never go into the store the day before the holidays, and be sure to wrap it nicely.
About the Author
Laura Lifshitz-Hernandez has never sat on Santa's lap. She is a pint-sized tour de force of wit, smiles, and neuroticism. A comedienne, writer, and former MTV personality, she will work for self-validation and chocolate. A graduate of Columbia University, Laura likes gifts of the monetary and jewelry kind, and has been known to go into convulsions at the site of a hideous reindeer-printed sweater. She has delusions that she is the family favorite of four girls and likes to make friends with strangers. Follow her @LauraLifshitz on Twitter and on Facebook at: https://www.facebook.com/lauralifshitzwriter
About uSell

uSell has helped customers earn over $11 million for selling their used phones. And because we believe in doing good for the environment, we're proud to say that we've kept over 170,000 cell phones out of landfills. Today, people are savvy about their electronics. They either want to upgrade to the latest and greatest gadgets fast, or give their old devices a second life. We've created a marketplace around those two desires. In just three easy steps, our customers can connect with over 50 professional buyers to get instant cash offers, hassle free. uSell is transforming recommerce one cell phone at a time.