These days, choosing the best shaving set is next to a ritual. While having facial hair is widely accepted on a professional level, presenting yourself as classy and mustached is a likable attribute to your overall appearance. Your choice of tools says a lot about who you are, and what people can expect from you. Are you the laidback, casual guy who's good in a crisis? Or are you the meticulous mastermind behind your next business idea? Let's find out with a guide to choosing the best shaving equipment.
What Are The Shaving Essentials?
Shaving Brush
Edwin Jagger Best Badger Shaving Brush, Medium, Black
Shaving brushes are important to any shaving set. A good shaving brush can dictate neatness and cleanliness while at the same time be merciful to those men with sensitive skin. Its size in comparison with the kit is also an important consideration. If you're looking for a portable set, a large oversized barber brush won't fit into your routine. However, it may provide the opulence you desire at home. A few other qualities to be on the look out for are allergen concerns (to natural boar bristle), the weight of the handle (the heavier the better), and how plush the head is.
When buying a shaving set, most include a mug, shaving soap, safety razor, and, of course the shaving brush. For beginners, these are also usually the most cost effective ways to get started. Remeber, you can always add to your collection from this foundation if you find a different tool you prefer. The value of the shave brush is dictated by it's bristle type. Prices can range from a synthetic 5 dollar dabber to a costly 1,000 dollar Cadillac-parallel-handled shave brush. The average price we recommend is in the $30-80 range. This will give you a benchmark of craftsmanship, with years of potential use.
Shaving Soap & Safety Razor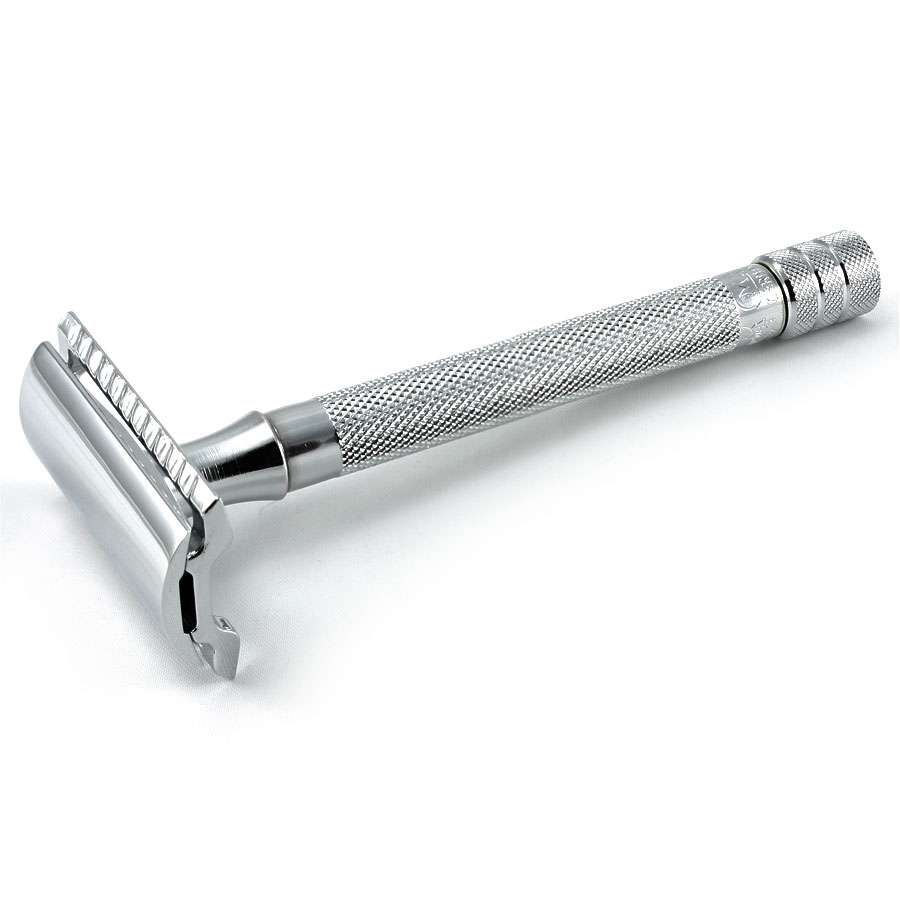 Shaving soap should penetrate the skin, and promote a clean, safe shave. Shaving soap is designed to be lathered with water to create a thick, creamy foam that will nourish and protect your skin. We recommend a traditional shaving bar soap over a can of shaving gel. Sensitive skin requires more moisturizer containing lotions prior to shaving, and less bite when sterilizing the skin due to the shave afterwords. The Merkur Long Handled Safety Razor has a chrome finish. Its double edge design provides a very close shave. Its comfortable extra long handle is designed for a non-slip grip and works well with all hands especially larger hands.
Shaving Mug
Edwin Jagger Porcelain Shaving Soap Bowl With Handle, Black
Lastly, but never least, is the shaving mug. Depending on how you shave, when traveling, it can be very worthy and a great shaving aid. The purpose of the shaving mug is to help you create a rich, creamy lather for your shaving soap. This is what will give you a professional shave at home. This Edwin Jagger Porcelain Shaving Soap Bowl With Handle is an ideal accompaniment to a wet shavers daily routine. Used with an Edwin Jagger natural paraben free traditional shaving soap. it will allow you to whip up a rich shaving lather to complement your shave.
The Best Shaving Set
On a final note, easy storage and nifty traveling abilities of your shaving set are as equally important as the price. You can buy a good, low-cost shaving set with a handy shave brush and store it most conveniently for years and years of business trips and never undergo any type of difficulty with your 20 dollar brush. On the other hand, you may find the experience of a professional shave at home to be one of life's luxuries you can't afford to miss out on. The following best shaving sets are the most popular among our community.
What shaving set do you refuse to live without? Let us know!