Men's wallets are easily the most overlooked item in a man's life. They're one of the most significant tools you own and use daily. After all, it goes with you everywhere. It offers you instant access to cash or credit (especially beneficial in an emergency). It gives you a place to put your I.D. and condoms, equally necessary. But while it spends the majority of time in your back pocket waiting to help, it does say a lot about you during the time it spends out in the open.
What you might not realize is that your wallet can also accumulate bacteria, and germs, which are then transferred to your hands and face (it could be the reason for all those unaccounted breakouts; money is dirty!). If your wallet is worn out, faded, or hasn't been replaced in a few years, it's doing more than just making you look bad. It could be a potential disaster waiting to happen. You might lose it all, or gain more than you bargained for…
Male Standard did some shopping around to see which are the best wallets for men. These suggestions will give you an idea of a suitable upgrade, with some neat features to.
1. Buffway Slim Minimalist Front Pocket RFID Blocking Leather Wallets for Men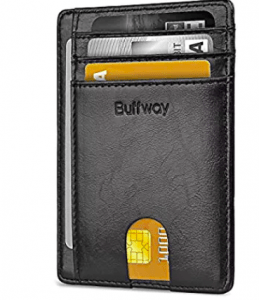 Ideal for the man who carries primarily credit cards, and some notes (this does not have a place for coins, unless you count the additional container it comes in).
Buffway company (with international shipping) that has created the smallest wallet in the world. For tech lovers, this compact mini cardholder with money clip is an ideal talking point, which has a striking design, and unique functionality. It is 100% recycled and made from polymer to create a durable Pod style case, which is 100% waterproof. With 15 color variations, no man should feel limited to convention.
What we liked about this wallet is that it's easy to keep clean, and unlike leather, it won't smell or begin to warp when wet. Who says hygiene and designer looks can't compete
2. Tom Barrington Stingray Wallet For Men (Multiple Inlay Color Options)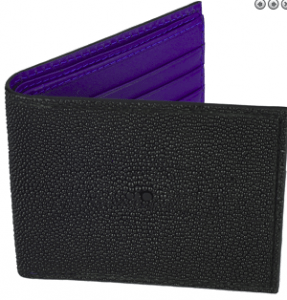 Also, ideal for minimalists (cards and note carriers only). This Tom Barrington is ideal for those who are looking for a more traditional take on a miniature card wallet for men.
Choosing a leather wallet does have it rewards; they tend to outlast other materials and offer a timeless and sophisticated appeal. However, there are more leathers out there. This stingray leather wallet is made from you guessed it, the hide of stingrays. Exotic leathers are a terrific way to add a unique touch to your most common accessory, without losing any of the benefits or looks that you're accustomed to.
We like the choice of inlay colors, from black to purple; you can add a dash of class or creativity depending on your mood.
3. Visconti Hunter 702 for Men
A versatile wallet with a modern design twist that doesn't compromise on functionality. Ideal for men who appreciate practicality and designer looks.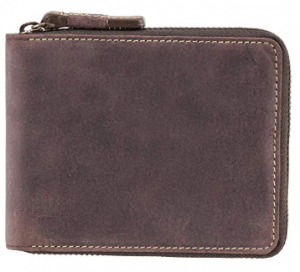 Visconti is one of the few men's wallet designers who still appreciate true functionality. Keeping change in your pocket is not only impractical (that jangling is highly irritating), but also coins are extremely unhygienic. Storing your coins in your wallet means you always have change for tollbooths on hand, without having to dig around in crummy seams. This great daily wallet has an oil tanned distressed look, perfect for casual wear.
What we liked about this wallet is the added security (and style) feature of a zip around the edging, which means you are less likely to lose anything on a night out!
4. Black Magic Wallet for Men
If bold color isn't your thing, or you're looking for a compromise, consider a mixed brown and black leather wallet that matches any shoes, belts, watches and other men's accessories.
While practicality is obviously a massive starting point for finding the perfect wallet, many men tend to overlook the style as a design function. If you wear other accessories, then choosing a mixed color leather wallet is a fantastic way to ensure you are never wrong. This magic wallet also has a unique way of storing cards and cash and is a superb option for traveling, when you need to dive in and out frequently for different things.
We like that the use of elastic means you can hold as much or as little as is needed, without worrying about losing money in the process.
5. Kenneth Cole Men's Money Clip
A striking design, with complete functionality for the man who only carries cash and cards in our modern world.
Kenneth Cole took a DIY idea and ran with it, and boy are we glad they did. There's a reason why money clips are so popular; they keep your money where you need it. They also make you look good while having it. By introducing some leather, and galvanized steel, you now have a designer money clip that doesn't give away that you found it in the garage. It creates a sense of minimalism bar none and is a fun wallet most men will appreciate.
It does what it says on the tin. This is a no fuss, no nonsense wallet for a man who wants to know where his money is at all times.
Choosing The Right Wallet And Accessories For Men Doesn't Have To Be Bewildering. Get The Male Grooming Lowdown From Real Experts!