Paging all NASCAR fans. Imagine for a moment, standing in the radio booth above pit lane, looking down across the track at all the drivers, mechanics, managers, and fans. For one brief moment, no, I wasn't dreaming; I was invited by Kelley Blue Book for an incredible all-access experience like no other. I flew out to Sonoma California for the Monster Energy NASCAR Cup Series, with a Holy Grail 'Hot Pass' in hand.
This was my chance to find out, up close and personal, what NASCAR is all about, and to meet with one of the rising stars of the Monster Energy NASCAR Cup Series – William Clyde "Chase" Elliott II, or Chase Elliott as you might know him, who currently drives the No. 24 Chevrolet SS for Hendrick Motorsports in the Monster Energy NASCAR Cup Series.
I got to meet with Chase and ask him some exclusive questions about his experiences, his history, and his expectations for the current season. You'll be getting that interview real soon, so stay tuned. As I was gifted an incredible Hot Pass by Kelley Blue Book, I got unprecedented access to the NASCAR experience, like brushing shoulders with Chase's teammate Dale Earnhardt Jr., at a press meeting.
My Monster Energy NASCAR Cup Series Experience
First, let me tell you, this is one of the loudest, most action-packed days you can imagine. Everywhere you turn, there's cars being revved up. People are all on the track, running in and out of garages, fans waiting on the sidelines to meet and greet and take photos with their icons, and the smell of oil and gas is in the air. The excitement is almost tangible and begins long before the first lap.   
I decided to check out the infamous pit lane, in the trenches with everyone from fans to driver families. One thing that struck me almost immediately is the sense of comradery at NASCAR; it's not like football, which is a spectator sport, you get on down there and talk with the drivers, and if you have a Hot Pass, you can even chat with the technicians inside of their team garages.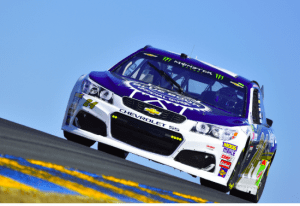 I even got to go to the top of the radio tower, which is the central command system of everything you see on TV; this is the heart of NASCAR and where insane amounts of data are processed at incredible speeds. From here, I saw Chase preparing his team for the race. One thing I learned from his mechanics after is that NASCAR is extremely technical.
You don't want to run out of tires or gas at the wrong time; the goal is to run out right as you are coming up on your pit break to maximize your efficiency. In Sonoma, this is one of the few tracks where you can make right turns, so the heat was on to prepare Chase and his car for the race ahead. Learning about the strategy, and all the facets that go into a successful race day, was surprisingly entertaining.
On the Red-Carpet at NASCAR
As part of my experience, I got to go to a special red-carpet access area with unparalleled access to the celebrity fans and participants of NASCAR. All the big drivers were there, along with athletes, wrestlers, and PR agents. Anyone you could want to meet at a NASCAR event was within touching distance, and I was impressed at the incredible access – it was completely unexpected.
Before each race, Hot Pass holders were invited to join in on one of the most sacred traditions of NASCAR; this is where the rules and regulations are read. In other sports, this might be the time to chat with the celebs, but as the driver's and guests have been chatting non-stop with sponsors and media on pit lane, this is a special time reserved at NASCAR for tradition.
Monster Energy NASCAR Cup Series
Toyota/Save Mart 350
Sonoma Raceway, Sonoma, CA USA
Sunday 25 June 2017
Chase Elliott, Hendrick Motorsports, Kelley Blue Book Chevrolet SS
World Copyright: Nigel Kinrade
NKP
This leads me to my next observation, NASCAR really struck a nerve with me in the best possible way, and I was amazed at how tradition, and family values, and incorporated into the events. NASCAR is so much more than a series of left turns; it's about friends and family, camaraderie, loyalty, and respect for automation and our country.
This holiday week, I'll be thinking fondly of my time at NASCAR, and recounting the ways I got to see and experience some of the best of what America has to offer; high-octane sports, incredible cars, and the showmen and players who make it all possible. My gratitude goes to Kelly Blue Book for inviting me out and to Chase, his team, and everyone at NASCAR for such a fantastic, all-access experience!
While many people think of car values in terms of monetary amounts when they think of Kelley Blue Book, this weekend really showed me what KBB stands for is more than wallet-deep. I was treated to unparalleled access in the same way car shoppers can expect to access the top cars in their area at competitive prices, and saw the family values up-front that KKB aspire to.
To find out more about Kelley Blue Book, and all the ways they can save you money when selling or buying you car, please visit www.kbb.com/.