If you think shorts are reserved for boys or the band members of AC/DC, think again. The best shorts for men are a staple accessory for summer. Shorts are loved for their versatility and effortless style, and can be paired with sweaters, shirts, jackets, and just about any other tops you own to create a new and cool look. Plus, you can choose from a variety of fabrics, fits, and most uniquely, patterns.
Once you discover the secret joys of wearing shorts, we know you'll think twice before reading for that pair of boring jeans. The trick to pulling of stylish shorts is all in the length. You want the shorts to end just above your knee. Avoid the thigh area as these are not flattering. Longer shorts can be worn by the younger man, but typically, after 25, you want to see some of the knee.
Keep reading to discover the best shorts for men and why we love these five great designs. Remember, there's no rule to say you can't own a different pair of shorts for every day of the week!
Quiksilver Men's Twill Yarn Dye Amphibian 20 Inch Hybrid Short
If you're looking for a pair of decent, every day shorts, you can't go wrong with these. Quicksilver offer an excellent collection of well fitted shorts that are flattering on most men. These neutral shorts can be dressed up with a short-sleeved shirt, or dressed down with a simple tee and sandals. You should own a few pairs during summer for daily wear.
Why we love them:
Simple but quality design
Excellent fit and correct length of short
PGA TOUR Men's Golf Performance Solid Tech Cargo Short
You don't have to play golf to love these performance cargo shorts. Another causal contender for daily wear, these PGA Tour cargo shorts are unassuming and can be paired with shirts, sweaters, and all sorts of tops for a variety of events. These also offer unique wicking properties to keep you feeling cool and dry during those balmy summer months, or an afternoon on the green.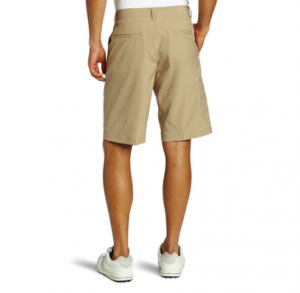 Why we love them:
Motion flux: innovative seams define range of motion
Easy care: machine washable, maintains its smoothness
Pro series: athletic fit
Haggar Men's Cool 18 Expandable Waist Plain Front Large Plaid Short
Plaid shorts are a summer must have, and bring an interesting addition to your closet. If cargo pants are too boring, you'll love these fun and fresh shorts that are available in dark olive, grey, and blue. Plaid is a classic look that won't go out of style. Wear these for a family BBQ, or casual get together with friends and feel confident you're hitting all the right style notes.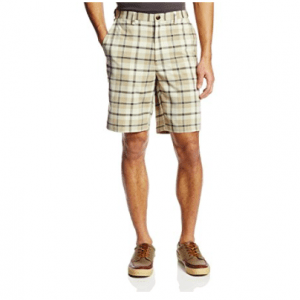 Why we love them:
Comfort fit in-seam with flexible and invisible expandable waistline
Do not require ironing
Under Armour Men's Fish Hunter Cargo Shorts
If you're looking for a pair of shorts that can keep up with you in summer, these Under Armor men's fish hunter cargo shorts are a slim-line option that won't hold you back from fun. These cargo shorts feature a sportier look and can be worn casually, as a daily driver, and for low impact sports, or just hanging out at the beach. They are also available in an incredible collection of colors and patterns.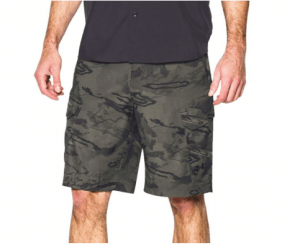 Why we love them:
Huge collection of styles and patterns
Features elastane for a more comfortable and stretchy fit
IZOD Men's Seersucker Short
Not all shorts have to remind you of your dad; these seersucker shorts by IZOD are for the dapper man who appreciates quality. From the fit to the seersucker fabric, these shorts are a class hit. Layer these up with a blazer and shirts for a classic nautical look, or wear out for brunch with sneakers. These are sure to turn heads!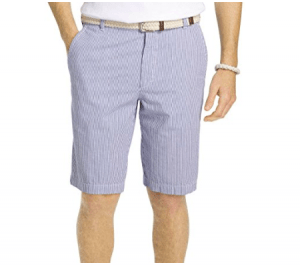 Why we love them:
IZOD's Seersucker short maintains modern, preppy appeal thanks to a flat front and relaxed fit
Back double-welt button-through pockets