It may feel like summer, but shorts and sandals may not be not appropriate office attire. Keep cool this summer while still looking sharp enough for any meeting with these quick tips from Tom Patterson, founder & CEO of men's fashion brand Tommy John. As a leader in men's fashion and innovation, Tommy John is invested in providing men with summer appropriate pieces made of breathable, lightweight fabrics like seersucker, linen, cotton and mesh, the fabric-of-the-moment, to help men stay dry and comfortable.
Tom started Tommy John because he was frustrated with how hot, uncomfortable and ill fitting his undershirts and underwear were making him feel. Using his savings, he designed and manufactured an undershirt that never comes untucked, keeps you cool and lasts longer than the average cotton undershirt and has taken that same attention to fit, function and design to men's underwear and, now, liner socks. Tom supplements, "Don't sweat the small stuff like your feet. Slip on dress socks and liner socks made of high performance fabrics and shoes that sport perforations and breathable membranes."
Tommy John Second Skin Stay Tucked Deep V-neck Undershirt
It may seem counter intuitive but don't forgo an undershirt in the summer heat. Thanks to high performance fabrics like micro modal, today's undershirts and underwear wick away moisture, control smell, and keep you feeling comfortable better longer. It's just another way that Tommy John is supporting guys across the nation with their thoughtful, innovative products.
Tommy John 360 Sport Boxer
For those looking for relief downstairs, Tommy John's 360 Sport Boxer is made of a stretch fabric that won't shift or move, wicks away moisture and has anti-odor properties so you can go straight from the gym to the meeting. Male Standard took the 360 Sport Boxer for a spin to see how the Family Jewels held up under one of the hottest summers to date. The results? A refreshing take on boxers that left our reviewer feeling fresh, supported, and most of all, dry. No excess sweat means no chaffing. As the fabric contains a 360 Degree Stretch, you won't find these riding up anywhere they shouldn't be.There's even a utility pocket for those lightweight days that can support essentials such as you car keys or ID, should you choose.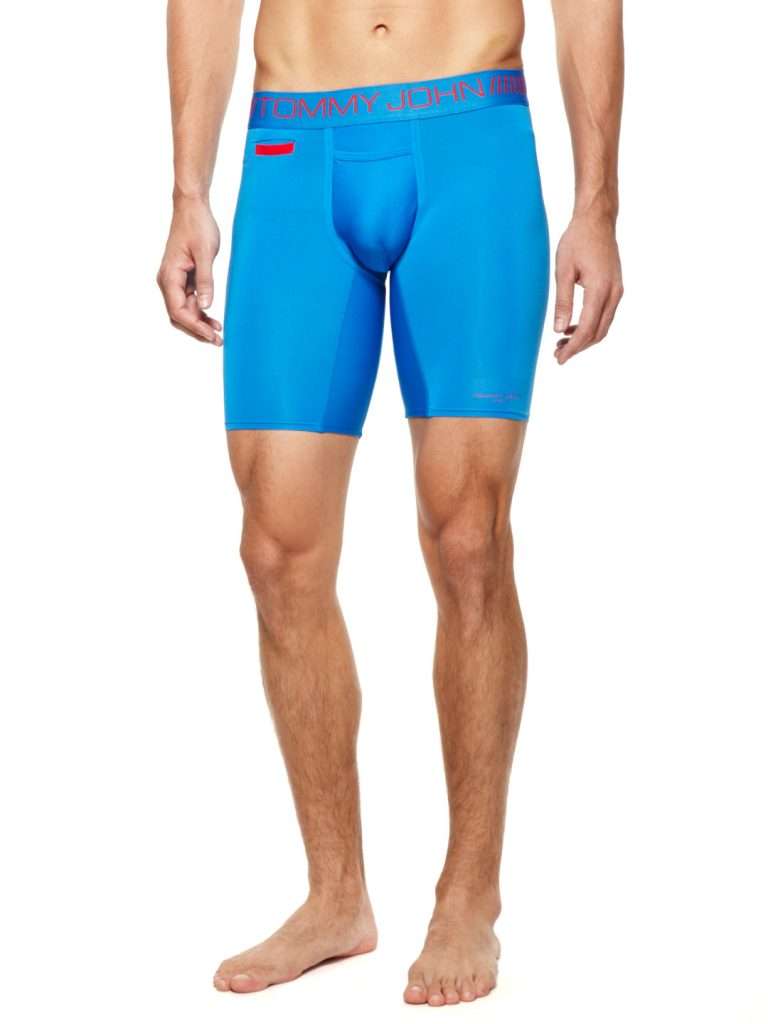 What stood out for us, however, was the Tommy John Contour Pouch, which held up to high expectations. The pouch was specifically created to tackle one of the biggest trouble zones in men's boxers, which is the need to adjust and readjust throughout the day. Aside from being a total nuisance, there are few social situations where it's ok to reach down and give your junk a good jiggle. Avoid the risk of arrest, and go with a boxer that has built in stitching to create a secure touch-free zone, and that has been designed to hold you in place like the comforting hold of an experienced lover. The Tommy John Contour Pouch will give you the added confidence to get on with your day, without feeling restricted. And, thanks the lightweight fabric, without feeling overheated.
The Male Standard Verdict
Tommy John is creating waves in the men's fashion world with their stylish, functional designs, and no fuss approach to creating intimate pieces that actually support and style intimate aspects of your closet. From wicking undershirts that keep you cool, to no-ride boxers, we love that Tom and his team are addressing some of the timeless problems in men's essentials. Tommy John's 360 Sport Boxer is a real pleasure to own, and ticks all the right boxes. They look good, feel good and out perform lesser rivals with their smart 360 Degree Stretch Fabric and Contour Pouch. Do yourself a favor and take a look at the designs they have in stock to see what fits compliment you. From trunks to briefs and of course, their wicking undershirts (more on that shortly), Tommy John is looking out for the every guy, and for that, we salute you!
To find out more, or to order, please visit Tommy John!