VILLA, the Philadelphia-based premiere lifestyle retailer, has partnered with iconic bootmakers Timberland to debut the limited-edition Join the Movement (JTM) Ruby Red Boot. The boot, a ruby-red rendition of Timberland's iconic 6-inch premium waterproof silhouette, not only brings fresh style to a classic boot but will also raise funds to support programming at the Wissahickon Boys & Girls Club's VILLA Teen Center. Only 1,200 pairs of the boots will be available exclusively at VILLA retail locations across the country and online at www.ruvilla.com.
Photo credit: Timberland
"As a staple of style, status and function in urban culture for the past 40 years, Timberland's original yellow boot was a natural fit," said Patrick Walsh, vice president of marketing, VILLA. "The ruby red color offers a unique twist to the classic Timberland 6-inch, all the while supporting our joint endeavor to support the communities we work and live in. Timberland has long been committed to service and giving back to communities around the globe, and this is a great example of how we've joined forces to make an impact right here at home."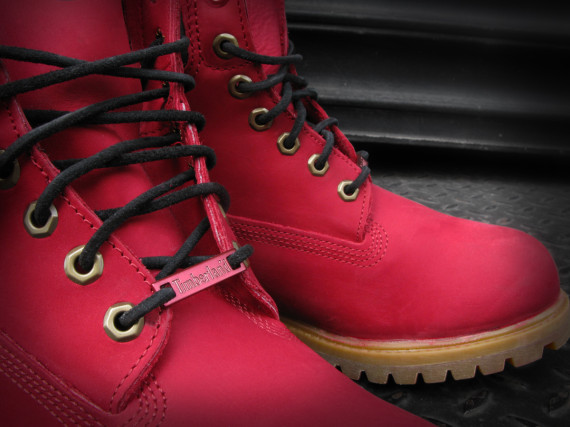 The boots signify VILLA's dedication to its charitable initiative, Join the Movement. As part of the initiative, 10 percent of the all sales will benefit the Wissahickon Boys & Girls Club's VILLA Teen Center. Join The Movement revitalizes the urban communities by developing, supporting and delivering opportunities that provide educational support, environmental improvement and economic empowerment for teens.
Photo credit: Timberland
The Wissahickon Boys & Girls Club, founded in 1885 by Germantown Quakers, was the first Boys Club member to serve African Americans. Additionally, VILLA partnered with the Wissahickon Boys and Girls Club to establish a VILLA Teen Center within the Club. The funding from the boot sales will be used to support programming targeted at the teens who attend the VILLA Teen Center.  The JTM (Ruby Red) Boot will be available for purchase on December 7th at all VILLA retail locations across the country and online at www.ruvilla.com.
About VILLA
VILLA is the premier urban lifestyle fashion retailer, fusing the best of fashion and music into a high energy shopping experience. VILLA's mission is to change the way business is done in urban America by developing, supporting, and delivering opportunities that empower urban youth to accomplish their BIG Dreams. VILLA has 78 store locations in DE, IL, MI, NJ, NY, OH, and PA.
To learn more about VILLA, please visit www.ruvilla.com. 
About Timberland
Timberland, a wholly owned subsidiary of VF Corporation, is a global leader in the design, engineering and marketing of premium-quality footwear, apparel and accessories for consumers who value the outdoors and their time in it. Timberland markets products under the Timberland®, Earthkeepers®, Timberland PRO®, Mountain Athletics® and Timberland Boot Company® brands, all of which offer quality workmanship and detailing and are built to withstand the elements of nature. The company's products can be found in leading department and specialty stores as well as Timberland® retail stores throughout North America, Europe, Asia, Latin America, South America, South Africa and the Middle East. Timberland's dedication to making quality products is matched by the company's commitment to "doing well and doing good" – forging powerful partnerships among employees, consumers and service partners to transform the communities in which they live and work.
To learn more about Timberland, please visit www.timberland.com.