Introducing Xtracycle's EdgeRunner, a "long-tail" cargo bike that evolves the bike bag, baby seat, passenger seat, and bike rack all into one elegant and easy to ride sport-utility vehicle. Transforming the bicycle into a prime form of transportation again, the EdgeRunner allows bike riders to carry kids and cargo safely on its low load platform and sturdy 20" rear wheel. EdgeRunner builds on Xtracycle's pioneering products and combines all aspects of comfort, trend, and function.  This award-winning bike is engineered for those looking to ditch rising gas prices, health gurus looking to optimize their lifestyle, and any family looking for a fun ride to the park or school.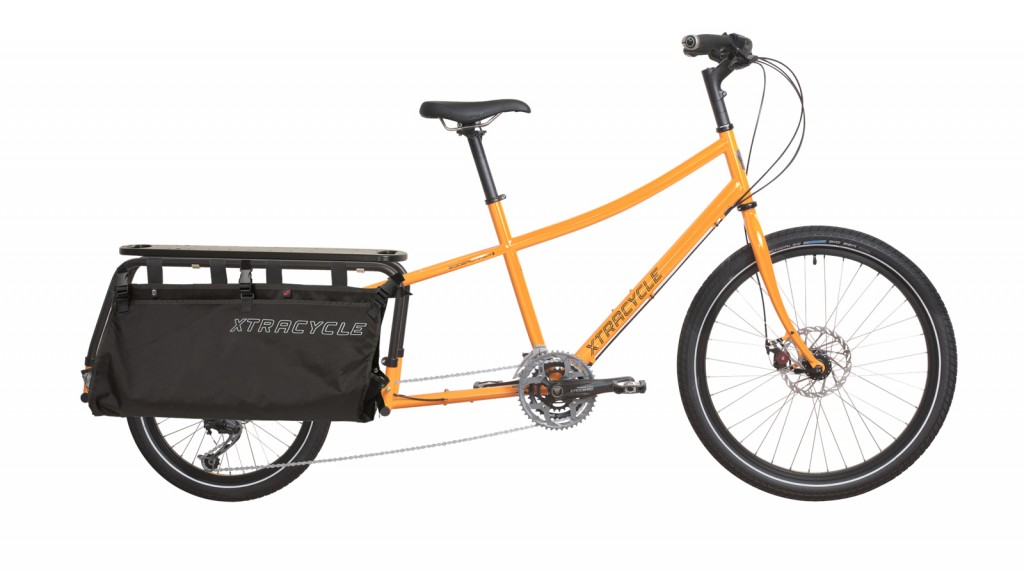 Available in two sizes, three models, and four beautiful frame colors, EdgeRunner tailors to every personality. The TIG-welded chromoly frame features a low step-over height and elegant geometry for easy, responsive handling with a modest bike weight – starting at 40 lbs. Xtracycle also offers a wide variety of LT standard compatible accessories tailored to cargo cycling's specific needs, from the versatile LongLoader for lengthy loads to the folding SideCar for bulky boxes.
The EdgeRunner completely reinvents the cargo bike, with its low cargo platform, upright yet efficient ride-position, 100% chromoly step-through frame, and complete line of cargo and family specific accessories. Leave the car in the garage on your next family drive or grocery trip. The EdgeRunner assures a fun and wallet-friendly alternative to driving and still gets the job done.
The Original Longtail Company
Xtracycle isn't just another bicycle company. It's a labor of love devoted to the evolution of simple, versatile, and sustainable transportation. After 15 years of development in locales like Nicaragua, Kenya, and Stanford University's engineering labs, we're proud to be producing a full line of bicycles and accessories fit for cargo, passengers, and everyday adventures.
[youtube https://www.youtube.com/watch?v=uWMd6yyYs8E]
For more info, please visit http://www.xtracycle.com.