Jawbone announced the Mini Jambox, the third in its Jambox line of Bluetooth speakers, is now available for retail. A slimmer, lighter model, the Mini Jambox features new speaker designs and colors. The Mini connects using Bluetooth Low-Energy, 10 hours of battery life, making it a perfect travel companion. Jawbone also released an app for iOS and Android that lets you connect to your Jambox from anywhere in the world. The Jawbone App allows you to access music, either your iPhone's music library or a Rdio, Spotify, or Deezer account, and play it through the app when connected. If you have a Mini Jambox, the Jawbone app lets you updated the device through the app when software updates become available, though the app connects to all models of Jambox.
What's so smart about a SmartSpeaker™?
The Jawbone app gives you one-touch access to all your saved and streaming music. You can keep Jambox up-to-date and add new features as they roll out. It's the rare piece of technology that keeps getting better with time. No docks, no plugs, no connectors. Jambox is your phone's best friend. Play what you want, when you want, where you want.
For anything with a play button, Mini Jambox brings it all to life, wherever you go – including music, movies & TV, web videos and video games
The Jawbone app gives you one-touch access to all your saved and streaming music (iOS only)
You can also personalize Mini Jambox and add new features as they roll out. It's the rare piece of technology that keeps getting better with time
A body like this takes work. Without looking this good, Mini Jambox couldn't sound this good
The ultra-slim enclosure is crafted from a single piece of extruded aluminum, delivering an unprecedented combination of loudness and lightness
The biggest smallest speaker: Sorry earbuds. With superior sound in such a small package, your phone just met its new best friend
Mini Jambox is compatible with most Bluetooth®-enabled devices, including iPhone, iPad, iPod Touch, Android smartphones and tablets, and most Mac or PC computers
Mini Jambox is also compatible with any device with a headphone jack or audio line out
3.5 mm stereo input, Simultaneous multipoint, Bluetooth 4.0  (w/BLTE)
Beats Pill Neon Green
Having made its highly anticipated debut, The Limited Edition Neon Pill is a portable wireless speaker powerful enough to rock any room in the house. Control playback right from your phone, laptop, or any other Bluetooth-enabled device from up to 30 feet away. The Pill is lightweight and small enough to fit in whatever you're carrying out the door. The included carrying case even comes with a handy carabiner so you can attach it to your backpack. And when calls come through, don't fumble for your phone—go hands free thanks to the Pill's internal microphone. Beats By Dre began with a simple thought, offered by Dr. Dre, himself. "People aren't hearing all the music." The legendary artist and producer teamed up with Chairman of Interscope Geffen A&M Records Jimmy Iovine to remedy this with headphones, devices, and services that create a high quality, end-to-end experience—delivering music that way the artists intended.
Hand Cell Phone Holder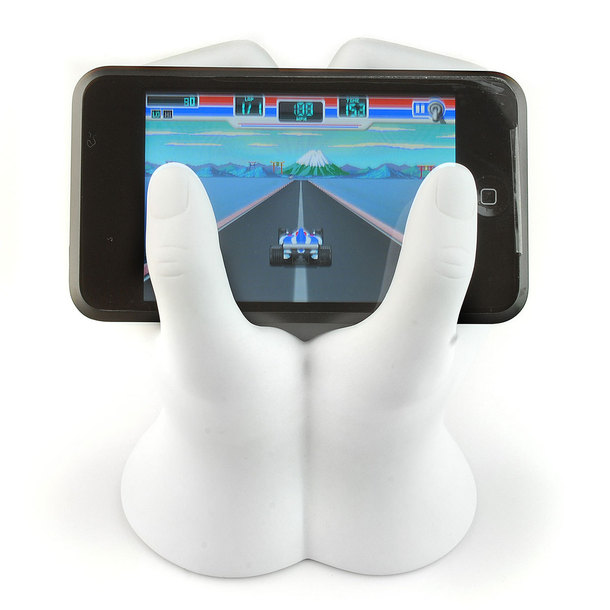 Prop up your most important desktop accessory with the Hand Cell Phone Holder. Designed just like the third hand you always knew you needed, this five-fingered friend is there to keep your phone lifted at all times.
Pebble Smartstick Charger
Remember our pet rock? Ol' Rocky? (We weren't the most creative with names.) Rocky always kept us company, but now that we're adults with cell phones, we need a little extra help from our friends—like the PEBBLE Smartstick Charger. It's distantly related to Rocky (at least in name), but much more useful for busy lives. The PEBBLE Smartstick Charger charges your cell phone on the go—emphasis on "go," since it's small and lightweight enough to carry around wherever you venture. Whether you're taking a hike, or attending an all-day festival, PEBBLE won't let your cell phone die on you ever again.
Leave a comment below and let Male Standard know what's on your tech wish list this year!