Baker's Bourbon is part of the Small Batch group of bourbons from Jim Beam along with Knob Creek, Basil Hayden's, and Booker's. Baker's Bourbon was named after Baker Beam, Jim Beam's grandnephew, and embodies six generations of distilling experience. Baker had a long history at the Distillery, from working as a night watchman, grounds-work, bottling, relief operations until finally, in 1959, he was made the Assistant Distiller to his dad, Carl Beam. After his dad retired, Baker was named Distiller until 1992. Aged 7 years and coming in at 107 proof, Baker's uses a special strain of rare jug yeast that has been a Beam family tradition for over 60 years. This makes it the perfect choice for celebrating with family this Thanksgiving, as the complexities are derived from traditional family values. 
Introducing Baker's Bourbon
Cultivated from a family recipe in honor of Baker Beam, Jim Beam's grandnephew, Baker's Bourbon embodies six generations of distilling experience and traditions. It is carefully crafted in small batches using a special strain of rare jug yeast that has been a Beam family tradition for over 60 years. This time-tested yeast provides the bourbon with a smooth texture and consistent taste from batch to batch. The mix of grains, yeast, and seven years in new oak combine to give this bourbon a deeply mellow, richly flavorful, medium-bodied character with inviting aromas of vanilla and caramel. The palate is surprisingly smooth for a higher proof bourbon, with flavors of toasted nuts, fruit and vanilla shining through.
Enjoy with a small splash of water to release Baker's complexities.
We all very clearly tasted vanilla and caramel flavors in this whiskey and also enjoyed the nice balanced taste to it. It's a perfect starter high-end bourbon: at about $35 Baker's won't break the bank, but it will give you a nice delicious bourbon.
Tasting Notes:
PROOF: 107
AGE: 7 years
COLOR: Warm amber, tawny, nut-brown
AROMA: Fruit, vanilla, caramel
TASTE: Toasted nuts, fruit, silky texture
FINISH: Sweet, smooth, medium-long
Male Standard highly recommends you try this wonderful piece of American history. Bourbon is the patron spirit of America, and Baker's is among the finest examples of it's kind. Anyone who enjoys whiskey, or is looking to expand their collection will love this bourbon, and it's also a great transition for cognac drinkers to try something a little more manly, should you have friends looking to dip their toes into the oak cask drinking pool. Drink neat, or add a very small splash of water or ice, and you'll be well on your way to bourbon bliss this Thanksgiving. 
Baker's Sweet Tea Bourbon Cocktail Recipe 
While sipping on sweet Kentucky straight bourbon is a pastime in it's own rights, Thanksgiving is all about family and appreciating those around. Celebrate with Baker's Bourbon and create new memories with this deliciously refreshing and adult-crowd friendly cocktail. Simply whip up a batch before the big event and store in the fridge (without ice), serve with ice as each person arrives for a simple, fuss-free hosting tip!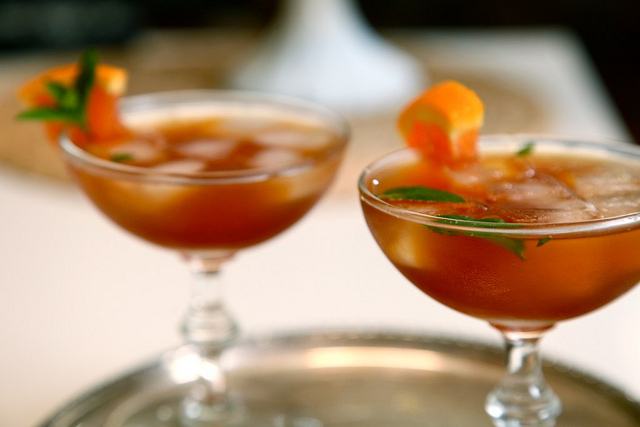 Ingrediants:
6 cups water
4 or 5 black tea bags
1/4 cup agave syrup
1/2 cup Baker's Bourbon
4  to 6 sliced orange rounds
2 cinnamon sticks
Lots of ice
Method:
Bring water to a boil.  Turn off water and add black tea bags.  Steep tea for 3 to 5 minutes.
Remove the tea bags, place the tea in a large pitcher and let rest in the refrigerator until cold.
Place agave, Baker's Bourbon, orange slices and cinnamon in a medium bowl.
With the back of a spoon, muddle the ingredients.
Add the mixture to the pitcher of tea.  Stir well.
Fill glasses with ice cubes.  Pour sweet, boozy tea over ice.
About Baker's Bourbon
Baker's Bourbon is aged for seven years in new oak barrels, creating a silky smooth bourbon with warm vanilla and caramel overtones and a sweet smooth finish, reminiscent of cognac. Richly flavored and medium bodied, it is best enjoyed in a snifter over ice or with a splash of water. From its understated bottle to its remarkable full flavor and character, Baker's® Bourbon resembles everything Baker Beam stood for. Suggested Retail Price is $41.99 for a 750ml bottle.
For more information on Baker's® Bourbon visit www.SmallBatch.com/Bakers.