If you've ever been stood in the shower, washing away the mundane day, and suddenly been gifted with an idea of a lifetime, it's no coincidence. Bathrooms are prolific think tanks for one very good reason – they allow us to fully relax and unwind. In our ever hectic, stressful world, finding a place of tranquility is near impossible. The shower has a built in safe haven that allows us to destress and recharge our batteries. While you might just be running through the motions, research shows that creativity often strikes when we're doing a monotonous task, especially when showering. Although you might call this daydreaming…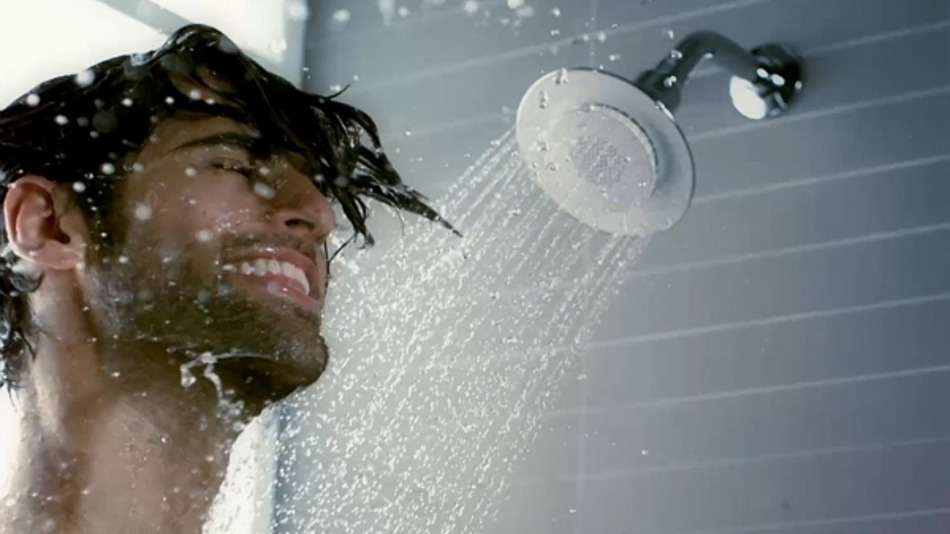 This kind of daydreaming relaxes the prefrontal cortex, the brain's command center for decisions, goals, and behavior. It switches on the rest of your brain's "default mode network" (DMN) clearing the pathways that connect different regions of your noggin. With your cortex loosened up and your DMN switched on, you can make new, creative connections that your conscious mind would have dismissed. This got us to thinking, what if you could pre-empt this environment, and create a way to relax and become more in-tune with you creative self all at once? Wouldn't you feel superhuman? Enter Moxie.
Kohler's Moxie® Showerhead + Wireless Speaker
Moxie lets you stream your favorite music, news, or talk radio right in the shower with you. The Moxie rainhead holds a portable wireless speaker that pairs wirelessly with Bluetooth®-enabled devices to deliver high-quality audio to your shower. The speaker docks directly into the rainhead, so your music is closer than ever when showering or shaving. While it plays your favorite sounds, this rainhead uses air-induction spray technology to deliver a luxurious and drenching rain experience that's truly relaxing as it is captivating. Though be forewarned, Moxie has doubled the time we take in the shower!
Kohler's Moxie® Showerhead + Wireless Speaker
Moxie is easy to install and use; the wireless speaker pops out for recharging via a USB charging cable (included), then securely pops back in for use while showering. You can even take it with you as a wireless speaker to use in any room of the house, or on the go, so while we love to use the Moxie in the shower, you're actually investing in a portable wireless speaker with great sound quality! The signature rainhead provides great flow, with lots of water, and helps reduce any distortion from the speakers. Plus you'll never have to worry about battery, the build in rechargeable Lithium-ION battery provides approximately 7 hours of run time!
Kohler's Moxie® Showerhead + Wireless Speaker
Tech Features Include:
Syncs with Bluetooth*®-enabled devices including smartphones, MP3 players, tablets and laptops located up to 32 feet away.
Total harmonic distortion: 1.5 watts at 1kHz with < 1% distortion.
Water-resistant wireless speaker pops in and out of the showerhead for easy recharging.
Wireless speaker can be used outside the shower space, independent of the showerhead, to stream music in any room.
Built-in rechargeable Lithium-ION battery provides approx. 7 hours of run time.
60 angled nozzles deliver a full-coverage, enveloping spray.
Soft silicone spray face is easy to clean.
2.0 gpm (gallons per minute) flow rate.
1/2-inch NPT connection.
The Male Standard Verdict
Our first impressions of Kohler's Moxie Showerhead were excellent. Unlike other shower speakers, these are a far cry from the plastic attempts of the past. Instead, Moxie developed a sleek design that actually creates a significant experience in the shower. The Bluetooth speaker projects a clear and loud sound. We were concerned distortion would be a problem when trying to combat the sloshing sound of water, but were genuinely impressed. The Moxie makes it incredibly easy to listen to music in the shower and has the perfect range the maximize your time in the bathroom. Plus, who doesn't love signing in the shower?!
Kohler's Moxie® Showerhead + Wireless Speaker
The shower head won't interrupt your usual experience as the head has plenty of flow. The unique rainhead showerhead feature alone is worth the investment. Nothing will transform your bathroom more than closing your eyes and feeling as if you're suddenly in the rainforest with water cascading all around you –  now, with the speaker, you can mimic the sounds of the birds with a rainforest playlist! We highly recommend Kohler's Moxie Showerhead as a gift for tech lovers and creature comforts alike, and give it a solid 5-star rating. We're confident that anyone would be happy to own one of these neat wireless speakers, and it may just help you realize your next big idea!
To find out more about the 2.0 gpm single-function showerhead with wireless speaker, please visit Moxie.