Starbars™ gourmet raw superfood bars were founded in 2010 by Ericka LaPresle-Freer. After trying the raw food diet herself, Ericka noticed both visible and sustainable energy results. Every Starbars™ recipe starts with a powerful combination of raw, organic, whole food ingredients. From Brain Bars packed with peppermint and cacao, which stimulate brain function, to Detox Bars full of raw, organic ingredients.
Starbars™ are the only organic clean food, fruit based bars that are RAW,  free from fillers, and use healthy sweeteners like agave. Whether you are looking to rebuild your diet from the ground up, or simply seeking a natural energy boost Starbars™ is the snack for you. Starbars™ superfood natural energy bars are good for you, good for the planet and tailor made to recharge, refuel and regenerate your body.
Get Your Freak On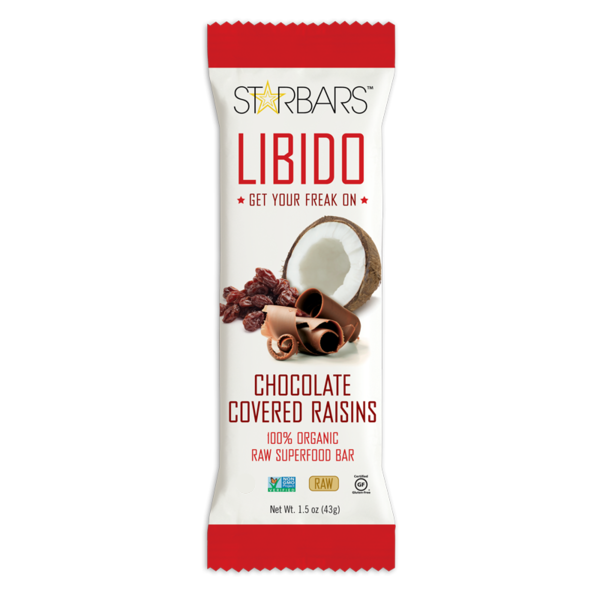 The Libido Bar raw organic food bar is comprised of the superfoods, cacao and maca. This gluten free food bar is sure to increase energy, endurance, physical strength, enhances mood and libido. Maca is a great way to remineralize the body and naturally supports hormonal balance.
Get Your Think On
Brain Bar (12 Pack)
Get Your Think On
An invigorating combination of cacao, peppermint and supergreen foods full of antioxidants and omega 3 fatty acids make up this raw organic food bar. Stimulates mental alertness, promotes clarity, preserves memory and increases brain power.
Get Your Cleanse On
Detox Bar (12 Pack)
Get Your Cleanse On
This fresh combination of raw ginger, strawberries and chia seeds in the raw organic Detox Bar is designed to combat free radicals and eliminate harmful toxins. Detox today to feel pure, cleansed and energized with this healthy gluten free food bar.
See more Starbars at http://www.starbars.com/.