Most of you bearing the moniker of male only think of the word facial when it comes down to well, smut. Pure smut. You filthy boy. How could you even think about that? It's okay, I brought it up, so blame me. Feel free. In the meantime, let's talk about your face. You know, that mug that only a mother would love? Here are some basic skincare tips for your face to keep you from looking: A- like your father, B-like a dirtbag, C-old, and the worst offender, D-acne infected. Let's cut to the chase and get down to the nitty-gritty, shall we?
Face Wash (n.): a product designed to clean your face of disgusting oils and bacteria.
You're not a monkey, and this isn't the fifties. Stop using a bar of soap (it strips you of necessary oils), and please, don't use the Vanilla scented body wash your girlfriend uses on your face. That's malarkey. You need a good cleanser that will rid your skin of all the grime, without irritating or stripping your skin of essential oils that it does need. That's right: your skin needs a little oil to stay hydrated and clear. Figuring out the right balance is crucial since thanks to your good old friend testosterone, men produce more oil, and BS, then women. How do you choose the right wash?  Take this little test. After washing your face, does your skin feel dry or taut as a supermodel's tummy? Is your skin easily-reddened, and not just when you get caught staring at a nice rack? If you answered yes, try Billy Jealousy's White Night Gentle Daily Facial Cleanser.
Billy Jealousy's White Night Gentle Daily Facial Cleanser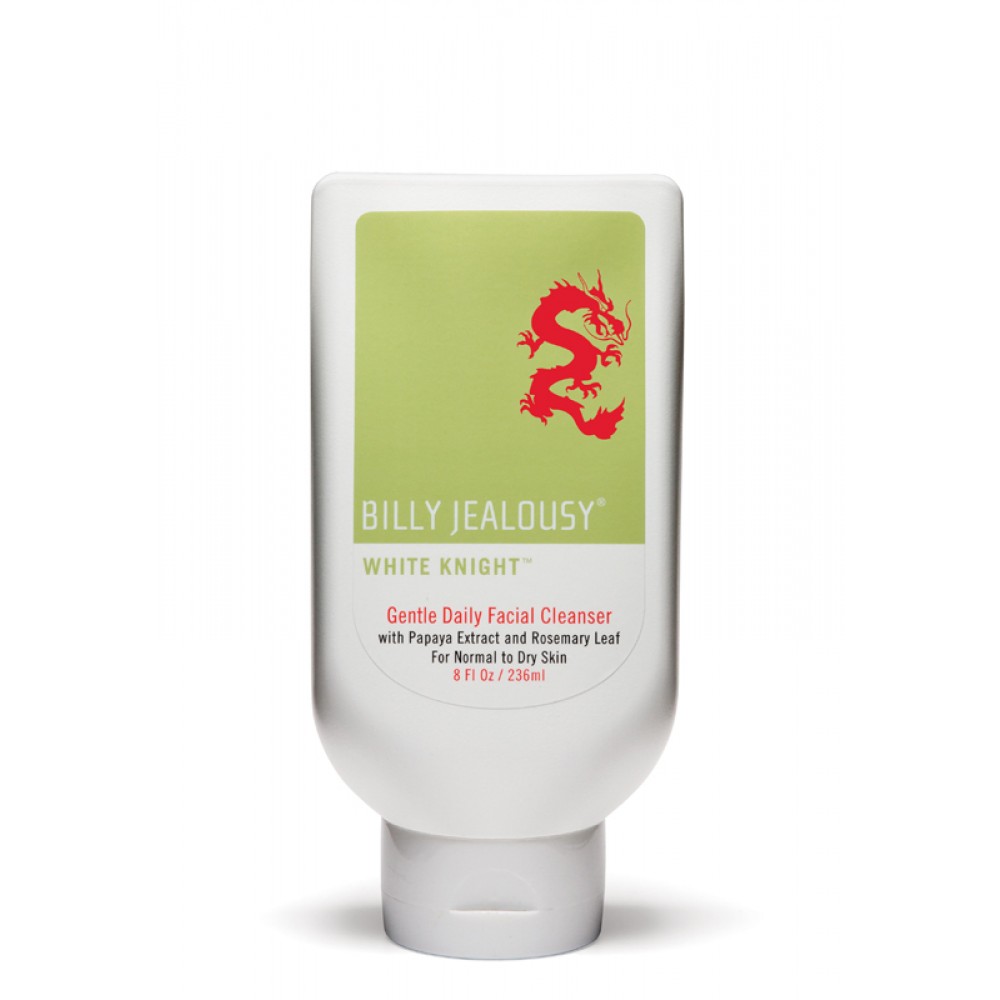 After washing your face, do you look slicker than olive oil within minutes? Lather up with Dermalogica Dermal Clay Cleanser or Neutrogena Men Skin Clearing Face Wash. If you tend to break out, be religious about scrubbing that face. Never scrub too hard though boys; it's not a competition, and washing too hard or using extremely hot water is damaging to your dermis. Ease up with the hands, and keep the water to warm, thanks. If you're one of a lucky few who wash his mug and like Goldilocks, feels "just right," you can try Anthony Logistics Algae Facial Cleanser. You'll be as purty as a school girl.
Moisturizer (n.): a balm, cream, or gel utilized to hydrate your charming face.
*Not to be confused with an item used during masturbation, and/ or references to Silence of the Lambs,—"Put the lotion in the basket Clarice."
Most men have probably only used lotion for one thing and one thing only, and you should all be ashamed. Don't you know you'll go blind doing that? Knock it off.  After you've washed off the grime, you need to add a bit of hydration to your facial flesh. If you're on the dry and/or sensitive side, try Malin + Goetz Vitamin E Face Moisturizer. It's paraben-free, (parabens are a nasty chemical you ought to avoid) and not greasy. Even better? It contains soothing Chamomile, which will reduce irritation and calm hyper-sensitive skin. P.S., you won't smell like a girl.
Malin + Goetz Vitamin E Face Moisturizer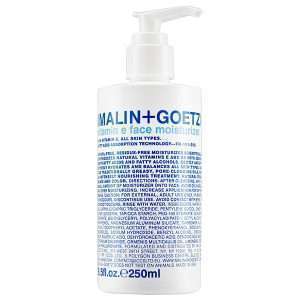 If you're an oily fellow, you'll still need a moisturizer. Kyoku for Men Oil Control Lotion is hydrating, yet has a matte finish so people won't catch a glare from the shine on your mug. Remember, not all oils are created equal my brethren. You need some, even if you're oily. Don't want to try Kyoku? Look for a moisturizer that says "Oil-free," and you'll be good-to go!
If you're in the normal range, (skin-wise, not mentally— I'm certain you're insane) take a chance on Jack Black Double-Duty Face Moisturizer SPF 20. SPF coverage is essential if you don't want the sun to make you look like a California raisin. That's not sexy, unless of course, you're a raisin.
Jack Black Double-Duty Face Moisturizer SPF 20
SPF (n.): sun-protection provided by a chemical or physical sunblocker.
**Not short-hand for some psychedelic drug you did in college.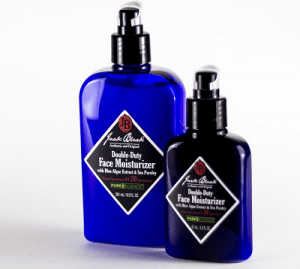 Use sunblock. You can nab it in your moisturizer, like the Jack Black Double-Duty Face Moisturizer SPF 20, or you can get it in a separate product. I recommend Baxter Supershape SPF 15 or Dermalogica Daily Defense Block SPF 15. In general, any sunblock will do. Physical blockers like zinc and titanium tend to give your face a bit of a hazy white look, so test your product first, and rub in well. A chemical blocker will not do that, like Octinoxate, but I personally prefer physically blockers. If you get more pimples than a thirteen year-old girl, be cautious and sample sunblocks before purchasing. If acne is your cross to bear, you still need sunblock to avoid looking like Nick Nolte on a bender, but ask a salesperson to sample first. It may cause you to break out.
Baxter Supershape SPF 15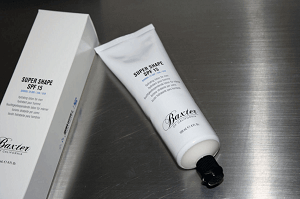 In general, if you are sensitive skinned or acne prone, sample all products first. If you're at a department store or my fav, Sephora, the salespeople will be happy to sample you. If it's a drugstore product, look at the return policy first before purchasing since there are no samples.
Exfoliator (n.): a granular or chemical product that scrubs the devil out of your face, and makes you a good boy again.
***Rubbing your face in 70's bush does not count, no matter how dirty the girl.
While face wash cleanses your skin of oils, moisturizer hydrates, and SPF protects, the job of an exfoliator is basically, "out with the old, in with the new." Getting rid of dead skin cells will make that mug look sparkling-new, and younger. Those nasty little black dots on your nose and cheeks that you thought were signs of alien life? They're called blackheads, and they're not cute no matter what name you give them. Exfoliator will rid you of these beasts, and help bring new skin to the surface. Billy Jealousy's LiquidSand is sulfate-free, (sulfate is very drying) and hydrates while exfoliating. It contains lactic acid, which helps reduce fine lines. How do you achieve the perfect exfoliation? Hire a woman. Actually, just make sure your face is wet with warm water, and use a small amount of exfoliator on your face. Using a circular motion, massage it into your skin. Go easy though kiddo, this isn't the time to go heavy with your paws. You'll irritate your skin.
Toner(n): a product used to tighten pores and help with acne. Don't drink this.
I am not a huge fan of toner myself, but for a man who has oily or acne-prone skin, it's a worthwhile investment. Toners are used to get rid of any soapy residue after cleansing, as well as tighten pores and help with acne. If you've got a case of "pizza-face," or you're too much of a "shiny" happy person, try Kiehl's Blue Astringent Herbal Lotion.
Kiehl's Blue Astringent Herbal Lotion
And to end this little tutorial, let's go for:
Lip balm (n): a hydrating balm that keeps you from looking like a dead man.
No chick wants to make out with scaly lip dude. We're wondering if your lips are that dry and yucky, how bad do your privates look? Just saying. Try good old' ChapStick if you like to go classic, or Aquaphor Lip Repair. I love using Aquaphor on my hands, feet, and lips because it doesn't taste, it's cheap, and it works. I hope you enjoyed this little tutorial. Keep your eyes peeled for the next edition in my skincare tutorial.
Smooches,
From a woman with a soft, well-hydrated mouth. And very little blackheads.
Laura Lifshitz-Hernandez is a blonde pint-sized tour de force of wit, smiles, and neuroticism. A comedienne, writer, and former MTV personality, she will work for self-validation and chocolate. She's always in character and believes in the power of persistence, so sometimes, she's got to knock a man out to get his attention. To read her rantings on sex, love, parenthood, and memoir excerpts, dash over to: http://frommtvtomommy.com/. She likes to make friends with strangers.