Santoni Men's Spring/Summer 2015 Collections tell about the evolution of the male figure through redefinition of a style inspired by classics. The research of a new sense of elegance, a quest to unveil the meaning of the indefinable attitude for a masculine, natural and effortless taste. The collection starts from a spontaneous approach towards materials and colors while playing with the contamination of meaning through shapes, details and unusual combinations that become the representation of the manners, lifestyle and mentality of a new man.
Santoni Penny Loafers Debut at SS15 Milan Fashion Week
The New Extra Dark aspect, stemming from this sense of research, associates the classic shapes of lace-up or double buckle styles with the newest experiments on materials and techniques. This process witnesses a transition towards darker shades of blue, brown and black or remodels shapes through a woven pattern surface also mixed with a micro-basket effect. The classic Derby shoe is updated with bi-colour tones that intensify its look, while the surfaces are ultra-shiny or glazed. The slipper, made with Rubelli's fabrics, is built with a project of graphic and geometric surface and the double buckle shoe becomes more comfortable heading towards the lightness of a closed sandal.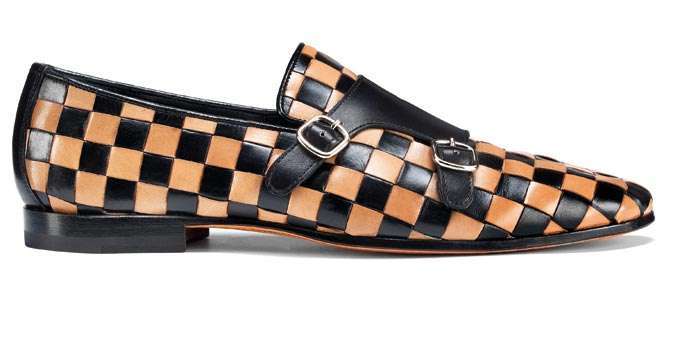 This organized continuity also outlines the Contemporary Country theme, which shifts the country style to an urban environment characterized by speed and versatility. A stage for the new jute Derby, the key style in the super-light selection with an elaborate surface. Perforated lace up and double buckle shoes in calfskin, suede or pony; a classic penny loafer with a lightened structure that shows ultra softness even when featuring navy python or mahogany; suede loafer with crocodile or lizard tassels.
Santoni Penny Loafers Debut at SS15 Milan Fashion Week
New styles are offered in leather or hand painted deerskin with sellier backstitching and a selection of suede slippers in the shades of blue, green and black, which embrace the upper and the sole. Green, light blue and yellow colour the sneakers, while the Clean IC is offered in the new monochrome versions with the blue, grey, green or sky blue tone-on-tone sole as well as for the slip on style.