As a wedding ceremony is one of the most special events in anyone's life, it is paramount for couples to always try to get everything just right. The hours that go into preparing for such an important moment should never go to waste. For this reason, there are certain things that you just cannot forget. Here are four things you should bear in mind when putting together the perfect wedding ceremony for you and your partner.
Contact A Professional Wedding Photography
For most people getting married, they want to capture the memories of their marriage in a photo album. For others, they would like to have captured these moments with professional photographs and video footage so that they can cherish them for life. For people who would like the latter, it is important to find a reputable group of wedding photographers for your event. This will ensure that you are able to catch every moment on film that you want and that the photographs are of high quality. When arranging with a group of wedding photographers it is important to look at their packages.
Their packages may include different things depending on what they offer and how much money you wish to spend. It is important to know what you want in your package before you contact a photographer so that they can offer their services and give you an estimate on how much it will cost. For most people finding photographers who they like is not the last thing that they have to do; finding the perfect location for the wedding photos is also important. After looking at the wedding package, you should discuss with your photographer how they would like to take the pictures. Most of them will workaround where you want to have your photographs taken. It's important that you choose a place that symbolizes something about you or your family.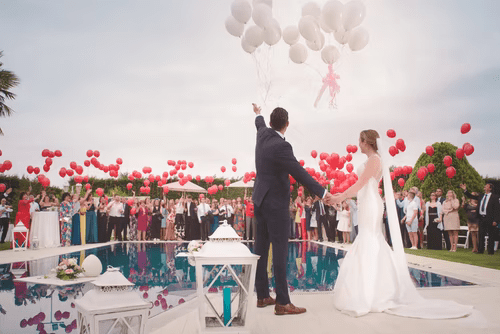 Involve Family Members
When it comes to wedding etiquette, the whole family is involved. While this might feel overwhelming for some brides, involving your entire family can be beneficial in more ways than one. From being a part of the guest list to walking down the aisle, no one has as much at stake on your big day as they do. You may even be surprised by how excited your family is to be included in this special time of your life. From discussing traditions and toasting the bride and groom, these are all memories that will last a lifetime.
Family involvement also extends beyond just day-of tasks. Have you given thought to who might want to give speeches at the wedding? Asking your family for help and input in all aspects of your big day will ensure everyone is excited and prepared, not only for their own role but also for what they can do to help out. This enthusiasm is difficult to fake so take advantage of it.
Finally, don't forget that your wedding isn't only about you and your husband. While this is a special day for both of you, it can be just as memorable for your family too. Your decision to include them will serve as a reminder of the love and support they've provided over the years and how happy they make you on one of life's most exciting days.
Take Care Of The Formalities Early
One especially important step that should not be forgotten is to get all the necessary documentation in order. Even if this does not apply to both of you, it is still something that needs to be taken into account. Make sure that you check your respective family backgrounds before taking the next step and applying for a marriage license. It might take several weeks before you can get it. But even if there is no problem whatsoever, the license will only be issued 30 days after your wedding date. So better apply early to avoid booking your big day for an unlucky date. If you have decided on a wedding date, inform your guests as soon as possible regarding these formalities.
Choose The Right Wedding Venue
For a wedding to be a special event, it should take place in a location that can make any couple feel like royalty. This is why the venue you choose will play an important role in your big day. Whether you want an indoor or outdoor wedding, you need to find the right spot. Make sure that it's ready for anything, that is if you're getting married during a time of the year when weather can be unpredictable. No one wants to have to reschedule their wedding because of a sudden summer shower.
Before deciding on a particular place, make sure to check its availability and talk about your expectations with the staff. Once you have done so, visit the venue several times to ensure it is right for your big day. If there are issues, don't be afraid to ask for changes or improvements. You can always look elsewhere if they are unable or unwilling to meet your requirements.
Just like everything else, your wedding day is only going to happen once. Make sure that you do what's necessary to make it as special as possible for yourself and your loved ones. If you take the time to plan accordingly, this will help to ensure that there are no problems or disappointments regarding the logistics of your big day. And don't forget to check if you have all your documents so that you can legally get married.