In your dad's days, he likely had very few options when it came styling products. Either he used a thick, gloopy hair gel for a super slick look, or he went without. Today, thankfully, there are dozens of products to perfect any look you desire. However, all those choices can be confusing. I'm here to set the record straight, and to give you two easy tips on how to get two effortless looks. Gone are the days of "try-hard" hair. Instead, you want to focus on classic styles that are easy to achieve and free up your day for more important things. My go to styles are a classic men's hairstyle such as a Pompadour, which sounds fancy but is easy to achieve with a good haircut; and a textured and messy look for casual days when I want to hang out at the beach or on a ranch.
Keep reading to find out what products are needed for each style, and what one I can't live without (hint: this answer is different for every man, and I'll tell you how you can decide what product to pull out and when).
What's the Difference Between Pomade and Putty?
One of the questions I get asked frequently is, "What's the difference between pomade and putty?" The simple answer is movement; which one you choose is going to influence how your hair acts throughout the day. The less movement you have, the more formal your style will be. Remember, your hair is not a wig. You want it to have its own life, but hold a style for a natural and well-groomed look.
If you are dressing up, pomade is going to give you a clean-cut look as if you stepped out of a barbershop. This formula offers traditional styling, but with more movement. I love using Old Spice Pomade when I need something to hold volume in place without looking like a mannequin. As this has a matte finish, you get a modern twist on a classic style, which is incredibly versatile to wear.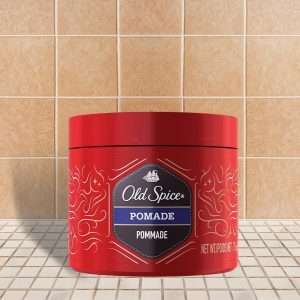 For those looking to achieve a casual look; something you can wear every day or on the weekend, a putty is going to be a fantastic option for you. Unlike pomade, putty adds texture and movement to your hair. This is how I achieve a messy look; I like to dab a small amount of putty onto my fingertips, and work the putty into place. Remember, Old Spice Putty has fibers that attach to individual hairs so the more product you add, the more of a disheveled look you create.
What Styling Product Can't I Live Without?
The next question I get asked a lot is, "What styling product can't you live without?" It's such a tough question, because honesty, the answer is you need a collection of styling tools to get different looks on different days for different occasions. But, if I were backed into a corner, I would find it really hard to live without Old Spice pomade.
I go to formal events that need a well-groomed look. Pomade limits the movement in my hair and gives me the confidence of knowing I'm camera-ready at a moment's notice. However, what styling product is perfect for you depends on what you are doing that day. I don't want a super groomed look when I'm hanging out with friends, and am just as confident wearing a putty as a pomade, so don't be scared to switch things up. A fantastic tip that I want to pass on to you is that you can combine styling products for a custom look, or use less product if you want to appear effortlessly chic. If I want an exaggerated Pomp, with lots of volume, I will go in with Old Spice Putty to add texture and lift, and then comb the style into place and use the Old Spice Pomade as a finishing step to lock in the look. But on other days, I just use a touch of putty and run out the door knowing my hair will stay in place.
What products can't you live without? Leave a comment below and let me know!
This content was sponsored by Old Spice but all thoughts and opinions are my own. I hope you enjoy following along! #ad