As a Travel MANager, I was tasked with becoming a "Weekend Escape Artist" and planning a weekend away for my wife. As part of that awesome experience, I'm reporting back with pro tips you can use to become your own "Weekend Escape Artist" and create an amazing weekend away for your significant other. I'll be back with the low-down on our trip, but for now, let's uncover what the to do and not to do's of telling someone what to pack are so you can arrive in style at your next top destination!
The Pre-Pack Experience
It's one thing to pack for yourself, but when planning a trip for your significant other, taking a leap of faith and packing for them is one of the most romantic gestures a man can make. After all, it makes the reveal that much more exciting, but it's also a slightly terrifying prospect. I knew I wanted to create a movie moment for my wife and live out a real life "big gesture," so this is how it went down. I started by writing a list of everything I would need on a weekend trip and then asked if there was anything missing she couldn't live without for three days; sounds obvious but the best techniques are usually simple.
It also eased my mind knowing that most places you will travel have shops on hand, so if you do forget something, it's not the end of the world. This brings me to my next point. Don't sweat it! As long as you pack a few outfits, take into consideration the weather and what activities you will be doing, you can't go wrong. They'll be so enamored with your big gesture they won't care if they don't have a certain pair of shoes or scarf. Although pro tip, do think about what they wear often, as these are usually their favorites.
If you don't want to pack for your significant other, but want to keep the destination a surprise, give them clues as to what to pack. Tell them the climate, and give them a mood. For example, is the trip for thrill-seeking couples or will it bring out your romantic side? Will it be hot, cold, or humid? As your significant other and you are compatible, chances are whatever they pick will be similar to your preferences, but you can always run your eye over their bag before you go to smooth over any final concerns. This is a great idea regardless of who you are packing for, so double check your bag too.
Smooth Sailing at the Airport
One thing that doesn't seem to cross the mind of many is how you will be packed at the airport. You might think that we just pack our bags at home or in a hotel, but we also have to transport luggage and access important travel documents on the go. For the weekend thrillist, going hands-free on the plan can be the ultimate way to unplug, but for most of us, less is more. I always pack a small messenger bag worth of in-flight goodies. You won't ever catch me on a flight without my iPad or laptop; let's face it, flying can be tedious.
When you're packing for a short trip, it is also tempting to pack one small bag, often labeled for weekend use, but I prefer to take a full-size duffel bag that can go under the plane, and take a small bag on with me. You should never pack a full size bag on a weekend away, as it would be overkill, but I like having the extra space for splurges when we travel; the return packing is also much easier when you have space to kill. Plus, have you ever noticed how stuff takes up more space on the return trip? Why is that?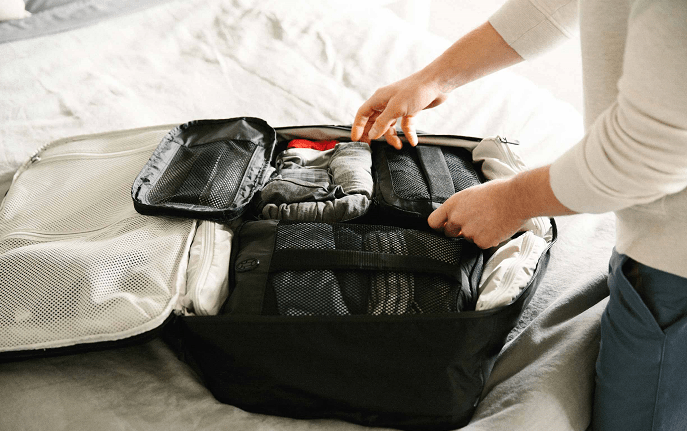 A messenger bag also acts like a man bag and lets you carry all your phones, tablets, boarding passes, passports, and other travel essentials on hand, without using your hands. This is super important, as it can get hectic in the terminals, and being able to move through crowds and get to your destination without losing your balance is important. Avoid the temptation to put documents in your pockets or the inside of your jacket where they can fall and fan out, on the floor.
Unpacking at the Hotel
Arriving at the hotel for our trip, Homewood Suites by Hilton, was an experience in itself and something I will be sharing with you soon, but it also got me thinking about unpacking at a hotel room. So often, we think about what to take on a trip, we forget we have to unpack it all on the other side and pack it back up; this is even more true on a weekend away, where time is sparse. For this reason, I always recommend packing lighter than light, so you have room to bring back all those goodies we invariably collect on our travels and don't waste all your time doing the big pack.
My next pro tip is also to pack items you are happy to lose. This contradicts slightly with my comments earlier about packing their favorite outfits but hear me out. In most cases, your phone will take super quality photographs, so do you really need an HD camera? Can you stand to lose your best electrical razor or do you really need a new pair of shoes every day? I love to downgrade to the essentials and source them locally when possible to reduce hotel clutter, and give me fewer things to worry about.
My wife was surprised when I customized our arrival plans on the plane on the way to the hotel and checked in using their App. It's all part of the package when you are a Hilton HHonors Member, and to be honest, it's also kind cool to kick back and double tap.
The Hilton HHonors program lets you do dozens of neat travel hacks like check in ahead of arrival, and customize your requests. You can download the Hilton HHonors App from the Apple and Android store, respectively.
 Many thanks to Homewood Suites and Home2 Suites by Hilton for sponsoring this post; get the best deals by following @HomewoodSuites and @Home2Suites, or join the conversation and get pro travel tips from other Travel MANagers using the hashtag #weekendescapeartist; all opinions are 100% my own. If you want to be your own Weekend Escape Artist, check out extended stay, all suite options such as Homewood Suites and Home2 Suites by Hilton in your city of choice!  Make sure to visit the Travel MANager microsite for the latest and greatest travel advice to become your own "Weekend Escape Artist."