Smartphone gaming has certainly come a long way since the rather basic releases of Tetris and Snake that we were initially treated to on earlier mobile phone devices. Since then, the emergence of internet-based smartphone devices and the power they possess has enabled us, as consumers, to be treated to better smartphone gaming options than ever before. Now, as well as using a smartphone device for dating, men around the world are regularly keeping themselves entertained with a variety of games too.
Some games are certainly aimed at men also. For example, an array of console-quality titles have now found their way onto mobile and are registering impressive numbers. The likes of Fortnite has already shown that console titles can make a successful transition over to mobile and win over audiences in the process. Likewise, away from gun-filled action games like Fortnite, men are tucking into poker games, claiming bonus spins at reputable slot game providers, rumbling the killer in the pack on popular multiplayer games like Among Us, and silencing their annoying friends on 8 Ball Pool. They aren't the only options, though. In fact, the sheer amount of games available for men is mightily impressive when assessing both Google Play and the App Store. Below is a look at some of the other more popular titles right now.
FIFA Mobile
One for any soccer fans among us, FIFA Mobile is the biggest and best soccer game around at the moment. You can play as huge stars like Cristiano Ronaldo, manage a team, build your very own club in Ultimate Team, try to get to the very top on Career Mode, and even battle it out against friends online. A truly fun and entertaining sports release to kick things off with, FIFA Mobile is well worth tucking into.
ALONE
In terms of endless runners, they don't come much better than ALONE at the moment. Involving you piloting a tiny ship as it moves through deadly caverns at blistering speed, you have to avoid any harmful objects by sliding your finger up and down in order to find the safest route possible. Giant asteroids get in the way, alarms blare, and you'll feel an intense sense of danger sampling this engaging release.
Brawl Stars
A mobile-first battle royale release that specialises in three against three combat in a variety of game modes, Brawl Stars is a blast to play. As you fight it out to get the very top, you can unlock a variety of different characters, complete more quests, collect certain items and earn power-ups, and search for new locations to call your own. Simply put, Brawl Stars is a great game.
Plants vs. Zombies 2: It's About Time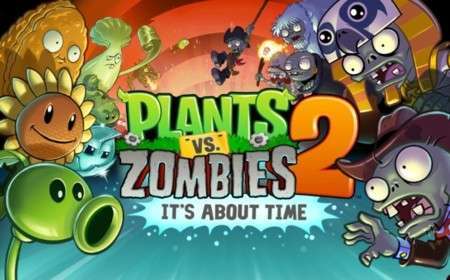 (Image via https://twitter.com/QuetzalcatlDio1)
Plants vs. Zombies 2: It's About Time does exactly what it says on the tin as players are treated to a zombie fuelled masterpiece. The aim of the game is to essentially see how your collection of plants fares against hordes of attacking zombies. If you can hold them off, then you'll advance to the next level. A popular tower defence game in 2021, Plants vs. Zombies 2: It's About Time is worth exploring.
Subway Surfers
Another endless runner that has rocketed up the popularity charts, Subway Surfers involves players running or skateboarding through a metro railway in order to avoid being captured. As well as evading the authorities, you can collect powers and coins, dodge any obstacles such as oncoming trains, and try to get away in the best way possible.
Other options include Toon Blast, Death Road to Canada, JYDGE, Samorost 3, Words With Friends 2, and Mario Kart Tour.