When it comes to tailgating, nothing should get between you, the game, and the snacks in your hand. To make the prep-process of your favorite tailgating recipes as simple as possible, Onion Crunch have devised a neat new way to get you maximum flavor with as little effort as possible; all you have to do is shake and go save your seat. It's as simple as that!
From hot dogs to wings, burgers to Bloody Mary's, check out these neat recipes that only get better with a little added crunch; this is what satisfy your taste buds and give it that real game day experience. Onion Crunch are a low-fat, low-sodium, all-natural product that even she can't resist, and that turns your tailgating party into the main event!
[youtube https://www.youtube.com/watch?v=iyjtaMnGKPE]
Grilled Bacon-Wrapped Stuffed Onion Crunch® Dogs
Who doesn't love hot dogs? These simple half time wonders are every sports fans go-to, but did you know creating the same experience at home is as simple as adding some Onion Crunch? Let guests pick from the Original, Pickle, or Ketchup infused flavors to get the party started!
Ingredients:
1 tsp ketchup
1 tsp Dijon mustard
4 large hot dogs, knockwurst, or kielbasa
1/2 ounce cheddar cheese, cut into long sticks
2 Tbsp Onion Crunch®
1 cup refrigerated sauerkraut, drained, roughly chopped
4 slices bacon
Vegetable oil
4 long hot dog buns
Directions:
Prepare your grill for direct medium high heat.
Mix together ketchup and mustard in a small bowl. In a separate bowl, mix the sauerkraut with the ONION CRUNCH®, set aside. Slice open the hot dogs, down the center, lengthwise, forming a deep pocket in each, but not cutting all the way through. Coat the inside of each hot dog with the mustard ketchup mixture.
Place a strip of cheese deep within the pocket of each hot dog. Top with sauerkraut and onions. Encapsulate the cheese at the ends with the sauerkraut mixture as well, so that no cheese is exposed (otherwise it will drip out when cooking).
Wrap a strip of bacon around each stuffed hot dog, securing with toothpicks at each end.
Coat your grill surface with vegetable oil. Place the stuffed hot dogs on the grill, stuffing side down. Grill for 2 minutes, until the bacon on one side is cooked, turn the hot dogs a quarter turn and continue cooking until bacon is done.
Remove toothpicks place in toasted buns and serve.
Onion Crunch Honey Burger
Burgers and buns are nothing without a little added sass. Throughout the tailgating season, we recommend throwing it down with some Onion Crunch, as these 100% natural lo-sodium condiments do not require tons of time and effort to prepare, making them perfect for the big day. Simply open the pack, and take your burger to the next level!
We'll let you decide how to prepare your burger, as we know your the game day expert, but get ready to blow your guests minds when you add these tasty treats to any flavor combo! The melted cheese and crunchy onions melting together between toasted buns are always an award winning combo!
Onion Crunch Bloody Mary
For those early start games, what better way than to serve Bloody Mary's to your guests? This pick-me-up will get you all into the party spirit, and can be dressed up with Onion Crunch around the rim to add depth of flavor to these spicy breakfast drinks. Simply add the Original Onion Crunch to the rim of your glass and watch as guests mistake you for their favorite bartender!
Ingredients:
1 table spoon of Onion Crunch
1 teaspoon of Honey
3 oz tomato juice
1 1/2 oz vodka
1/2 oz lemon juice
1 dash of Worcestershire sauce
Celery salt
Ground pepper
Hot pepper sauce to taste
Celery stalk and/or pickle spear for garnish
Lemon and/or lime wedge for garnish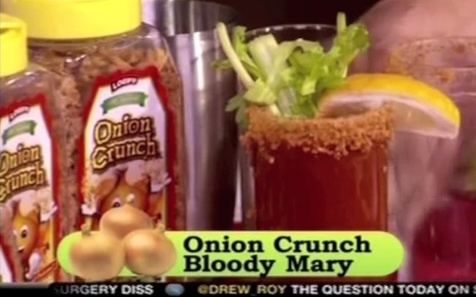 Preparation:
Build the liquid ingredients in a highball glass over ice cubes.
Mix well. If you feel like trying a fun mixing technique, try rolling this one.
Add the seasonings to taste.
Crush up the Onion Crunch
Rim the glass with Honey and coat with Onion Crunch
Garnish with the lemon and/or lime wedge and celery stalk.
For more recipes and video tutorials, follow http://pinterest.com/OnionCrunch/