Could your manhood be the hottest summer accessory? According to fashions' 'King of Kink,' Rick Owens flaccid penis inspired runway show at Fashion Week in Paris, the answer is bizarrely yes. While Owens is best known for his kink inspired couture and pushing the boundary on what ionizing fashion means, his recent collection at Fashion Week left little to the imagination. The AW15 'SPHINX' show was the first time we saw nudity rocking the runway, with jostling flaccid penises vying for attention.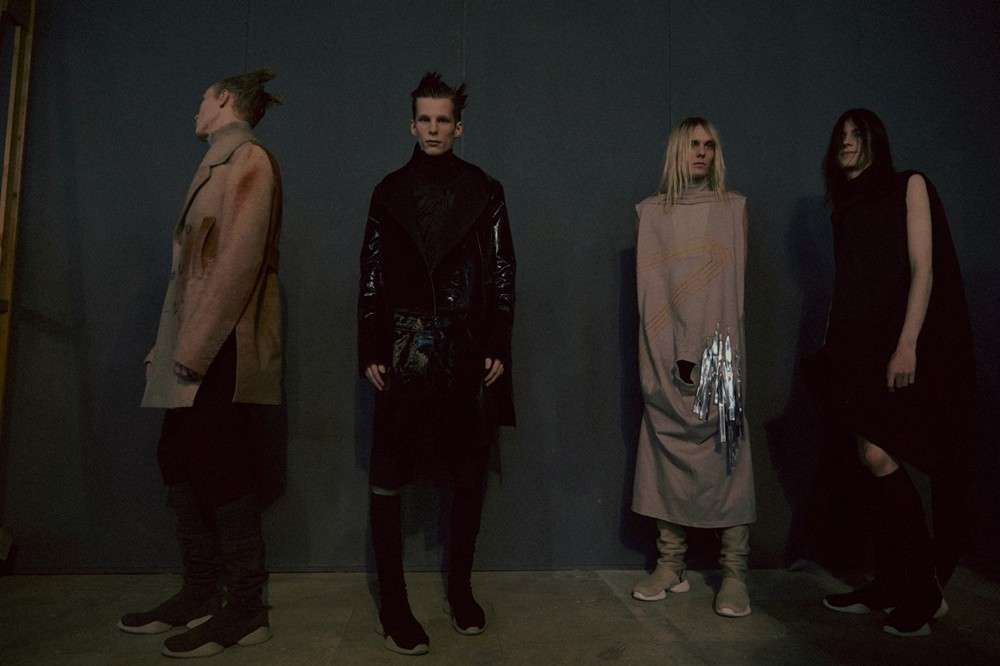 So why did Rick Owens send male models with exposed penises down the runway at his last show? He just wants to present "a utopian world of grace free of fear and shame" and put "more loving energy out there whenever [he] can." – VICE
While uncensored photos are causing quite the viral commentary online, 'Susie Bubble, Dazed's representative at the show, said: "I liked that you hardly noticed it (the flaccid penises). It wasn't nudity for the sake of nudity. I honestly didn't see until somebody pointed out the dick flaps and the undie holes." And honestly, if you weren't at the show, you might not know that the penises were actually a by-product of the clothing and not the main attraction.
The collection itself was a myriad of military angles and sleek textures – featuring leather, cotton, and burlap. The sharp shapes add to the overtly masculine feel. However, it wasn't without a cheeky nod to gender bending, with kilts, capes, and wraps taking the spotlight. Traditionally these items are restricted to the feminine isle. Owens take on these less fitted items offered a refreshing look at what it means to be a man, with a more free-flowing form and fit.
NSFW – Rick Owens Flaccid Fashion Week Blunder in Paris
The male models on Rick Owens's Paris runway had more than leather jackets and knitwear on display. And by that, we mean naked nether regions. Some dicks should be kept in their box. – Fashionista
When asked about his titillating show in Paris, this is what Owens had to say, "With menswear I'm always thinking about decorum. It's about dignity. They don't want to look like they're trying too hard. I'm always thinking of that balance between control and self-discipline. And then on the hand, it could all fall apart. What I do is about control and collapse. And sometimes getting tempted to do one or the other. Nudity is the most simple and primal gesture – it packs a punch. It's powerful. It's a straight world now. It says something about being independent. Who else can really get away with this stuff? It's a corporate world! This was our private moment."
The Male Standard verdict? While Ownes has certainly stolen the spotlight at Fashion Week, his collection genuinely seems far from a cheap bid for attention. In fact, once upon a time, the flaccid penis was considered nothing less than a work of art, as demonstrated by utopian sculptors in the ancient world – this is so much so, we beg the question what would David be without his junk on display? Owens refreshing take on what it means to be a masculinity won over our attention for all the right reasons.
What do you think? Could you bare all in the name of fashion? Should designers leave something to the imagination? Leave a comment below or tweet us @MaleStandard!