In 1671, Captain Henry Morgan set his sights on Panama City, the richest city in the western hemisphere. Amidst his raid and ultimate capture of Fort San Lorenzo, Morgan lost five ships, including his famed flagship The Satisfaction. What will forever stand as a historic battle in Panamanian history now serves as inspiration for the Captain Morgan Rum Co.'s newest offering – the limited edition CAPTAIN MORGAN®1671 Commemorative Blend Spiced Rum.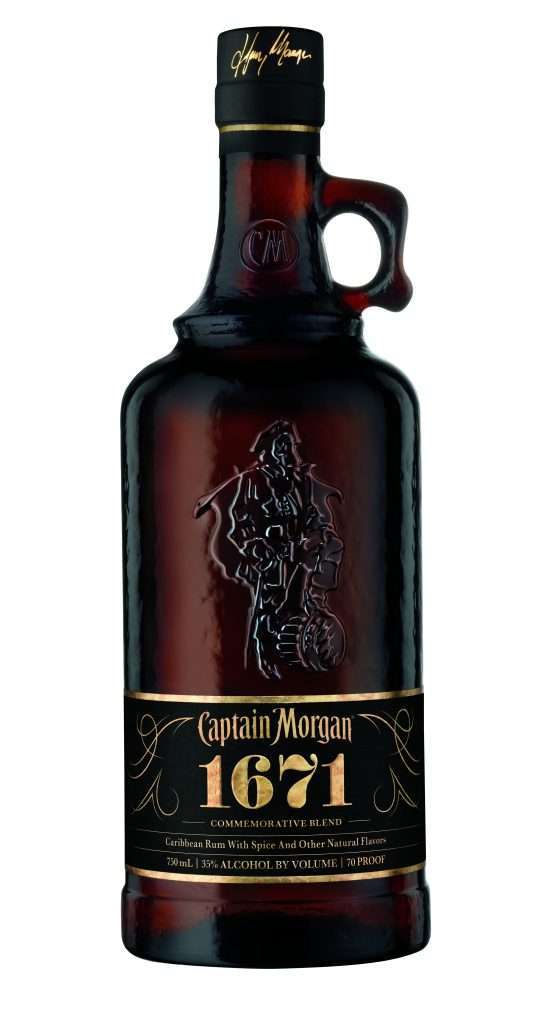 CAPTAIN MORGAN® 1671 is instilled with a unique blend of spices that provide a luxurious, full-bodied flavor. The distinct spices create a taste of chocolate and dark fruits with hints of vanilla. Finished in Spanish Oak, the commemorative blend contains palatable elements derived from the type of barrels that were believed to have been on board The Satisfaction.
"The CAPTAIN MORGAN®  brand for many, has become synonymous with adventurous and memorable nights of celebration, but most don't realize that the man behind our spiced rum was actually one of the most successful privateers of the 17th century," said Tom Herbst, Vice President of Marketing, Rums for Diageo North America. "CAPTAIN MORGAN® 1671 Spiced Rum is our way of paying homage to our brand's namesake and the date he lost his treasured flagship."
Available only for a limited time, CAPTAIN MORGAN®1671 Spiced Rum not only celebrates the brand's legacy, but also provides adult consumers with a rare opportunity to enjoy a bold take on the Captain Morgan Rum Co. original blend. The recipient of a gold medal at the 2014 San Francisco World Spirits Competition, CAPTAIN MORGAN® 1671 is packaged in a unique jug designed in a nod to the 17th century.
At 70 proof (35% ABV), CAPTAIN MORGAN® 1671 will be available nationally beginning in May for a suggested retail price of $19.99 (750 mL bottle). The limited time offering is best enjoyed on the rocks or mixed with cola for a new take on the CAPTAIN MORGAN® brand's signature drink.
Visit www.captainmorgan.com, www.facebook.com/CaptainMorganUSA or www.youtube.com/CaptainMorgan) for more information.
CAPTAIN MORGAN® 1671 Commemorative Blend Spiced Rum is the newest addition to the brand's robust portfolio of offerings that includes CAPTAIN MORGAN® Original Spiced Rum, CAPTAIN MORGAN® Black Spiced Rum and the recently launched CAPTAIN MORGAN® White Rum.
The Captain Morgan Rum Co. reminds adult consumers to celebrate life's victories, both past and present, and raise your glass – always in moderation!
About Diageo
Diageo (Dee-AH-Gee-O) is the world's leading premium drinks business with an outstanding collection of beverage alcohol brands across spirits, beer and wine. These brands include Johnnie Walker, Crown Royal, JεB, Windsor, Buchanan's and Bushmills whiskies, Smirnoff, Cîroc and Ketel One vodkas, Baileys, Captain Morgan, Tanqueray, Guinness, Beaulieu Vineyard and Sterling Vineyards Wines.
Diageo is a global company, with its products sold in more than 180 countries around the world. The company is listed on both the New York Stock Exchange (DEO) and the London Stock Exchange (DGE). For more information about Diageo, its people, brands, and performance, visit us at Diageo.com. For our global resource that promotes responsible drinking through the sharing of best practice tools, information and initiatives, visit DRINKiQ.com.
Celebrating life, every day, everywhere.