Where the fresh ocean air meets the transient grit and oxidized metal of The Port of Los Angeles, artist Skullphone satirizes modern convenience with playfully dark images. In the spirit of west coast urban sprawl, Volcom offers 'The Skullphone II', a limited edition design inspired by the colorful racket that is Los Angeles, as part of its Holiday 2014 collection.
New Footwear | Volcom x Skullphone
The army green swede upper pays homage to the stacks of shipping containers that line the L.A. horizon while the printed sole features Skullphone's signature imprint hiding inside his visual interpretation of iconic port signage.  Fragmented paint from his studio floor add the final organic texture to make 'The Skullphone II' a one-of –kind sleeper cell you have to have.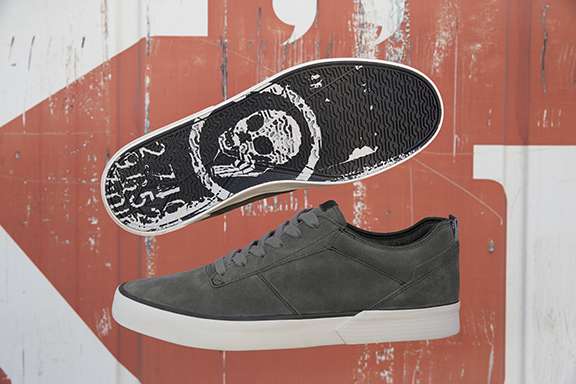 Where to buy: Volcom.com
Price: $80.00
About Volcom, Inc:
Volcom is a modern global lifestyle brand that embodies the creative spirit of youth culture. The company was founded in 1991 on the principles of liberation, innovation and experimentation, and this is uniquely expressed in its quality clothing, footwear, accessories and related products under the Volcom brand name. For more information, please visit www.volcom.com. Volcom is part of the Kering Group, a world leader in apparel and accessories which develops an ensemble of powerful Luxury and Sport & Lifestyle brands.
About Skullphone:
In 1999 Skullphone appeared on city streets with his icon of a witty black-and-white skull holding a cell phone. Through image repetition and recontextualization, Skullphone has embedded his mime. Notably, In 2008 Skullphone sparked controversy and conversation when he re-arrived outdoors on the first digital billboards found throughout Los Angeles. As both megaphone and white noise, he left local and online audiences to their own devices regarding mobile phone connectivity, personal privacy, targeted advertising, outdoor artists, outdoor art programs, urban blight, and life in Los Angeles.