Photography by Mr Michael Bodiam
Styling by Ms Sophie Hardcastle, Fashion Coordinator, MR PORTER
Words by Mr Chris Elvidge, Senior Copywriter, MR PORTER
Richard James' exclusive collection for MR PORTER sees the Savile Row label venturing into somewhat uncharted territory, taking British heritage workwear as its inspiration for a range of outerwear, knitwear and denim that pays a dutiful nod to this season's trend for richly textured, autumnal fabrics such as tweed and flannel.
While it might seem like an odd proposition to ask a tailoring brand to produce a casual range, there was a precedent for this, as MR PORTER's Buying Director Mr Toby Bateman explains. "I remember how pleased we were with last year's exclusive evening wear collection by Acne, a brand much better known for its casual pieces. With that in mind, I thought it would be interesting to see the opposite: how a more casual collection is interpreted by a brand better known for formalwear. And," he adds, "it doesn't get much more formal than Savile Row."
Development of the collection was overseen by Mr Toby Lamb, design and brand director at Richard James. While he shares Mr Bateman's passion for the project, he quickly points out that the concept is hardly as outlandish as it sounds. "When Richard James started back in 1992 it was primarily shirts, ties and tailoring, but we've actually been developing a casual collection since about 1999," he says. "So when Toby approached us with this idea we were really excited, because it was an opportunity for us to showcase what we can do with the RJ lifestyle brand."
The resulting collection is built around three outerwear pieces constructed from brightly coloured Harris tweed, and features a series of chunky military-inspired knits in mixed yarns for a tweedy, marled appearance, and a selection of selvedge denim jeans and shirts. The outerwear pieces in particular are finished with an attention to detail that marks them out as products of Savile Row, despite their blue-collar looks. In keeping with its British heritage inspiration, the Richard James for MR PORTER capsule collection was made exclusively in Britain.
WOOL AND COTTON-BLEND BEANIE BOBBLE HAT
Snugly fitted with generous ribs of flecked wool and cotton-blend yarn, this Richard James beanie hat will be a favourite addition to winter-ready outfits. The oversized bobble and fresh green shades will brighten up grey days. Designed exclusively for MR PORTER.
WOOL AND COTTON-BLEND SWEATER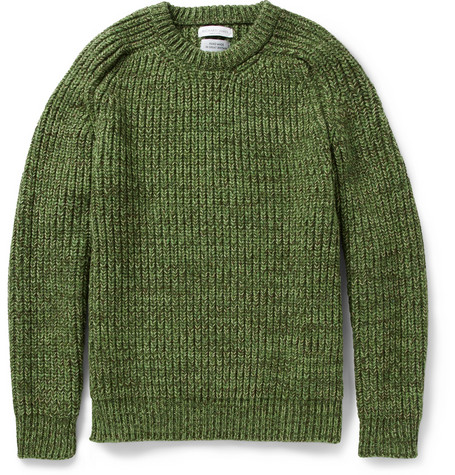 Richard James offers up the ultimate chunky sweater with this flecked green version. Handmade in the UK from a soft wool and cotton-blend, this thickly ribbed piece is a pleasure to wear when the chill sets in. Balance the bright colour with worn-in denim or dark blue chinos.
WOOL AND COTTON-BLEND SCARF
Having set up shop on London's Savile Row in the 1990s, Richard James is committed to British style and craftsmanship. This scarf embodies both aspects, with its fresh flecked green shade adding a shot of colour to cold-weather outfits, and its hand-knitted construction from a blend of wool and cotton.
To view the complete Richard James collection, please visit MRPORTER.com.