Words by Ms Caragh McKay
What makes a really nice watch? Well, if you ask someone from the valleys of Switzerland, they will tell you that a beautifully made movement is the component that sets your timepiece apart from another's. Pose the same question to a watch connoisseur and he is likely to start whispering about one oddly named defining detail after another. But ask almost anyone else and the response will be that they like their watch because it looks good. The proper answer, of course, is probably something that combines all three elements: expertly made, unique details, good looks.
Then there is the fact that these days, owning one watch is not enough, in the same way that owning just one pair of Gucci loafers won't do. So, our timepieces need to be reconsidered and updated every now and again and swapped around to suit changing looks. Yes, you'll need to invest to get the best but, choose well and your watch becomes a currency in its own right, and trading timepieces up and down is all part of the watch-lover's game. The good news is that there are so many beautifully made, expertly considered and downright handsome pieces to choose from these days that it's hard to know where to start.
Here's an edit of some of the best…
ALT1-PILOT/BK AUTOMATIC CHRONOGRAPH WATCH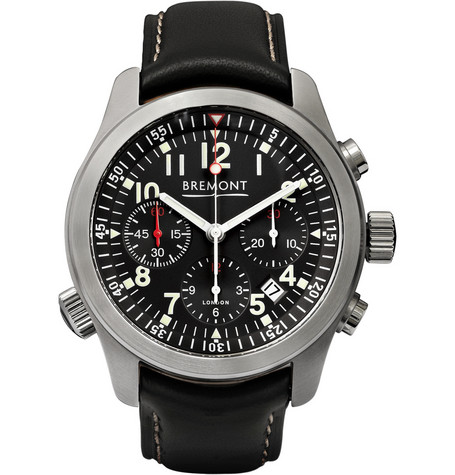 Aviators require watches that provide accuracy, clarity and durability in the most challenging conditions. The Bremont ALT1-Pilot has been developed to deliver on all of those fronts, with its incredibly tough case and dial that packs a lot of information – including a chronograph stopwatch – in an easy-to-read format.
ALT1-CLASSIC/CR AUTOMATIC CHRONOGRAPH WATCH
Photo Credit: Bremont
Built to withstand extreme conditions and outlast fleeting trends, Bremont's ALT1-Classic is a stylish watch you can rely on. The case is constructed from hardened steel and the reinforced sapphire crystal is anti-reflective and scratch-resistant. If you're looking for highly accurate performance and understated flair, this automatic chronograph is the answer.
ALT1-WT/WH WORLD TIMER AUTOMATIC CHRONOGRAPH WATCH
Photo Credit: Bremont
Crafted with a handsome off-white and black dial, thisBremont watch is a timeless piece of design, which is just as well, since the hardened stainless steel case and sapphire crystal will last generations. Based on a design developed for C17 pilots, it includes a custom-modified automatic chronograph movement that keeps accurate time and provides stopwatch and date functions, while 24 time zones can be read off the internal rotating bezel.
SOLO/WH AUTOMATIC WATCH
Photo Credit: Bremont
Combining horological excellence with refreshingly understated design, Bremont's SOLO watch is a superlative investment. Housed in hardened steel, this highly accurate automatic chronograph embodies the British company's principles of precision and durability. The classic brown leather strap and white dial exude undeniable sophistication fit for any occasion.
ALT1-CLASSIC/AN AUTOMATIC CHRONOGRAPH WATCH
Photo Credit: Bremont
Bremont produces precise and durable timepieces for the man who wants more from his watch and the ALT1-Classic embodies the ethos. Water-resistant to 100m and with a 42-hour power reserve, this resilient design has all your needs covered, while the ageless black leather and slick design makes it a sophisticated city choice.
To view the full collection of Bremont watches, please visit MRPORTER.COM.