Words by Mr Peter Henderson, Senior Fashion
& Social Media Writer, MR PORTER
The year is 1990 and the location Milan. Two relative newcomers to the fashion industry, Messrs Domenico Dolce and Stefano Gabbana, were about to turn the industry on its head with their debut menswear collection, which refused to conform to the prevailing moods of the time: Mr Giorgio Armani's minimalism and Mr Gianni Versace's opulence. By showing slim-fit silhouettes in softly textured fabrics, with details such as waistcoats and flat caps that brought to mind Mr Dolce's native Sicily, the pair set a new tone in Italian menswear – and the rest is history.
Today, Dolce & Gabbana is a global fashion powerhouse, referencing the style and passion of the designers' homeland in every collection, whether it's drawing inspiration from soccer stars or Sicilian aristocrats, or from Italian traditions such as dressing up for church on a Sunday or for an evening passeggiata. Immaculate tailoring, elegant evening wear and chic casualwear remain the cornerstones of the men's collections, which continue to impress us season after season. Click through the gallery, below, to learn more about the duo's inspirations.
DOLCE & GABBANA
SLIM-FIT EMBROIDERED VELVET BLAZER
Utilising the incredible skill of Italian artisans, this Dolce & Gabbana blazer features a floral motif embroidered over velvet to craft a faultlessly elegant appearance. The slim fit and collarless design keep things contemporary, making this a superb choice for creating an attention-grabbing entrance at evening events. Pick a plain shirt and black tailored trousers, as this piece provides all the detail your outfit will need.
Dress with Dolce & Gabbana shirt, waistcoat,trousers, tie and shoes.
WHITE GOLD-FIT COTTON-BLEND SHIRT
Dolce & Gabbana is responsible for some of the sharpest looks around, and this white shirt will allow you to bring the Italian label's sartorial flair into your everyday ensembles. Tailored from a soft cotton-blend fabric containing just the right amount of stretch, it is flattering and comfortable.
Dress with Dolce & Gabbana suit and shoes, Gucci tie and Gucci bag and a Drake's pocket square.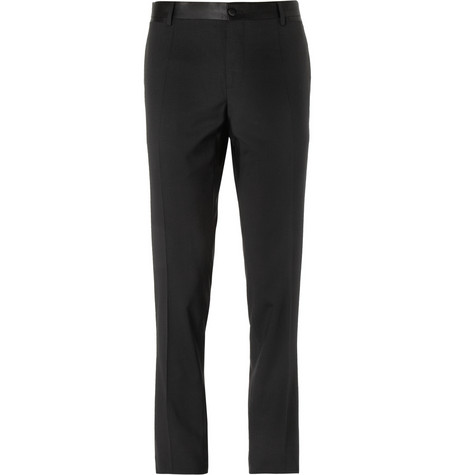 Dolce & Gabbana summons its sharpest Italian tailoring for these tuxedo trousers. This wool-blend pair comes in dark navy with contrasting black satin trims and side stripes, adding a polished finish to the tapered design. Add a bib-front shirt and velvet blazer for after-dark finesse.
Dress with Dolce & Gabbana shirt, blazer and shoes and a Gucci bow tie and pocket square.
PATENT-LEATHER DERBY SHOES
Put your best foot forward in Dolce & Gabbana's sleek patent-leather Derby shoes. Flawlessly crafted in Italy with smooth linings and robust leather soles, this pair exudes luxury. Team them with a slick tuxedo to command a debonair presence at high-profile parties.
Dress with Brooks Brothers shirt, Spencer Hart tuxedo and Lanvin bow tie.
CONTRAST-COLLAR WOOL-BLEND OVERCOAT
Cover up in elegant Italian style this winter in Dolce & Gabbana's wool-blend overcoat. Cut for a knee-length fit with broad peaked lapels and a contrasting collar, this black piece makes a stylish statement without shouting about it. Though it'll look sharpest over tailoring, it can also be worn over a simple crew neck sweater and dark jeans.
Dress with Dolce & Gabbana shirt, waistcoat, trousers and shoes.
Discover how to compliment these staple items at MR PORTER.