Words by Mr Chris Laverty, creator and editor of Clothes on Film
With the suit undergoing a brand-wide and very British resurgence this season, it seems an appropriate time to look back at one of the finest suits ever committed to film. Perhaps even more than Mr Cary Grant's esteemed Glen check example in North by Northwest (1959), Sir Michael Caine's dove-grey suit from The Italian Job (1969) remains the embodiment of cinematic cool. This suit is one of just four that Sir Michael sports throughout the film, all of which were tailored by London's Mr Douglas "Dougie" Hayward.
Mr Hayward did not learn or apply his craft on Savile Row, since he was unable to gain access to this street due to his broad London accent. Instead, he set up business in Mayfair. By the time of filming The Italian Job, Mr Hayward had a reputation as the "celebrity tailor" of the age. This is not intended as a criticism; his suits were elegantly styled with just a touch of era flamboyance, such as the use of one-button cuffs and high double vents. Mr Hayward's clients included none other than Sir Roger Moore, Mr Clint Eastwood, Mr James Coburn and of course, Sir Michael.
Despite their London heritage, Douglas Hayward suits were in fact Italian-influenced, yet they remained characteristically British in finish. The Italian cut came to prominence during the mid-1950s when roomy double-breasted suits were the norm. It was a more youthful, body-conscious style based around a shorter jacket, narrower legs, suppressed waist and gently sloping shoulders. Supposedly this Roma cut was a reaction to the more diminutive build of Italian men. You can see the Italian effect in Sir Michael's 1960s suits, but due to his stature a shorter jacket would have looked ridiculous. Mr Hayward took only what worked, preferring to tailor the man rather than the era.
The first Douglas Hayward suit worn by Sir Michael's cockney wide boy Charlie Croker is a two-button hound's-tooth check, donned when he is released from prison. What we are subsequently led to believe is that this suit is in fact dated enough to be "in a museum". It was deliberately cut to be ill-fitting on Sir Michael in order to serve the narrative.
A scene from The Italian Job featuring Sir Michael in a dove-grey sharkskin single-breasted suit by Mr Hayward. Collection Christophel © Paramount Pictures
Sir Michael's second – and pivotal – suit is seen when he collects his Aston Martin. It's a dove-grey sharkskin single-breasted number, three-buttoned, with details such as the three-cuff, straight-flap pockets and high double vents. The trousers are flat front and narrow with a single crease. His shirt, most likely by Turnbull & Asser, is pale blue with slim then wide vertical stripes, a high neck and medium-spread collar, worn with an electric blue silk necktie and gold cufflinks. His belt is black leather with a noticeable gold buckle; the boots are black leather Chelseas.
This is undoubtedly Croker's "make an impression" suit. Director Mr Peter Collinson's iconic cut to the sliding garage door – which lifts to reveal the dapper Sir Michael – is one of the best-remembered shots in British cinema. He fizzes cool like a tall gin and tonic on a hot summer's day. Of course, it could be argued the jacket's sleeves seem a drop short and the closure is half an inch too tight. Really though, this is more a case of the suit fitting where it touches. Sir Michael had several of the same Douglas Hayward suits hanging in his wardrobe in different sizes to allow for fluctuations in his weight. Incidentally, the jacket lapel was purposely designed not to roll over the top button, described by Mr Hayward as the "waisted shape".
Despite zipping through five outfit changes in succession, Croker's next Hayward suit is not worn until he's assembled his crew for the heist. It is possibly Sir Michael's best-fitting suit in the whole film, albeit not grey, a dark blue worsted double-breasted, six on two button stance, with wide peak lapels, slanted hip pockets, ticket pocket and high double vents.
Trousers are flat fronted and narrow, the shirt white Turnbull & Asser, with medium spread and white silk necktie. Perhaps it was a little odd to wear a white tie out of evening wear, but it works well as part of the ensemble. Sir Michael has the height to pull off a high-fastening jacket, so it is a pity he does not wear another such suit in The Italian Job. The blue is serious but not sombre, the fit faultless. He looks the business.
Sir Michael with Mr Hayward at the Douglas Hayward shop in Mayfair, 1998. Photo © Clive Arrowsmith/Chilli Media
Sir Michael's final suit is seen at Turin airport and generally considered to be his most famous. It certainly remains an enduring example of 1960s tailoring; a beige linen single-breasted suit, three-horn-button jacket, single-button cuff, high double vents and notch lapels featuring a single heavy needle stitch. Trousers are flat front and narrow, fitting slightly below the natural waist. The shirt is white Turnbull & Asser with light brown vertical stripes, worn with gold and onyx cufflinks. The necktie is cream and brown silk, worn alongside a burgundy patterned single-point pocket square. The shoes are chestnut-brown leather slip-ons to match his belt. Sunglasses frames are tortoiseshell.
The details are great but the suit is almost perfect. Sure, it is very narrow and the trousers are a tad low. Plus, the left lapel sits up slightly, making it appear untidy (typically a sign of a fused collar but Hayward's were never fused). Yet to nit-pick is to miss the point. This is exactly what we think of when we think of a 1960s suit. It is the epitome of the era and the epitome of Sir Michael; it is cool precisely because it's not perfect.
After this point The Italian Job's finest sartorial moments have passed, except for maybe Mr Tony Beckley's carnation-pink suit as Camp Freddie, which contrary to rumour was not made by Mr Hayward. The temptation to skip the famed car chase and nip back to the beginning to admire that effortless grey suit one more time is too great. It has been said that Sir Michael was overshadowed by the Mini Coopers that stole the last 20 minutes of the movie from under his nose. The Minis are wonderful, an icon of 1960s Britain, but they are not the stars of The Italian Job at all; the stars are the suits. Like the film itself, Mr Dougie Hayward's irreplaceable contribution will never be forgotten.
BURBERRY LONDON
GREY WOOL AND LINEN-BLEND SUIT
Burberry London has demonstrated its knack for spot-on tailoring time and again, and this suit hits another sartorial home run. The lean, modern shape and soft grey hue guarantee a smart appearance, while the wool, linen and mohair-blend fabric provides a touch of texture. A light blue shirt and pink tie will look particularly dashing in the office; alternatively, dress it up for summer events with a patterned pocket square.
CANALI
BLUE SLIM-FIT COTTON-TWILL SHIRT
Canali has dressed legendary Academy Award winners Messrs Al Pacino, Robert De Niro and Gene Hackman. It's easy to imagine any of these esteemed gents selecting this superb cotton-twill shirt for a press junket or a power lunch. The crisp collar and tapered cuffs exude easy confidence – dress yours down with a sweater for a low-key day at the office.
DOLCE & GABBANA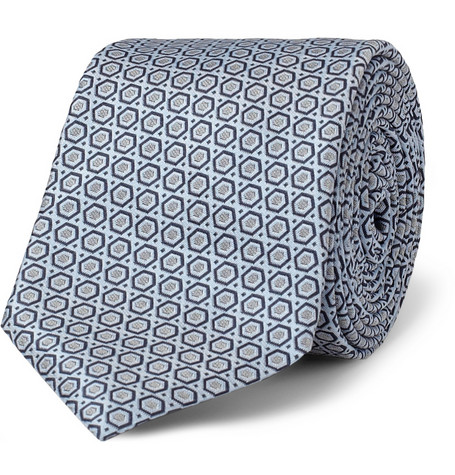 Dolce & Gabbana is synonymous with Italian sophistication as demonstrated by this immaculately crafted woven-silk tie. Precision cut for slick effect, this geometric-patterned piece will provide a dapper contrast to sharp tailoring – echo the slim-cut design with narrow lapels.
Written by Mr Chris Laverty, creator and editor of clothesonfilm.com