Words by Mr Mansel Fletcher, Features Editor, MR PORTER
We believe in the oft-repeated aphorism, "A gentleman uses a butter knife even when dining alone." However, this isn't about Downton Abbey pretensions, or Brideshead Revisited fantasies, it's about living elegantly, and by extension dressing elegantly, wherever you are. Why let standards slip when you're on home turf?
That said, we're the first to recognise that comfort is a priority at the end of the day, and the more formal a man's working wardrobe the more important it will be for him to kick off his John Lobb shoes, hang up his Richard James suit and toss his Charvet shirt into the laundry basket when he gets home. The logic of this, however, isn't to then dress like a bum in an old pair of NBA replica shorts and a greying wife-beater, but instead to seek out elegant loungewear. At its best this takes the form of a pair of pyjamas and a dressing gown, a combination as comfortable as a sweat suit, but as elegant as a good suit.
If you're still unconvinced of the need to dress up at home it's relevant to mention that, aside from delivery drivers and neighbours, the people who see you in your loungewear are the people whose opinions really count – wives, girlfriends, partners and children. Of course it's true that no man is a hero to his valet (as Monsieur Michel de Montaigne observed in the 16th century), but that's a reason to try harder in the company of your nearest and dearest, rather than relax into the sartorial depravity of faded old sweat pants. Just ask yourself if you'd like your girlfriend to start dressing in cut-off joggers and an old vest.
The logic of this isn't to dress like a bum in an old pair of NBA replica shorts and a greying wife-beater, but instead to seek out elegant loungewear
Like every other piece of clothing, pyjamas make a statement. They speak of a more civilised age, when men had time to read a newspaper while they ate breakfast, and enjoy a quiet glass of whisky before bed. They also tell a tale of much draughtier bedrooms than we're used to, and hark back to the (now unthinkable) days when gentlemen didn't work; the era of Mr PG Wodehouse's fictional character Bertie Wooster, who rarely rose before 9am, and is said, in 1934's Thank You, Jeeves, to wear heliotrope-coloured pyjamas. For good or bad those days have gone, and they aren't coming back. However, they still have a lot to teach us about style, elegance and doing things well, even if it's sometimes hard to achieve these things while having to simultaneously earn a living.
Perhaps it's telling that Wooster was unlucky in love, because whatever men did in the 1930s these days there is one domestic situation for which pyjamas are ill-suited. If, after a date, a guy is entertaining a girl in his bedroom, especially if it's the first time he's entertained this particular girl, then pyjamas might not strike the right note – she shouldn't be given reason to wonder if he's more used to sleeping with teddy bears than with women. The truth is pyjamas' easy cut, and the fact that they cover the entire body, means that they're more sophisticated than seductive. On such occasions classic white cotton boxer shorts are probably the best option.
Assuming the white boxers are well received, and more dates follow, then after the initial frenzy of love has relaxed into something more dependable, a man may revert to wearing pyjamas. They announce that he's a man of style, both in public and in private. Complete the outfit with a proper dressing gown (keep the towelling bathrobe for the bathroom), and a pair of velvet slippers. And if you do get to get up in time to enjoy breakfast in your splendid new nightwear then do remember to use a butter knife when you prepare your toast or croissant.
LINDSEY PLAID WOOL-FLANNEL DRESSING GOWN
We predict it'll be difficult to get dressed on a winter's morning if you're choosing what to wear in this sumptuous pure wool-flannel gown from Derek Rose. This classic shawl-collar piece comes in a dashing plaid design, while the fabric is lightweight yet cosy making it hard to take off but ideal for busying around the house on brisk days.
ASTI PATTERNED COTTON PYJAMA SET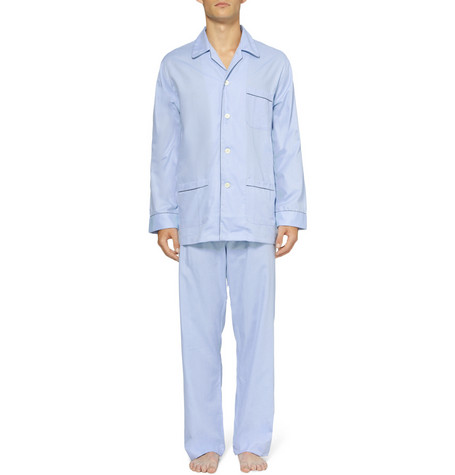 Derek Rose develops its fabrics in-house, and this lightly patterned cotton pyjama set is smooth and lightweight to add a touch of luxury to your evening routine. The buttoned top and elasticated trousers are designed for utmost comfort, while the light blue tone and navy piping will keep you looking smart after dark.
JOHN LOAB LEATHER SLIPPERS
Add a stately touch to your downtime repertoire with John Lobb's dark red slippers. Immaculately crafted from supple leather that will only improve with wear, this sophisticated pair will make a splendid gift for any debonair gentleman.
COTTON PYJAMA SET
By sourcing the finest fibres and employing expert construction, Zimmerli ensures that its pieces are one step ahead. This Italian-made pyjama set features a striped V-neck top and loose trousers, each crafted from pure cotton for smooth comfort and high breathability.
AVONORA STRIPED COTTON-TWILL PYJAMA SET
Wake up in style with these dapper striped cotton-twill pyjamas by esteemed Savile Row label, Derek Rose. This sophisticated set is uncompromisingly comfortable – the brushed finish is soft to the touch and the fit is cut for effortless movement. The broadsheets and a pot of English breakfast tea are all you need for the perfect Sunday morning.
To view the full men's sleepwear collection, please visit MRPORTER.com.