Leather jackets for men are one of those classic staples that will always look incredibly cool. Not only does it step up your stud status, but its rugged texture and timelessness makes it a favorite among athletes and celebs alike. From biker styles to sleek fitted cuts, the leather jacket is one of those lovable pieces that will forever be reliable and trendy. To help you master this style, we've rounded up this comprehensive guide to leather jacket shopping.
The Bomber Leather Jacket
As worn by the aviators of the 1940s, the bomber jacket pays tribute to the iconic G-1 style.  As shown elegantly by J.Crew, the leather flight jacket offers a heavy-duty design made with premium Italian leather and lined for added warmth. When it comes to vintage military fashion, this jacket is truly your baby. Make this trend work for you by pairing it with slim-fit pants and a casual button-up shirt to create that alpha-male look.
The Leather Jacket Hoodie Combo
If you've got a bromance going on with your hoodie, you'll love it even more with a leather jacket! Hoodies under leather jackets have become one of the most raging trends in menswear! ASOS features this trend brilliantly with its faux leather jacket with quilted arm panels and a removable hood. Wear it casually with a plain V-Neck for everyday wear.
The Embossed Leather Jacket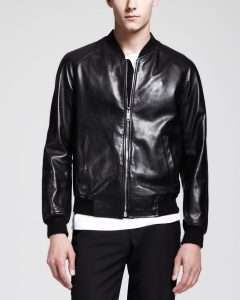 Lovers of high fashion admire the embossed leather jacket trend. Featuring a textured front section that emulates crocodile skin,   it offers an exotic twist on the classic leather jacket model.  Alexander McQueen designs a stunning version with a ribbed cuff and hem for a sporty touch. Pair this style with slim-fit trousers and a fresh haircut for the perfect evening look.
The Biker Jacket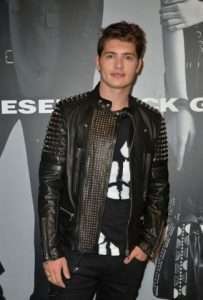 You don't need to own a Harley to rock this jacket. Worn traditionally by cyclists, the biker jacket is still adopted by top designers, loved for its powerful, edgy look. The Licolly jacket beautifully pays tribute to motto fashion, made with durable bull leather and embellished with studs to evoke the biker's attitude.
The Leather Racer Jacket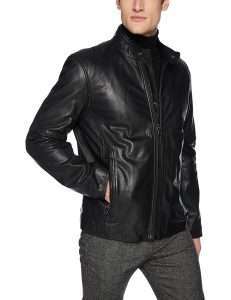 Inspired by the very same jackets worn by legendary movie stars from the 1950s, the racer leather jacket is just as stylish today. Andrew Marc designs a rustic version with its Gramercy jacket, made with eco-friendly leather, waxed and treated for a worn-in effect. Combine this jacket with jeans and burly leather boots for a masculine look that can pass as both daytime smart and evening trendy.
The Old-School Leather Jacket
When in doubt, the old-school classic leather jackets of the 30s and 40s can always make a great fashion statement. Ralph Lauren makes a model from vegetable-tanned, full-grain Italian calf skin, creating an elegant vintage finish. It also features buckled side tabs for a customizable fit. Slip on this bad boy with your favorite t-shirt and cruise your way through the weekend.
No matter which style you choose, leather jackets really work with everything year-round. With its cool vibe and easy-to-wear benefits, it's the perfect must-have item. Quite simply, the leather jacket is something every man should make room in his closet for.