With a nod to the past, Brooks Running Company is finding a foothold in the future.  Introducing the Brooks Heritage Footwear Collection, a casual lifestyle footwear line for men and women that has been curated to honor and celebrate the history, heritage and spirit of the run.  The collection, which coincides with Brooks' 100-year anniversary, launched two of the most storied shoes in Brooks' long history, the Vanguard and Vantage, available now at retailers nationwide.
"Leveraging 100 years of groundbreaking design and technology as well as a brand steeped in the running culture, Brooks recreated the magic of the 1970s and '80s through compelling, inspirational and historical footwear that will create a visceral response from customers young and mature alike," said Shane Downey, Heritage Business Manager.  "The Brooks Heritage Footwear Collection pays homage to the running boom of the '70s by bringing back running models that were cutting edge in their day, bundled with modern aesthetics to create a sleek street-style shoe."
Award winners in their categories that inspired a generation of performance running shoes, the Vanguard and Vantage are the perfect blend of classic athletic look and modern appeal.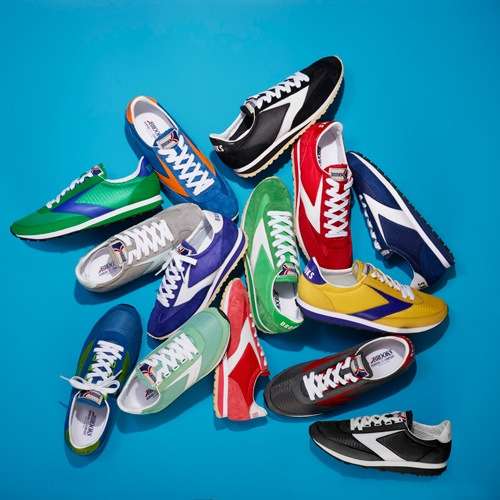 The Vanguard:
Originally introduced in 1976, the Brooks Vanguard captures the essence of the 1970's, utilizing clean design lines, rich aesthetics and classic styling with an iconic T-toe.  The Vanguard features a pigskin upper, as well as Brooks' iconic Octopi outsole for traction, which has been recreated along with a pebbled Chevron and heel tab for opulence.  The Vanguard is the signature shoe in the launch as it embodies the running past and fashion-forward approach the Heritage Collection defines itself by.
The Vanguard is available for men in sizes seven through thirteen for $89.99 in the following four colorways:
Kelly Green Suede and White Leather / Mesh
Royal Blue Suede and Classic Orange Leather / Mesh
Red Suede with White Leather / Mesh
Black Suede with White Leather / Mesh
MEN'S VANGUARD
The Vantage:
The Brooks Vantage first hit the ground running in 1976, and was the first shoe for Brooks to win the prestigious Runner's World 5-Star Award.  This historical running shoe featured the patented Brooks Varus Wedge and was available in widths for runners of all types and varieties. The reborn classic features a nubuck leather upper coupled with supple, breathable mesh and features a beautifully crafted hand bag-leather Chevron and heel tab.
The Vantage is available for men in sizes seven through thirteen for $79.99 in the following five colorways:
Sulpher Yellow Nubuck with Royal Blue Leather / Mesh
Blue Nubuck with Green Leather / Mesh
Navy Blue Nubuck with White Leather / Mesh
Grey Nubuck with Red Leather / Mesh
Kelly Green Nubuck with Royal Blue Leather / Mesh
MEN'S VANTAGE
For more information, please visit www.brooksrunning.com, Facebook and Twitter.