Don't let the bar staff be the only ones who know how to perfectly pour a pint! Below are some simple instructions to ensure that the perfect pint of Steam Whistle is poured every time – whether it's from a draught tap, bottle or can. Share this knowledge with your friends!
Rinse the glass to remove any soap residue that provides an off-flavour and kills the carbonation of beer.
Start the pour by tilting the glass at a 45-degree angle. Never let the tap touch the glass or the beer.
At about the 2/3 mark, start to slowly tilt the glass back upright.
Aim to get '2 fingers' of foam in the glass, allowing for the even release of the beer's natural carbonation.
Cooking with Beer This Holiday Season
Many cultures around the world renowned for their savory or spicy cuisine, such as Indian, Chinese, German, Japanese, Thai and Mexican, commonly serve beer with meals. Aside from being a tasty accompaniment to food, beer is also an interesting and versatile ingredient in cooking. Steam Whistle has assembled a great collection of original recipes – appetizers, main dishes, beverages and even desserts – all for cooking with our Premium Pilsner. Check out the full collection here.
Beer Baby Back Ribs
Created by Tony Tomei, the Chef at Cousin's Market, Mississauga Ontario, a fine retailer of epicurean foods, local produce and premium butchered meats. The ingrediant list can be found at Steam Whistle.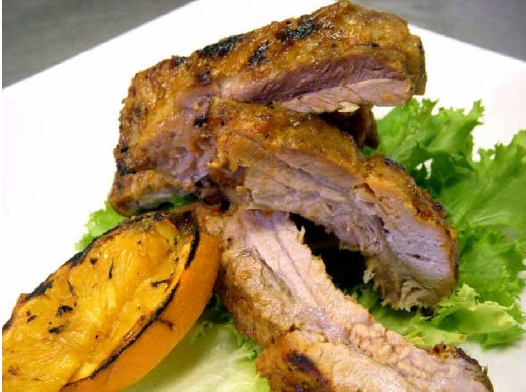 Directions:
Marinade the back ribs for 24 hours. Grill on BBQ or bake in the oven at 375 degrees F. Brush with BBQ sauce.
Tasting Notes for Steam Whistle Pilsner
Steam Whistle Pilsner offers the style and flavour of the great Pilsners of Europe, yet is brewed fresh locally at our independent, Canadian Brewery. Crafted under the watchful eye of our Czech-born Brewmaster, this golden-coloured Bohemian Pilsner is characterized by a floral hoppy aroma, a sweet, full malty character that is balanced by a pleasant bitterness and a clean, crisp finish. When pouring this refreshing lager, expect soft, rising foam and a smooth drinking experience. Best stored and served at 4-8 degrees C.
Become their fan on Facebook www.facebook.com/SteamWhistle. Follow them on Twitter http://twitter.com/steamwhistle.