When Male Standard got their hands on the new Hornitos® Lime Shot, the crowd reaction was as expected, slight confusion and a resounding, "What, why?" Well, we"ll tell you why. Hornitos® Lime Shot does not require added lime or salt to savior the shot experience, and defies one of the oldest, and dare we say, unsanitary traditions in bar history; the two-hand tequila tango. For those who appreciate the perfect combination of Hornitos® Plata 100% blue agave tequila, and the refreshing taste of lime and a hint of salt, there's a new bottle in town for the man who doesn't enjoy licking the back of his hand in social settings, nor slugging shots that have ingredients strewn across an unaccountable bar. Call us neat freaks, but the new Hornitos® Lime Shot stood out from the frat boy shooting crowd as an appreciable addition to any tequila aficionado's collection as not only as a fun and convenient way to enjoy a trusted lime and salt infusion over ice, but as a versatile lime mixer that invigorates many classic citrus based tequila recipes with a truly refreshing twist.
Introducing The Hornitos® Lime Shot
The recommended way to enjoy Hornitos® Lime Shot is to freeze this bad boy ahead of your event and pour it neat into a shot glasses and consume with friends. So we took that trusted advice, as who are we to challenge the experts? This pre-mixed tequila made itself known as a perfect "appetizer" for a good old fashioned get-together, especially when we wanted a drink in hand, but didn't have time to open a bar; between cooking, guests, and trying to catch up on affairs, convenience proved to matter. The goal of the night was to get together at the same time, same place, and, most importantly, at the same level of social lubrication. Enter Hornitos® Lime Shot. Not only did this all-in-one concept go down well with the tequila fanatics of the group who were excited to try something new, but those who had previously overlooked tequila were quick to step up and show their newfound curiosity. Hornitos® Lime Shot is a fantastic conversation – party – starter.
It also happens to be a drink that no man can "muddle" up the wrong way: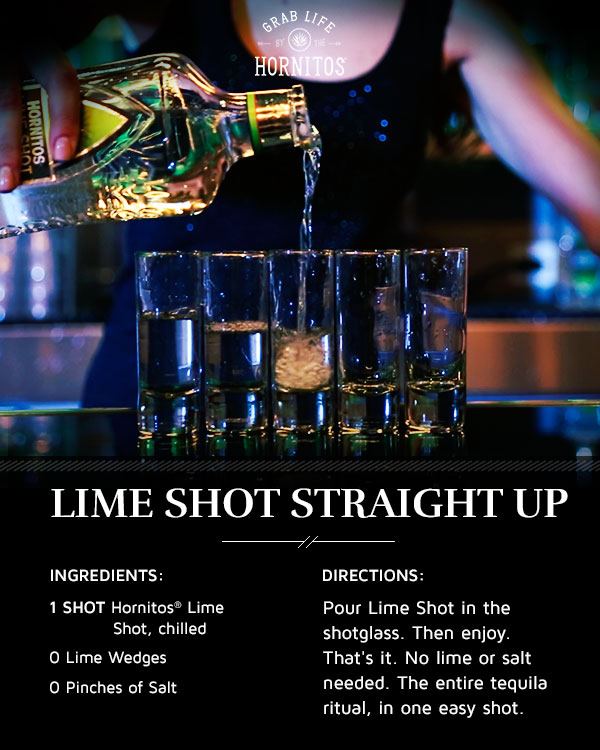 Best served ice cold, Hornitos® Lime Shot is a surprisingly sweet blend of 100% blue agave tequila with just the right amount of lime and salt. The lime compliments the Hornitos® tequila bringing out the natural sweetness of the blue agave plant, but is not the lingering aftertaste as we feared it could easily be. This is still very much a tequila that is born to serve your palette first as foremost as a tribute and taste of Mexico, and that hasn't become an afterthought in the flavoring process. We also loved the amount of added salt, with only one person adding more to theirs, as we toasted Hornitos® for answering the questions we couldn't compromise on: how much salt is the right amount, and how does one keep track of salt consumption so that overdosing on the bitter aftertaste of sodium does not ruin a perfectly good drink? The answer was resoundingly, "Hornitos® Lime Shot!" They've taken all the math, the mess, and the muddle out of the equation, and created an affordable, appreciable, and versatile flavored tequila.
Hornitos® Lime Shot Recipes
Now, Male Standard may be breaking the residual convention here, but despite being marketed as a "shot in a bottle," we found Hornitos® Lime Shot to be complimentary when sprucing up our best loved citrus based tequila recipes; think Margaritaville. There's a reason why we add a squeeze of lime to tequila, the combination is perfection and heightens the tartness of tequila that we love. Not everyone has fresh lime on hand, nor the desire to be cutting up and shredding limes in their kitchens, to which we found the Hornitos® Lime Shot a great contender when mixing drinks on the fly at home. It didn't matter to us that we forfeited the lime garnish, as it's what's inside that counts, right? In this case, you get a refreshing lime twist that has become a staple favorite. We recommend keeping Hornitos® Lime Shot on hand for those recipes that do, and Hornitos® Plata for those that don't. Why make life complicated, or suffer compromise?
Here's how we'll be shaping up for round two:
Chilli Lime Shrimp Cups
Lay filo pastry in a pre-buttered baking tray
Marinade the shrimp in Hornitos® Lime Shot tequila
Sprinkle the shrimp with Cayenne pepper and place in the parcel
Bake at 350 degrees for ten minutes, and add sour cream as desired
The Male Standard Verdict
I will confess that yes, someone else drove me home, and yes, I did hold the door handle the entire way as I was convinced we were driving a little too rambunctiously (we weren't), but you know what? I had an amazing and memorable night. Hornitos® Lime Shot introduced himself as a new wingman. He was there when I needed him, was discreetly kept out of the way when the night was not about tequila tasting, but rather, about the times we spend with our most nearest and dearest, and Hornitos® gets that. It's even in their motto, Grab Life by the Hornitos. We're not saying you shouldn't do shots, or shouldn't enjoy having a wild night out (please at least try to drink responsibly), but sometimes convenience is a good thing. Not drinking shots from a roach infested bar is a great thing — that's hindsight talking. So I think it's firmly safe to say that yes, we will be buying another bottle, as not only did we wipe the bar clean on this one, but also, it was implicitly stated that I have to return with more!
With a suggested retail price of $18-20, why not grab two bottles and see where the night takes you?
For more information, check out http://www.hornitostequila.com/