Superbowl is just around the corner and whether you're a Packer fan, Steeler fan or just enjoy the commercials and halftime show it's a great time to throw a party!  To ensure your Superbowl party is a success you must have great food, plenty of seating (even if it's a few bean bag chairs on the floor and some extra bar stools) and of course a big TV or a few also help!  Here are some helpful tips to make sure your Superbowl party is the place to be.
Food is number one on the list. People are going to be snacking before, during and after the game so the more food the better.
The Deli Platter
A deli platter is a great way for people to snack. Select your favorite deli meats and cheeses. Perhaps turkey, ham and roast beef with cheddar, pepper jack and swiss cheeses. Tell the deli attendant how many people you are expecting and they'll be able to help with the quantity. Pick up some dinner rolls so your guests can make mini sandwiches too, Hawaiian rolls are always a crowd pleaser. Next you'll need the fixins'; keep it simple- mayo, mustard, lettuce and tomato. You'll want to display everything on a large platter or a few smaller serving trays. This way your guests can help themselves to some deli meats and cheeses or make mini sandwiches to snack on.
Buffalo Chicken Dip
Next on the list- Buffalo Chicken Dip! This dip is delicious and easy to make. You'll need a rotisserie chicken from the store, jack cheese, ranch or bleu cheese dressing, whipped cream cheese and Frank's Red Hot Sauce. Remove all the meat from the chicken. You can shred it with a fork or pulse it in a food processor for a bit. Next you'll mix the chicken with the hot sauce. Pour in enough to cover all the chicken. Feel free to add more if you want that extra kick!  Set that aside.
You'll now layer the ingredients in a large 13×9 baking dish. Start with the cream cheese (whipped is easiest to spread) and spread until the bottom is covered. Next, you'll want to add the chicken mixture over the cream cheese. Now pour the ranch or bleu cheese dressing over the chicken mixture.  Finally, finish it all off by topping it all with shredded jack cheese. Bake in the over at 350 for about 10- 15 minutes. Nothing in this dip needs to cook, the baking is simply to warm everything up and melt the cheese.  Serve with tortilla chips, celery stalks and carrot sticks. Dip and enjoy!
Italian Sausages
Now onto some Italian Sausages.  These are fairly simple, have few ingredients and they're the perfect addition to any sporting event.  You'll need the following ingredients (quantities will vary depending on the size of your party).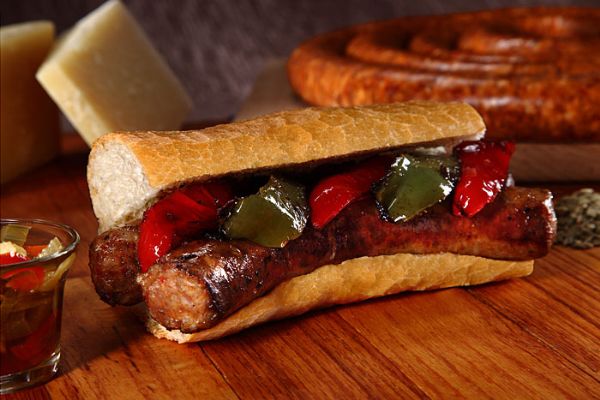 Italian sausage links or sausage of your choice:
Olive oil
Sweet onion, sliced
Red and green bell peppers, sliced
Garlic, minced
Salt and pepper
Deli rolls
Start by boiling a large pot of water.  Cook the sausage in the water for about 10 minutes.  Remove from the boiling water and drain on a paper towel, set aside.  Saute the veggies with olive oil, salt and pepper and minced garlic.  Cook until fragrant and tender.  Push veggies aside and add the sausage to allow the flavors to combine.  Cook sausages until brown and crispy.  Split rolls and add sausage and pepper mixture.
Baked Potato Food Bar
I'm a big fan of food bars because they're easy, customizable and a great way to serve larger groups.  Who doesn't love a baked potato?  You'll need to plan on about one potato per guest.  Scrub and poke all of the potatoes, then pop them in the oven directly on the oven rack and bake at 400 for about 1 hour.  Once the potatoes are finished, individually wrap them in foil to help keep the heat in.  Place the foil wrapped potatoes in a large bowl or serving tray.  Place individual serving dishes with a variety of baked potato toppings to complete the bar.  Here are some suggested toppings: chili, crumbled bacon, shredded cheese, diced onion, chopped green onion, butter, sour cream and of course, salt and pepper.  Your guests will be able to enjoy they're favorite style baked potato!
As you can see a good amount of preparation goes into throwing a great party.  In order to save some time feel free to pick up some ready to eat extras at your local grocery or club store.  Both will have a variety of ready to cook appetizers, potato salad, macaroni salad, desserts and of course chips and pre-made dips.  Adding some of these extras will complete your party and ensure that you and your guests have plenty to enjoy throughout the game.
Decorations
Now decorations aren't necessarily a must, however they can be very easy to do if you're considering them. Party supply stores as well as grocery and drug stores carry a variety of Superbowl decor. Party supply places will carry Superbowl XLV specific decor and have a football section if you'd rather invest in pieces that can be used again. You can also add your favorite team colors to the serving items.  The best option is to get a few Superbowl XLV statement pieces like a banner or paper plates, then add a football shaped serving dish and Packer or Steeler colored utensils, napkins, cups etc.  It isn't necessary to go all out with the decorations.  If you're on a budget, use the money for the food first.  However, if you want to really knock your socks off with the decor there will be plenty of items to make that happen.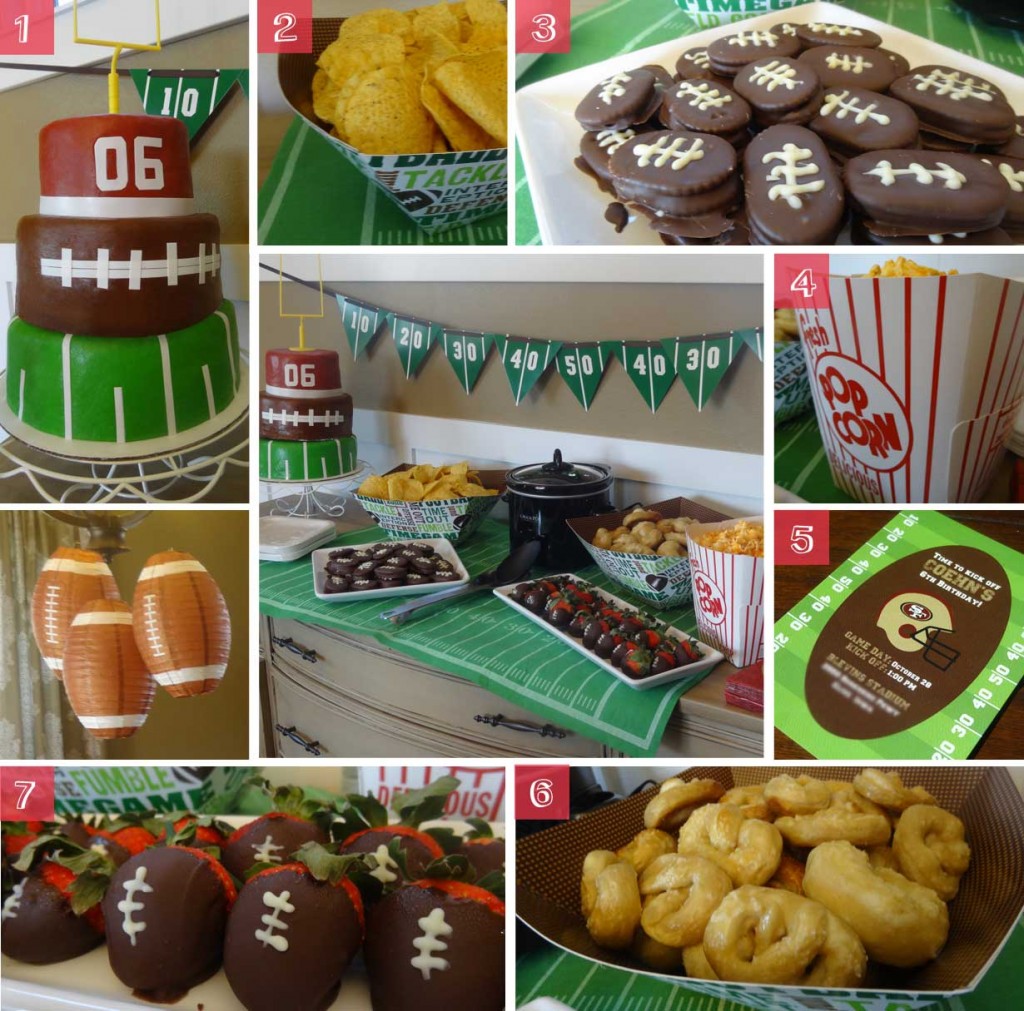 Remember it's about spending time with your friends and family, enjoying great food and getting into the Superbowl spirit.  So whoever you are rooting for make sure your enjoy your Superbowl Sunday!