NASCAR drivers race around the track at 200+ mph. At speeds like this, every movement requires the utmost precision. Any inaccuracy can be the difference between 1st and 2nd place. And as the old saying goes, if you're not first, you're last! Gillette understands that precision is a key factor in male grooming just as it is in NASCAR, which is why they partnered with racing great and driver of the no. 42 Target Chevrolet Juan Pablo Montoya at the NASCAR Sprint Cup at the New Hampshire Motor Speedway in Loudon, NH. Juan Pablo and his entire pit crew visited the Gillette tent to participate in a team shave-off using the Fusion ProGlide. Recent research shows that approximately 70% of men in the U.S. claim to have sensitive skin or combination sensitive shaving areas, even the toughest guys like NASCAR drivers and their fans. As Gillette's #1 razor for sensitive skin, the Fusion ProGlide delivers the precision men need for unrivaled comfort and the closest shave.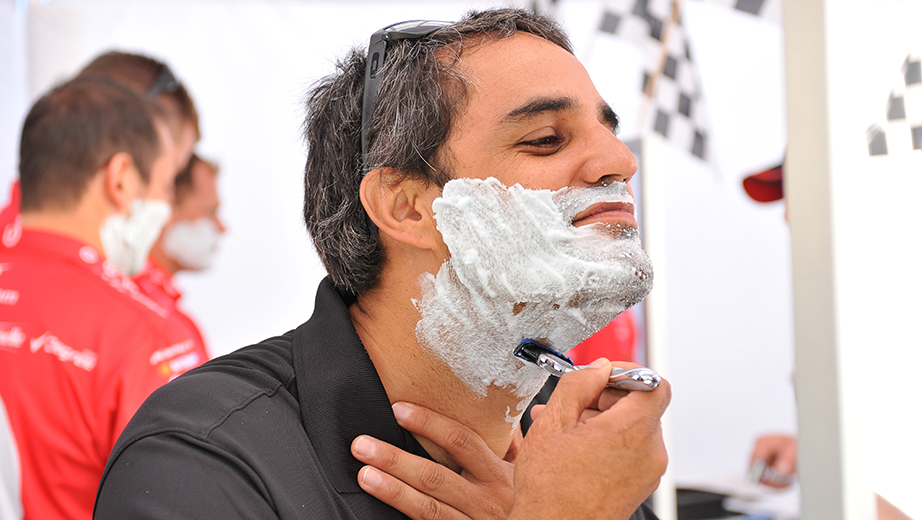 To celebrate the event, Gillette gave away their Fusion Proglide and sensitive shave gel to attendees so that they could improve their own precision at home. To help get you closer to the action, Male Standard put these neat shaving tools to the test to see if the claims rang true, and if Gillette is really the best a man can get. Hold onto your lug-nuts as you discover what this shaving combination has to offer!
Gillette Fusion ProGlide
The Gillette Fusion ProGlide comes roaring out of the pit stop with everything you could ask of a razor; upgraded, thinner, and more precise blades. Well weighted handle with firm grip. Enhanced lubricating strip to prevent the pitfalls of shaving — razor burn and irritation, but does it live up to the hype? With a resounding yes, it does! The new Fusion ProGlide is a mark above the rest, with noticeable and welcomed improvements that come through in the post-shave (we're no strangers to the Gillette line-up). The ProGlide actually does what it says on the tin, and that is deliver incredibly close detailing, without a hint of shaving irritation or bumps after you tear through the finishing line. The results were super smooth skin, with appreciable and long-lasting results (an extra day of extra closeness) before the desire to shave struck again.  The necessity kicks in around a day and a half to two days longer than typical razor does for our 'several times a week and then I get annoyed' facial shaving  reviewer, who happens to be a big close shave fan but doesn't appreciate fuss.
Reengineered low cutting force razor blades with thinner, finer edges (first four blades vs. Fusion) and our advanced low resistance coating cut effortlessly through hair with less tug and pull than Fusion
Blade stabilizer maintains optimal razor blade spacing for comfort, while allowing the blades to adjust to the contours of a man's face
Streamlined Comfort Guard channels excess shave prep to help maintain optimal razor blade contact,stretching the skin for a close, comfortable shave
Enhanced Lubrastrip is infused with mineral oil and lubricating polymers, enabling the razor blades to move smoothly over skin, even on repeat strokes
Improved Precision Trimmer includes an enhanced blade, a comb guard to better align long hairs, and rinse-through slots
Overall, we we're impressed with the new additions and attention to detail that Gillette have put into this new model — they are worthwhile, and that shines. These efforts come across in the shave, and achieving the closest shave possible is no longer reserved for the man who can shave with a jack saw and still feel functional. For that, we salute you Gillette, and thank you for bringing the close shave to the sensitive man!
ProGlide Sensitive Shave Gel
The ProGilde Sensitive Shave Gel was a natural marketing choice to use with the ProGlide, but we were skeptical that a shaving gel would compliment a specific razor. Turns out, the ProGilde Sensitive Shave Gel is worthy on it's own merits, and is a terrific gel that saturates the skin to offer long-lasting moisture and protection. When combined with the ProGlide, you have a combination that does not irritate or cause razor burn — we can bet on that and welcome you to put it to the test! Our reviewer wasn't so convinced, so tested this combo multiple times to the same winning advantage. As someone who suffers from perpetual shaving bumps, this was a big success, and, as it's Gillette, you know it's an affordable option for the every man. The blue gel has a signature light fragrance, which is surprising, given that most sensitive products have none, but is not so heavy to detract from cologne throughout the day. It's always nice to have options, right? This is a really high performance shave gel, and while a few might have reservations about anything that comes out of a can — we say, if it worked for Pops, then it's good enough for us!
Dermatologist-tested to be gentle on skin
Hydrates to soften hair and helps protect your skin
Improves razor glide for a close, comfortable shave
The ProGilde Sensitive Shave Gel was a  really pleasant surprise and offered long-lasting moisture, without clogging the razor head when shaving. The fragrance is spot on, everything we love and respect of Gillette, without being too heavy. It is a masculine scent that can be worn alone to or compliment your favorite cologne, and while not everyone appreciates fragrance, when it's done right, it's all in the details — so fine tune your male grooming routine. Even if you have your dream razor, we recommend the ProGilde Sensitive Shave Gel for men with sensitive skin, as we believe this made the biggest difference to our shaving routine!
Disclaimer: This post has been submitted to a NASCAR sponsored program.