Having a backyard is one of the best things about living in America. Summertime backyard gatherings are so much fun and it's always nice to have someplace where we can just relax with our friends and family. But, sometimes backyard design ideas can be overwhelming and not everyone has time to research what they should do for their backyard. So in this article, we will quickly show you 4 easy ways that anyone can get their backyard ready for summer without any hassle at all!
1. Install a fire pit for s'mores nights and cold winter evenings
One thing that definitely makes a great backyard is a firepit. There are no better places for backyard gatherings than fire pits and tables which can serve multiple purposes. A fire pit can be used for s'mores and storytelling in chilly winter evenings or warm summer nights, and tables can be used for dining.
Also, when deciding to make a fire pit, you should hire someone who knows how to properly install it: a professional that has experience with installing outdoor fireside fixtures. Furthermore, consider things like the number of seatings you need near the pit and the best location for it.
2. Create an outdoor dining area with seating, table, and chairs
Consider investing in outdoor dining furniture that is not only comfortable but also sturdy. One way to make sure your backyard has a cozy feel is by adding cushions and pillows for the chairs, or even an entire dining set with end tables.
You can also hang lanterns or string lights around the backyard if you want it to feel even cozier!
3. Add a hammock to your backyard for relaxation
Whether you are looking to get rid of stress or just enjoy backyard lounging, hammocks are a must-have. Fully equipped backyard hammock chairs provide the perfect place for relaxation and comfort in your backyard.
Some backyard ideas include making sure that there is enough space so that everyone can comfortably fit inside, choosing an appropriate location that provides shade from the sun during summer months, as well as ensuring it will be easy to keep clean by providing adequate protection against rain and other elements like the wind which may cause damage.
4. Upgrade your outdoor lighting with string lights or solar-powered spotlights
Getting cool lighting in your backyard isn't that hard. You don't need to be an electrician or a lighting expert. Just head to your favorite DIY store and buy some string lights, solar-powered spotlights, or fairy lights for the backyard decoration.
Lighting is one of the most important things when it comes to backyard design – not just because they are great for ambiance but also because they can make even a small backyard look luxurious and inviting thanks to its lovely glow during nighttime hours. String lights are perfect if you want something simple that's easy on the eyes while outdoor solar spotlights work well in places where sunlight is ample as their light will get charged by daylight then shine bright magic at nightfall.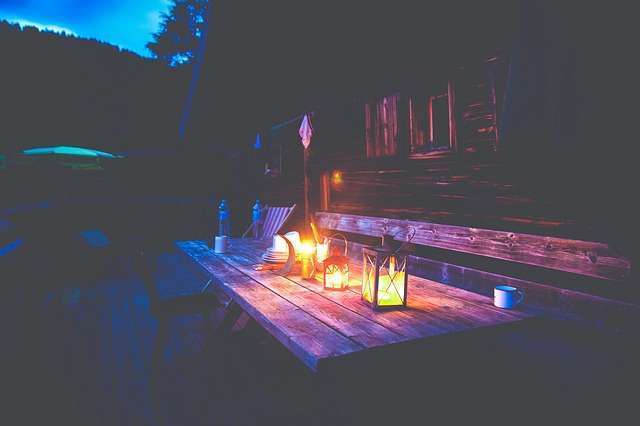 We hope that you've found these outdoor living tips helpful. With some time, creativity, and a little elbow grease, your backyard can become the perfect space for entertaining friends or simply enjoying your own company on lazy Sunday afternoons. Remember to get creative with decorating ideas and make sure to install the fire pit!