Wicked Good Cupcakes® began when mother-daughter team Tracey Noonan and Danielle Desroches took cake-decorating classes as a way to spend time together. After posting their work online for friends and family, they found themselves being asked to create cupcakes for various events. The demand for their product became so high that they opened their first retail location in Cohasset, Massacusetts in October of 2011. As the reputation of their product grew, they found themselves getting hundreds of requests to ship their product across the country. However, they could not find a a way to effectively ship cupcakes and have them arrive intact and fresh. That's when they came up for the idea of a cupcake in a jar. Filling jars with fresh baked layers of cake, frosting and filling, they were able to create a product that would stay fresh up to 10 days without refrigeration that could be easily shipped.
How did you get into gourmet cupcakes?
My daughter and I went to art school. We're also fans of the show 'Ace of Cakes.' They worked with fondant, which is reminiscent of sculpting. When Danielle was moving out of the house, we decided to take cake-decorating classes once a week; that way we could catch-up and do something fun together.
How did you turn that hobby into a business?
We ordered cupcakes from other large companies, and I didn't like how they arrived; they were either squished, or packed in ice, which caused the dye to bleed. We started in our kitchen and began posting our own cupcakes online. We got so many orders that we ended up opening a shop because we outgrew our house. The jars came around because we had people requesting us to ship our cupcakes nationwide.
The jars are a fantastic idea, who was responsible for that?
My husband made the suggestion of a Mason jar, so we started sending them to friends across the country to see how they worked. People really liked them, and thought it was a fun idea, so we went ahead and had them tested at a food safety lab because when you put food in a jar, you change its environment. It was important to us that everything be food safe. Nine months later, we were on Shark Tank.
What was that experience like?
Shark Tank was a blessing. I went with my daughter and enjoyed being able to share that experience with her. It also offered an opportunity to reach a vast amount of people in a short period of time. Our cupcake business was only 9 months old when we taped our segment. It helped propel us a lot faster than it would have happened organically.
KEVIN O'LEARY PHOTO PROVIDED BY ABC
Do the investors really put their money where their mouth is?
Everyone's experience on the show is different, but there is a lot of truth in what you see. When you enter the Shark Tank, they don't know anything about you. You start your pitch, knowing there are no retakes. From the second they yell, "Go" it's intense, but you quickly forget you're in front of the cameras.
How has your investor Kevin O'Leary shaped the direction of your cupcake company?
Kevin is a fabulous mentor. He taught us you always have to be ahead of your competitor. I took that to heart because I knew that once this became popular everyone would start doing it. We're not just a cupcake shop; we're trying to position ourselves as a gifting company. People can go online and send gifts, whether it's corporate-related, for birthdays, or all sorts of things, rather than just sticking with just a cupcake.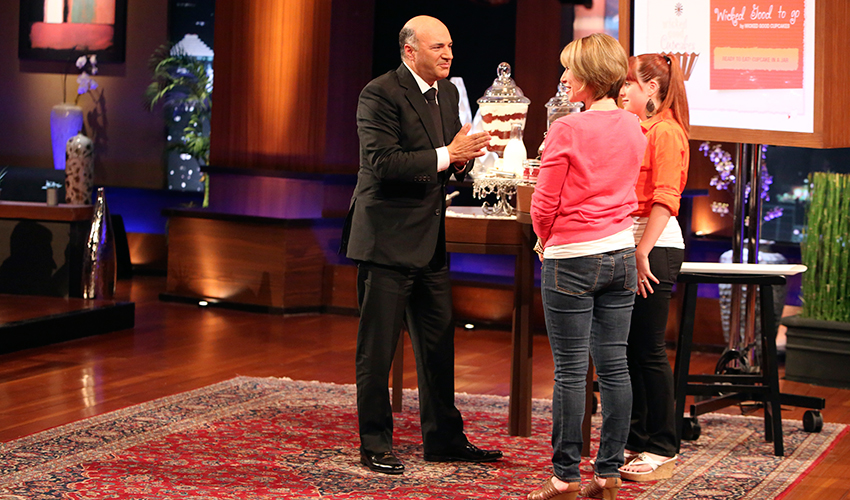 What was the biggest takeaway from Shark Tank?
It's always a risk going on Shark Tank, especially with food. They could have said, "This tastes terrible." That was my biggest fear. Mark Cuban ate three jars while we filmed, which was a positive sign. It validated our proof-of-concept.
What does a typical day look like for you?
Danielle is the baker, and I do the decorating. Danielle also manages the shop and our corporate clients, and I work more on the product development and marketing. We're focusing on building a national brand. I'm confident that we can achieve that. In October, we will be launching our new website with some new products, which is exciting.
What advice do you have for somebody who wants to start their own business?
Surround yourself with people who know a lot more than you do. Ask questions. If someone offers help and it's good-willed, take it. Follow your gut; do not let anyone say you can't. If you have a clear idea and it solves a problem for the consumer, then go for it. It's a matter of putting your spin on it, and then being able to get it out there in front of people.
What's your 'Female Standard'?
I'm not the most religious person, but I do believe there is someone guiding me. All I ask is that I'm smart enough to hear their advice. As an entrepreneur, you will have exciting days. Then there are days filled with self-doubt, so you need to believe in yourself. You have to learn how to get back on that positive vibe and shake off the negative.
Thank you so much Tracey. We wish you the best of luck!
About Wicked Good Cupcakes
[youtube https://www.youtube.com/watch?v=MGEuWWh5GZM]
This family run business brings your favorite flavored cupcakes made from scratch every time. Whether it's the signature *Wicked Good* flavor of gooey peanut butter cake loaded with chocolate chips, dipped in bittersweet ganache, topped with peanut butter frosting and drizzled with bittersweet chocolate ganache, or our famous *National (Security) Velvet*, or *Cuckoo for Coconut*, we promise not only deliver on taste and freshness but presentation as well. We are passionate about our cupcakes and it shows in every bite. We only send out the best, family approved products in 8oz Mason Jars for full effect! We offer 9 great everyday flavors, over 16 weekly flavors and over 19 seasonal flavors. With a taste for every occasion, we guarantee we've got something for everyone on your wish list. NEVER LET GOOD ENOUGH BE GOOD ENOUGH! If they are good enough to be backed by Shark Tank's Kevin O'Leary…it's probably something you should try – ask us for samples, we are happy to make your day WICKED GOOD!
Follow @wkdgoodcupcakes* or visit www.wickedgoodcupcakes.com.