On Monday, I had a cool opportunity to hang with middleweight champion of the world Gennady "GGG" Golovkin as he prepares for his bout against Canelo Alvarez on 9/16. I got to learn more about his partnership with Chivas Regal, hear about one of his biggest moments in the ring, and I even picked up some training tips watching him spar. 
Chivas Fight Club members will receive inspiration to "Fight for It" with exclusive boxing content, interviews, videos, behind-the-scenes photos, calendar of upcoming Chivas Regal boxing events, and more. Additional program incentives will continue to be rolled out following the campaign launch.
I learned the Kazakhstan-born fighter began his boxing career at an early age, and immediately set to work to demonstrate his diligent work ethic. He represented his home country in the 2004 Summer Olympics, winning a silver medal in the middleweight category. Golovkin boasts the top knockout ratio in middleweight championship history – an impressive 89.8%.
The Chivas Fight Club
Golovkin is now entering the ring as the face of The Chivas Fight Club campaign, which is a national effort to promote the unique fighter in all of us. What's cool about this campaign is how you can win tickets to see GGG live in action, and access exclusive sweepstakes, and that it seeks to inspire all men to discover what fire them up.  
"This movement is special to Chivas as it brings to life our core values, embracing the mixture of cultures and importance of shared success, as every person has a unique battle they fight with passion, gloves on and off," said Shefali Murdia, Brand Director for Chivas Regal, Pernod Ricard USA.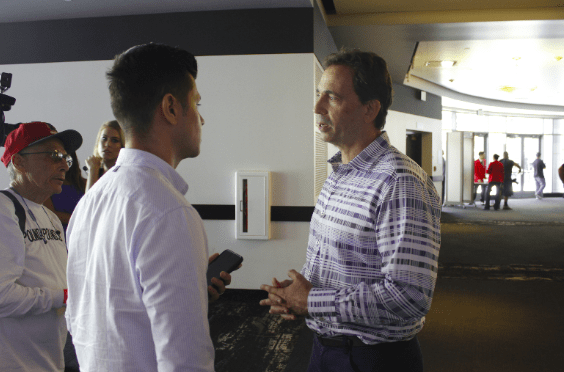 Victor Macias listening to how Chivas Regal, the world's first luxury whisky, is aiming to inspire a new generation while making a positive impact on the lives of others by introducing The Chivas Fight Club.
"Like the Chivas brothers, Gennady comes from humble beginnings and has allowed his dreams to push him to where he is today, all while staying true to his values and Winning the Right Way."
The Chivas Fight Club was launched last month to inspire a new generation to #FightForIt while making a positive impact – just like GGG does. Users can enter to win a ticket to GGG's fight in Vegas through the Fight Club, as well as gain access to exclusive boxing classes, interviews & more.
For more info on the Chivas Fight Club and Chivas Regal visit ChivasFightClub.com.