If you're looking for a stylish upgrade to your closet that won't break the bank, we present to you the ever-faithful felt hat. Unlike top hats that are too formal and baseball caps, which are too casual (and should only be worn at sporting events), the felt hat is a game-changer that can be worn almost anywhere. From traveling to vacations, and even at the races, felt hats are a dynamic, stylish icon.
Felt is made from a process of interlocking fibers of wool or fur by using friction, heat, and moisture. It is one of the strongest fabrics due to every fiber being interlocked in every direction with several other fibers. This process accounts for felt being incredibly smooth, highly resilient and more impervious to water. Felt hats are resistant, versatile, and long-lasting, and make an excellent investment.
Keep reading to discover five of the best felt hats for men, and why you should consider adding one of these timeless accessories to your collection!
Woolrich Men's Crushed Felt Outback Hat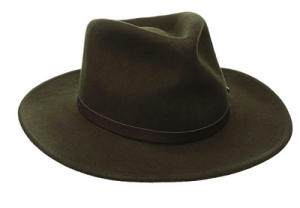 It's hard to escape the Outback hat, but this trend isn't dying off anytime soon. The Outback features a flattering wide brim that makes it easy for most men (and women) to wear. It pairs beautifully with jeans and a tee shirt, as much as it does a trench coat and Oxfords, a la Mad Men. It's this versatility that makes felt hats so desirable, as they can play into all kinds of trends.
Why we like it:
Defines the jaw line
Flattering shape for most men
Comfortable to wear daily and can be folded up
Men's Crushable Wool Felt Porkpie Hat with Bow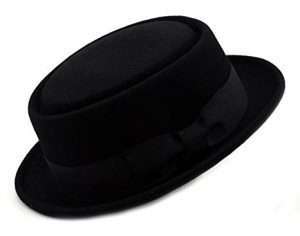 Named for its resemblance to an actual pork pie, this hat is like a fedora but with a flat top instead of a pinched crown. The brim is also shorter and turned up. The hat is often associated with the jazz, blues, and ska culture, but was also worn by the likes of Robert Oppenheimer, father of the atom bomb. You will see many indie bands still pay homage with this style staple.
Why we like it:
Suits most guys
Can be worn day or night, and casually
Pulls together an outfit without making it formal
Scala Men's Wool Felt Derby Hat
The Derby hat is a timeless addition to your closet that is ideal for events and evening wear. Often found in tan and black, this hat has all the right style signatures of a top hat, without being so ostentatious. The Derby hat, also called a Bowler hat, have a rich cinematic history, from 'A Clockwork Orange' to Butch Cassidy and Billy the Kid. Wear with three-piece suits and tweed for an eclectic statement.
Why we like it:
Add energy back into tired outfits
Suitable for daily use and weekend wear
Wide Brim Flat Crown Wool Felt Bolero Hat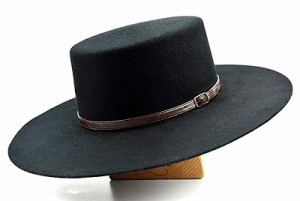 The Bolero hat is easily recognizable thanks to Zorro, but it has a long and fascinating history all its own in the Southwest. While the Bolero hails from Spain, it can be incorporated into most closets daily with less ornate embellishments. This versatile hat should be worn at a slight angle towards the back of the head. Pair a classic cream felt Bolero with a jacket for an instantly stylish evening outfit.
Why we like it:
An instant style icon with flawless representation
Grabs the attention of a room for all the right reasons
Preacher Tiller Felt Hat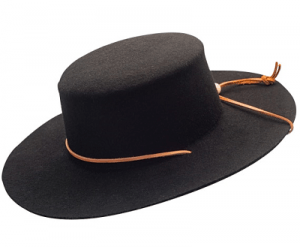 For the gentleman seeking something less common, the Preacher Tiller is a great option. This is another versatile hat that can be dressed up or down given the final embellishments, but wearers love this hat for its simple yet striking Amish design. Wear in a bold color, such as this beet red, to give your outfit a strong focal point.
Why we like it:
Off-beat and hip
Easy for most guys to wear
Suits a variety of funky colors