It's a sad fact that short men are low on the fashion totem pole – no pun intended. While big and tall stores grace most malls, very rarely will you find a store that includes a petite section for shorter men; much less an entire section dedicated to designer garb and options. So what's a shorter man to do? Growing taller simply isn't an option, nor should it be. To celebrate the uniqueness of all men, Male Standard partnered with Men's Health to develop these quick tips on how to stop selling yourself short!
If you're under 5 foot 8, then you probably have difficulty looking for clothes that fit; pants are too long in the leg or too wide in the waist. No one looks good in billowing dress shirts, but not everyone has the budget for custom tailored clothes. Instead of shopping in the boys or teens section and diminishing any sense of masculinity, it's time to shop the shelves of the men's department with these insider tips. With a little patience and fashion-forward consideration, we bet you can overhaul your closet on a dime and look a million bucks!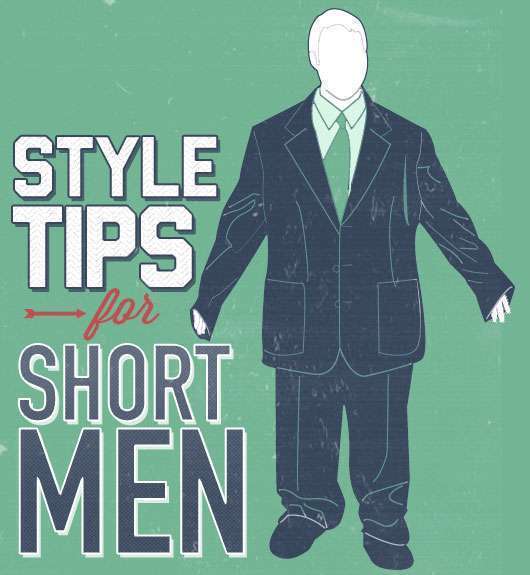 Tip 1: Stop Dressing Taller
First and foremost, you need to get the notion of out of your head that fashion can help you look taller. What we want to aim for is looking better and feeling more comfortable. These will naturally boost your confidence and eliminate the need to sprout a few inches. Useless props such the ever curious 'shoe raisers,' which claim to increase your height with heels or elevated soles, are nothing more than a marketing ploy. Wearing heels is not going to make you feel more like a man. Trust us 0n this one, all she'll see is you walking on "Wonderbras."
Tip 2: Embrace Patterns
Vertical stripes are a short man's best friend. These are scientifically proven to elongate the impression of the torso, which gives an overall taller and more flattering look. If you're considering checkered patterns such as Gingham, look for a small or detailed print rather than plaid. This will compliment your build and are best bought in slim fitting shirts. Keep any accessories to a minimum. A sharp bow tie, watch or hat – never all at once – are the key to owning your style. No one looks good drowning under fashion.
Tip 3: Know Where to Shop
Ultimately, you have two choices. You can either take your clothes to a seamstress, who can alter pants for a reasonable price (look for offers such as 3 for $25). Although the priced may vary  city to city, online ads have great deals and are the perfect compromise on getting a tailored look on a budget. Stores we love that cater to the shorter man include Banana Republic (their Emerson Chinos are especially well fitted and just the right length), Gap (although stay away from wide fitting shirts and tops), and H&M.
Are You Selling Yourself Short? Fashion Advice For the Petite Man
It's sad that many designers aren't looking to fix the common problems of men's clothing, but that doesn't mean all hope should be lost. Instead of giving up, follow these quick tips and add your own below to help empower and show you and other men how to dress sharp. We promise you can step up your style game no matter how much you have to work with; it's all in these insider secrets.
Leave a comment below if you're proud to be a shorter man!