Irreverent intellectuals and delinquent drinkers, rejoice! Your anti-uniform has arrived! Monkey Shoulder Whisky, Scotch's famously cheeky cousin, and Jeremy Argyle, maven of the modern man's wardrobe, are teaming up for an updated version of the classic button-down shirt, with a nod to Monkey Shoulder's favorite cocktail, the Monkey Jam Sour.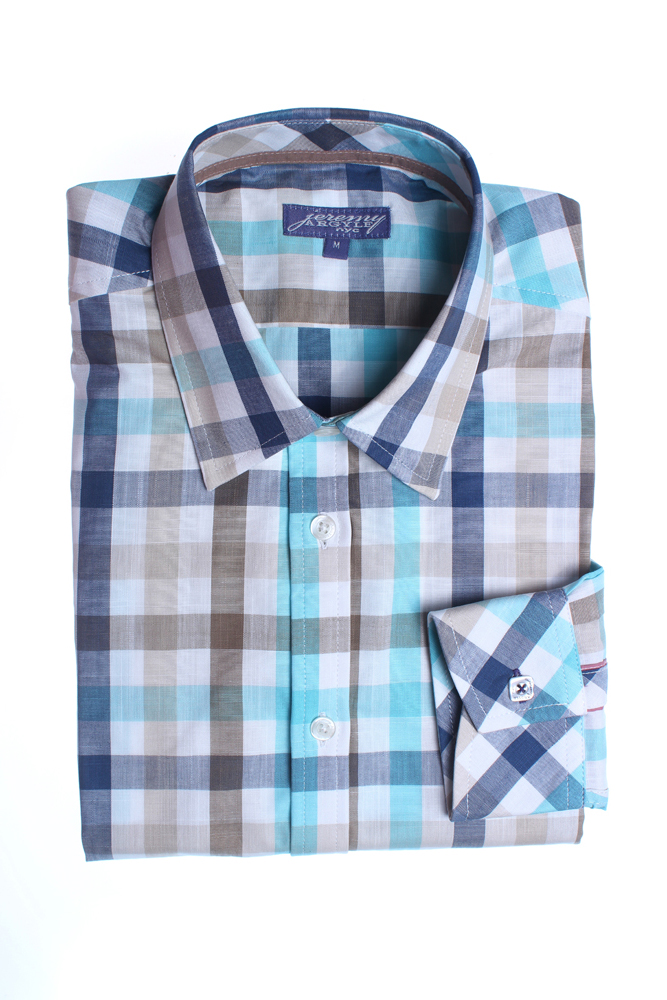 Double inspired by a triple-blended whisky and a single designer's take on modern shirting, the collaboration represents a departure from standard buttoned-up boredom. The blue and brown plaid shirt displays a colorful deposition and a Monkey Shoulder logo emblazoned on the shoulder. Cocktail and fashion enthusiasts alike are encouraged to wear it in true Monkey Shoulder fashion- however they like! Tuck it in, wear it out, as a headdress, as a belt, inside out, backward, forward, or tie it to a post and declare your domain as Monkey Shoulder country. But remember, there's more to this book than the cover; flip up the cuff for a hidden recipe of the Monkey Jam Sour, so you can always have your favorite cocktail recipe on hand. Literally.
"We love Monkey Shoulder's refreshing take on the Scotch universe, and find it very similar to our own vision of re-defined classic menswear. In fact, the whisky itself is meant to be used exactly like any of our shirts: mix it with anything", proclaims Brian Guttman, the founder and designer behind Jeremy Argyle. "Every man knows the value of having an ace up their sleeve. We just chose to stitch it right on there."
Starting October 7th, The limited edition shirt will be available online and in both the SoHo and West Village Jeremy Argyle stores starting October 3rd, retailing at $148.00.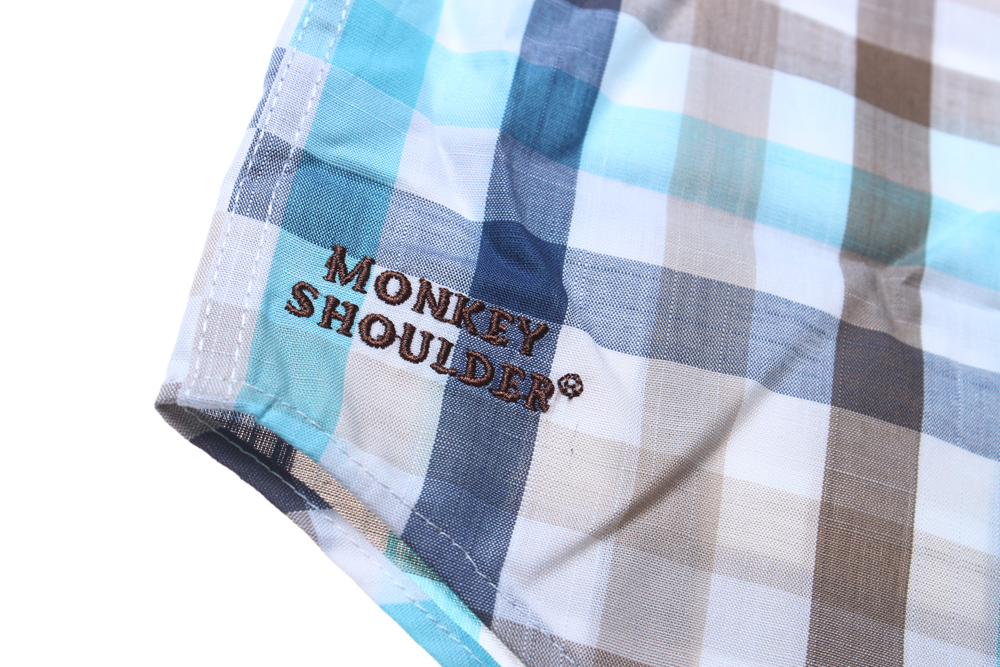 For those who solely wish to drink, but not to wear, here's the fabulous cocktail recipe below:
MONKEY JAM SOUR
Ingredients
1 1/4 parts Monkey Shoulder
1/2 part fresh lemon juice
1 spoons jam
Dash sugar to taste
3 dashes orange bitters
Method
Add all ingredients to shaker
Shake well before straining into cocktail glass
Garnish with twist of orange
Don't be a drunken monkey, drink responsibly.
About Monkey Shoulder
Monkey Shoulder Freddy May
Since first appearing in bars across the United Kingdom in 2006, Monkey Shoulder has redefined whisky for a new generation of whisky drinkers looking for an upgrade. Prized for its unique flavor and unprecedented mixability, ownership of a bottle of Monkey Shoulder has become a mark of pride for bartenders and the whisky cognoscenti. By marrying five generations of award-winning distilling experience with a uniquely cheeky contemporary style and commitment to innovation within the Scotch category, Monkey Shoulder represents the ideal pairing of style and substance. The Monkey Shoulder moniker comes from the colloquial term of a once common temporary injury, when after a long day's work turning barley, a malt man at a distillery would have a sore shoulder and feel as though he had a monkey sitting on his shoulder.
Monkey Shoulder has an ABV of 43% and is currently available at specialty high-end liquor stores for $29.99. For more information, visit www.monkeyshoulder.com. 
About William Grant & Sons
William Grant & Sons, Ltd. is an independent family-owned distiller headquartered in the United Kingdom and founded by William Grant in 1887. Today, the luxury spirits company is run by the fifth generation of his family and distills some of the world's leading brands of Scotch whisky, including the world's most awarded single malt Glenfiddich®, The Balvenie® range of handcrafted single malts and the world's fourth largest blended Scotch Grant's® as well as other iconic spirits brands such as Hendrick's® Gin, Sailor Jerry® Rum, Tullamore Dew Irish Whiskey and the award-winning Milagro® Tequila. Among the most recent accolades for the well-awarded company, William Grant & Sons was honored as the "Distiller of the Year" for the fourth time in five years by the prestigious International Spirits Challenge. Founded in 1964, William Grant & Sons USA is a wholly-owned subsidiary of William Grant & Sons, Ltd. and features one of the fastest growing spirits portfolios in the USA with brands including Glenfiddich, The Balvenie, Hendrick's Gin, Sailor Jerry Rum, Tullamore Dew Irish Whiskey, Milagro Tequila, Stolichnaya Vodka, Grant's, Hudson Whiskey, Clan MacGregor, Reyka Vodka, Solerno Blood Orange Liqueur, Lillet, Licor 43, Art In The Age, The Knot and BOLS cordials. The company has offices in New York City (sales and marketing) and Edison, NJ (bottling and warehouse facilities).
For more information on the company and its brands, please visit www.grantusa.com.