In a volatile alchemy of photography and fiction, Paul Kwiatkowski invokes the delinquent magic of his chaotic adolescence for his first book, And Every Day Was Overcast. Out of South Florida's lush and decaying suburban landscape blooms a first-person, illustrated novel of vision and vulnerability. Drugs, teenage cruelty, and the screen flickering worlds of Predator and Married With Children shape and warp the narrator's developing sense of self as he navigates adventures and misadventures, from an ill-fated LSD trip on an island of castaway rabbits to the devastating specter of HIV and AIDS.
"Everything about Florida culture is in a constant state of flux, stagnation and contradiction, a
geographical pastiche of retreat and fantasy. A place where anyone can easily vanish, commit a
crime without punishment, start over or give up. I love that about the place."
Q: Elsewhere, you've described And Every Day Was Overcast as "100% in the service of truth." And inevitably, as one reads the book and encounters the juxtaposition of text and image, the question arises: how much of this narrative is imagined fiction, and how much is remembered personal history? Your reader is never assured of which photographs are staged and which are candid. Why an illustrated novel and not simply a monograph? Where do you see the lines between truth and fiction blurring in this book?
A: I was curious to investigate how the experiences of my adolescence evolved and informed my perceptions. Those years were the first time I revealed myself to the world and even to myself. I wanted to use images and artifacts from that time in tandem with text as a way to transmit my own personal experience as a teenager coming of age during a specific time in American history because of the saturation of images in our day-to-day lives, I think their function and our relationship with them is completely different than in the past. Images are subjective, always depending on their context; it's like playing a single note on a guitar as opposed to playing five notes at same time to harmonize that sound into a chord. The edit signifies everything. I don't believe in the unspoken promise of absolute journalistic truth. Images, sound and text at best can only be an amplification of your own perceived truth. Ultimately, the story I'm telling is my own. Saying anything else does the viewer a disservice. A photographer/writer is not a substitute for an anthropologist or teacher. There's only the present and the illusory.
Q: Do you think growing up in South Florida has informed your art with a very particular sense of place? Is this an influence you can call upon or disregard at will, or are the humid landscapes of the Everglades a constant subconscious backdrop to your creativity?
A: Even though Florida is a fucked place to grow up, I give partial credit to its topography for developing my imagination. Everything about Florida culture is in a constant state of flux, stagnation and contradiction, a geographical pastiche of retreat and fantasy. A place where anyone can easily vanish, commit a crime without punishment, start over or give up. I love that about the place.
Q: What are some of your favorite images from the book? Why?
A: I don't have any specific favorites but I think the most interesting ones are where the photographer's presence feels anonymous, like a specter. As a shy kid, I remember using the camera as a buffer to ease myself into social situations. It's different now. Everyone has a camera. The weirdos are the ones not taking pictures.
Q: What contemporary photographers, artists and writers are you obsessed with right now? Whose work is blowing your mind?
A: Matthew Stokoe, Chad Kultgen, Grace Krilanovich, Miron Zownir, Peter Bebergal, Harmony Korine, Duncan Trussell and Boris Mikhailov. And Anthony Karen. I used to work in photojournalism doing multimedia work. I developed a lot of friendships with the photojournalists I was inspired by. When the opportunity arose to join Anthony in Haiti to document a Haitian voodoo pilgrimage, there was no way I could say no. As a teenager, when I first got interested in writing, William Burroughs was my primary influence. I remember my friend and I would drop acid at Epcot Center then go to all the different themed countries. We'd scribble all of these wild, rambling detective stories as though we were actually fleeing from country to country. It was a fun exercise. Right now, I'm obsessed with sound design and am very excited for the future of podcasting. I'm also interested to see what new films are going to come out of Australia. I'm a big fan of David Michôd's films.
Q: What are you working on now? Is there another visual narrative on your horizon?
A: I'm working on a new book called Summer Chills. It's about being totally adrift during the prime of your life and traveling North and South America on nothing more than unemployment checks.
About Paul Kwiatkowski
Paul Kwiatkowski is a New York-based writer and photographer. His work has appeared in numerous outlets, including Juxtapoz, Beautiful/Decay, Dazed and Confused, Fault, Dust, and American Suburb X. Find Paul on Twitter @XOPK.
About Black Balloon Publishing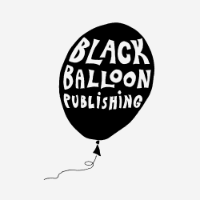 Black Balloon Publishing will offer four unique editions of And Every Day Was Overcast, including a basic ereader and trade paperback, as well as a limited edition hardback and a sound-enhanced iPad edition—complete with an original soundtrack for each chapter, bonus interviews, and more.
Choose from one of four editions available in bookstores from Oct 15 at And Every Day Was Overcast.