Back then, men were considered macho when they held a massive cigar in one hand and a glass of booze in the other. They think it's cool to smoke in front of their friends and watch the top of the cigarette glow. But, as the years have gone, gentlemen seem to change such old-fashioned ways to look cool slowly.
Newfangled styles slowly realized that smoking was becoming defunct and unsafe. So, they discovered another alternative to cigarettes – vaping. Vaping has become the new smoking. It makes use of electronic cigarettes. Those who vape have a lot more options in terms of personal preference and control over the substance they inhale.
Vaping And Its Roots
Vaping is the act of producing vapor which the user then inhales. It makes use of vape devices, also known as e-cigarettes, which are made up of a battery, wicking material, a heating component, and a tank that carries the fluid to be vaped. The liquid, also known as 'e-juice' or 'e-liquid,' commonly contains a certain amount of nicotine. Once the wicking device absorbs such liquid, the vape's power will be activated to yield vapor.
The concept of electronic cigarettes has actually been around since the year 1963. It was when a person named Herbert Gilbert applied for a patent on what he called a "non-tobacco cigarette." It consisted of a heating component, a battery, and a narrow tube that resembled a real cigarette. However, the technology to mass-produce e-cigarettes wasn't available at that time.
After years on end, a Chinese pharmacist and inventor named Hon Lik produced a small, stylish electronic cigarette in the year 2003. It makes use of ultrasounds to yield vapor out of the liquid. His invention wasn't like most e-cigarettes on the market today, but it piqued people's interest in vaping as an alternative to smoking.
Since then, various brands, including Red Vape and many other vaping startups, have begun to produce e-cigarettes that comprise a small heating element aided by a built-in battery. Such devices have gained popularity for being user-friendly and convenient.
Types of Vapes Available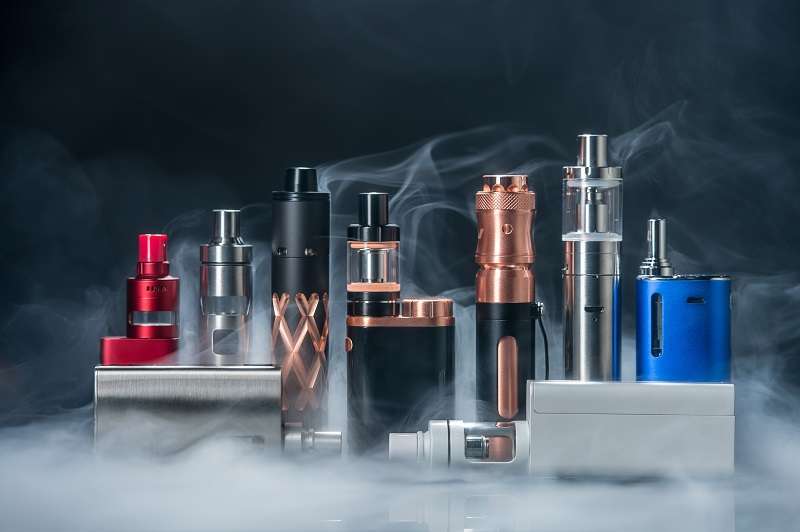 As vaping has picked up steam over the years, a wide range of quality devices is now readily available in a variety of mechanisms. These are as follows.
Vape sticks, also known as e-cigarettes, are designed to resemble cigarettes. It's a tobacco-containing, battery-powered device. When inhaled and exhaled, it burns up the electronic liquid. Whether you're new to smoking or not, this type is an excellent place to start.
This pen-shaped vape, also known as a vaporizer, is made up of a rechargeable battery and a cartridge. Vape pens can either be drawn or powered by a click button. They typically have replaceable components that allow you to change the tank, heating coil, and tip of the unit for additional customization.
Similar to the pen-shaped vapes, box mods allow its users to customize their vaping experience by using the tank, coil, and other hardware of their choice. They have a large battery and more often than not, a significant number of additional electrics and circuit designs. This is typically due to the fact that box mods commonly include built-in screens that reveal the temperature, power output, and other critical details.
Pod vapes, also known as pod mods, contain nicotine salt vape juice. It has a stylish, simple design and can either be a refillable or pre-filled pod. These devices use highly concentrated nicotine vape juice that can be powered to produce more clouds.
Disposable e-cigarettes are thought to be the most basic, least expensive, and most convenient type of vaping device on the market. They can be all-in-one units that are disposed of as a whole once the battery dies. But if they're not, they can be swappable units that allow users to charge up their batteries.
Contradictory to the box mods, mechanical mods are built with no extra circuitry besides the wiring that heats the coil. It has no extra layers of protection or circuitry and has direct contact between the atomizer and the battery. Because of its tiny hand-fitting structure, it can comfortably fit in a pocket and function with a simple click of a button.
If you're new to vaping, it's essential to know the different types and how they work. In this way, you could get to know which device works best for you.
The Bottom Line
Vaping has progressed from being an alternative to nicotine to fashion culture. Traditional cigarettes are no longer the only sort available, as many new variations of e-cigarettes now exist in exciting shapes and sizes. So, start your experience with the best type of device, tank, vape juice, battery, and coils.